April 22, 2023
Homemade Salsa Verde – Keto Low Carb Recipe
I can't believe it took so many years to create my own homemade salsa verde recipe! It's made all on one sheet and in the oven, making it super easy. Salsa verde is a nice change from the standard red variety most of us are used to. Plus, you can use it for one of my favorite new recipes, Pork Chile Verde.
Thanks to my favorite post-snowboarding brunch place in Big Cottonwood Canyon, The Silver Fork, I became obsessed with a pork chile verde omelet. We've been going there for years and that omelet is always on my mind when I'm riding Solitude or Brighton. Of course, I eventually decided to recreate this recipe at home so I could make my favorite omelet when I don't feel like fighting the canyon ski traffic. Before you make pork chile verde though, you'll need to make this homemade salsa verde recipe.
One of the main ingredients in salsa verde is the tomatillo. The tomatillo is naturally low-carb and not spicy. Somewhat similar to the tomato, it's in the nightshade family.
Disclaimer: Links may contain affiliate links, which means we may get paid a commission at no additional cost to you if you purchase through this page. Read our full disclosure here.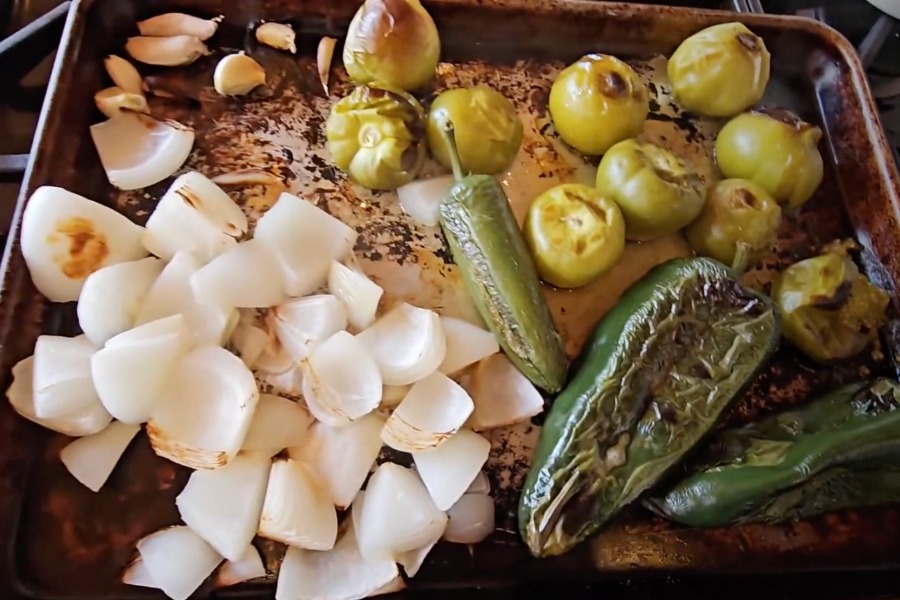 As I've mentioned before, I don't find carbs from natural sources to affect my ability to stay in ketosis, but your mileage may vary. The carb count for this salsa verde varies, of course, according to how much you use. It's so delicious especially when it's warm that you may end up using more than you normally would.

faq
Is Salsa Verde Spicy?
Salsa verde is typically not spicy. However, whether salsa verde is spicy depends on who makes it. Jalapeno is sometimes an ingredient in this salsa and depending on the quantity and the spice level of the individual jalapeno, the amount of heat can vary widely.
Is Salsa Verde Keto Friendly?
In general, salsa verde is keto friendly. There are a decent amount of carbs in tomatillos, which are the main ingredient in salsa verde. As long as you use salsa verde a few tablespoons at a time, you'll likely stay in ketosis.
Most salsa verde is pretty mild, but I like adding some jalapeno to this recipe as well for a little extra kick. Start with about half a medium jalapeno and then taste for spice. If you want to keep it mild, leave it out entirely. If you're a hothead like me, go ahead and use the entire jalapeno but adding it slowly will ensure you don't ruin the batch with too much heat.
According to Wikipedia, salsa verde can be traced back to the Aztec empire. This version is cooked, with the roasting adding an additional complexity of flavor that I enjoy. To make it even more authentic, use a molcajete to grind the ingredients together by hand. You can also use the same combination to make a raw version of homemade salsa verde.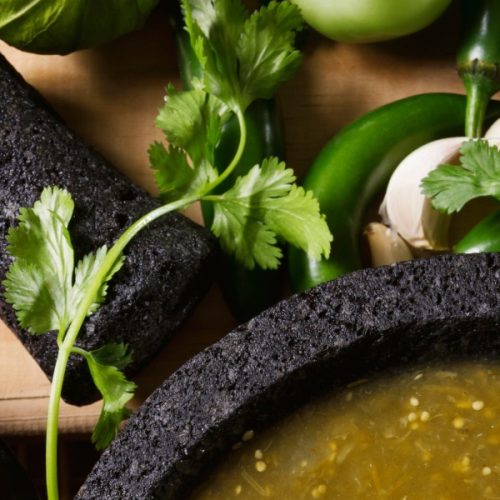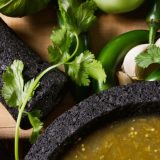 Print
Ingredients
2

large

poblano peppers

1 ½

pounds

tomatillos

2

medium

white onions

6

cloves

garlic

1

cup

cilantro leaves

,

lightly packed

1

teaspoon

salt

1

teaspoon

pepper

1

teaspoon

cumin

1

tablespoon

fresh lime juice

1

medium

jalapeno, optional
Instructions
Preheat the oven to 450°F.

Place the poblanos, tomatillos, onions and garlic on a baking sheet and put them in the oven on the middle rack.

Roast for 20 minutes or until the vegetables are charred. You may wish to turn them once during cooking.

Place the poblanos, tomatillios, onions, garlic, cilantro, salt, pepper, cumin, oregano and lime juice in a blender or food processer and pulse into a chunky salsa verde.

If using, add half of the jalapeno and taste for spice. Add more as needed.

Serve salsa verde warm or chilled.

Refrigerate and use for up to 5 days, or freeze any leftovers and use for up to 4 months.
Equipment
Nutrition
Serving:
1
serving
Calories:
35
kcal
Carbohydrates:
7
g
Protein:
1
g
Fat:
1
g
Fiber:
2
g
Net Carbohydrates:
5
g
Did you make this recipe?
Be sure to tag @healnourishgrow on Instagram to be featured in our stories or our newsletter! We love it when you make our recipes and share with your friends.