November 3, 2022
Southwest Green Chile Soup – Keto Friendly
As part of the vagabond tour, we're staying for a month in Taos, New Mexico. One of the first things I thought of when we arrived is that I wanted to create some southwest inspired recipes while we are here. With the weather turning much colder as we moved from Sedona to Taos, the first thing on my mind was some chile soup! New Mexico is famous for its Hatch chiles and I couldn't wait to create a recipe with this in mind. This delicious green chile chicken soup is the result and I can't wait to share it with you!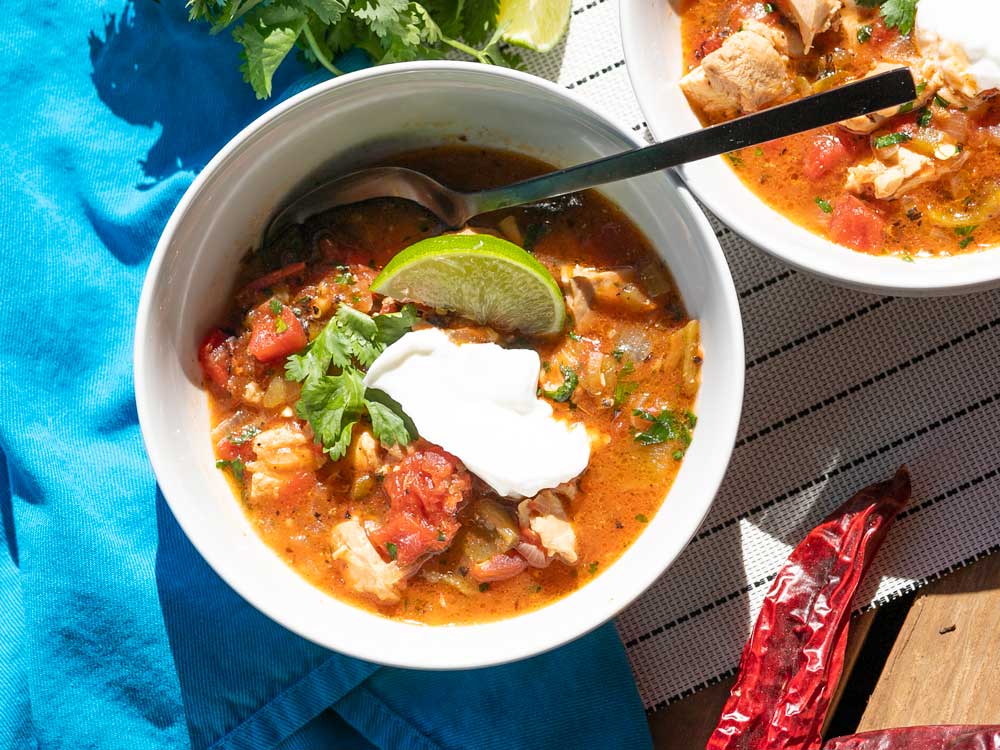 Our rental here, Casa de Toros, is absolutely adorable. The kitchen is amazingly well stocked and there wasn't a thing I needed. The host eva even stocks a lot of organic spices, which you know I appreciate! Although I packed the essentials for the tour it's really nice to be in a kitchen that has what I need to create my recipes.
If only it were ski season already because it's only about 13 miles away from the mountain. It would be great in the summer too though, the mountains and the colors of the sunrise and sunset here are beautiful. As great as that photo is, it really doesn't even do it justice. I think I need to stash my real camera up by the balcony so I can do a little better job of at least trying to capture it.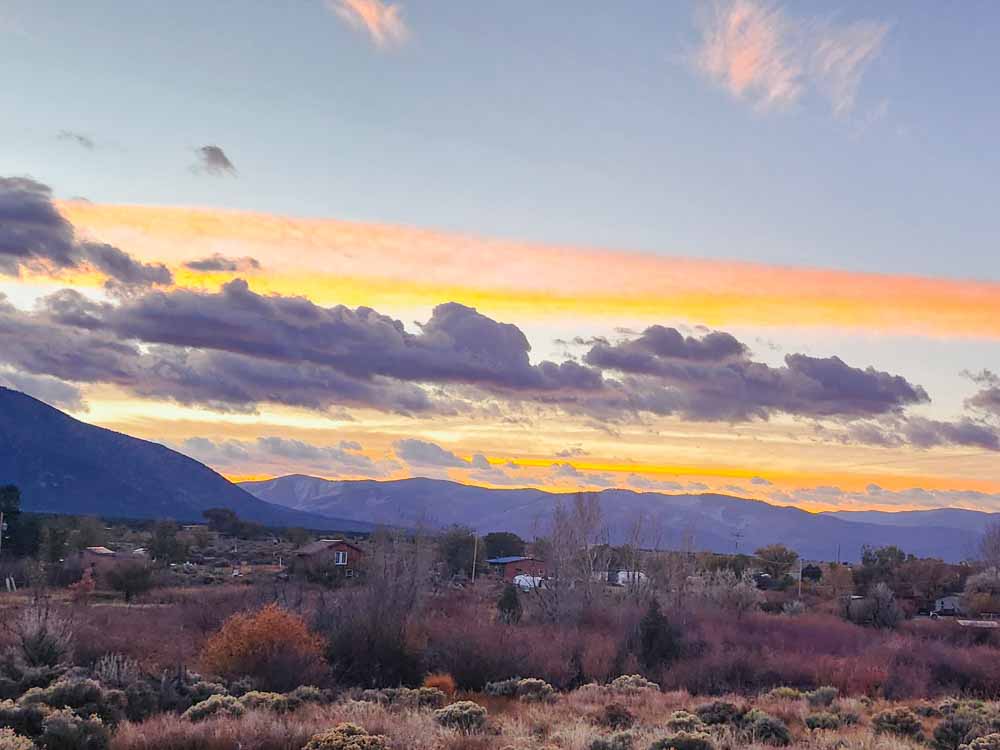 Chile Soup Season
Chile soup is great any time of year, but Hatch chile season really runs August through September. When they're out of season, you can find dried or roasted hatch green chilies year round. For this recipe use hatch if you can find them, but regular green chilies work just as well for this green chile chicken soup.
In addition to being absolutely delicious, this keto chicken soup is low in carbs as well, making it super healthy.
Disclaimer: Links may contain affiliate links, which means we may get paid a commission at no additional cost to you if you purchase through this page. Read our full disclosure here.
Chile Soup
The first thing you'll need for this chile soup is roasted peppers. You can easily find them in a jar, (at least when you're in New Mexico) but it's super easy to make your own.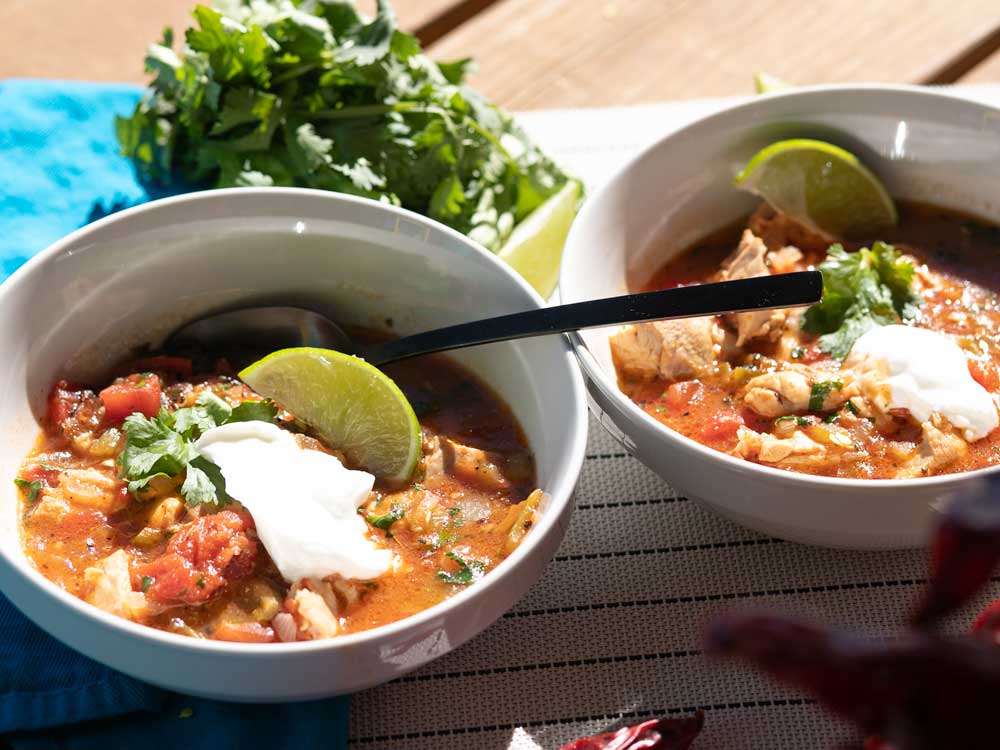 faq
How to Roast a Pepper / How to Roast a Chile
The easiest way is to roast them on a grill, but you can also use your oven broiler or gas cooktop to roast the chiles for this roasted chile soup.
How to Roast a Pepper on the Grill / How to Roast a Chile on the Grill
If using a grill, just get it nice and hot and put the green chilies right on the grate. Continue to rotate the peppers until they're evenly blistered on all sides.
How to Roast a Pepper in the Oven / How to Roast a Chile in the Oven
I like to bake the peppers or chiles for about five minutes at 350 first to help them soften since the broiler sears the skin so quickly. After five minutes, place the peppers close to the broiler to blister the skin. Be sure to watch them closely and turn frequently.
How to Roast a Pepper on the Stove / How to Roast a Chile on the Stove
Roasting a pepper or chile on the stove is very easy too. Turn on your gas burner then using tongs, rotate the pepper near the flames until it's evenly blistered.
How to Peel Chiles for Chile Soup
Peeling roasted peppers or chiles can be a bit fiddly. The best way to make them easier to peel is first to make sure the skin is evenly blistered. After roasting, put them in a ziploc bag for about 15 minutes. The steam will loosen the skin and make them easier to peel.
I'm usually a bit impatient though, so I usually just dive right in. As long as your peppers or chiles have well blistered skin, it won't take too long. Use a spoon to scrape them if you want to keep your hands clean. It also helps remove any last bits of skin from the pepper.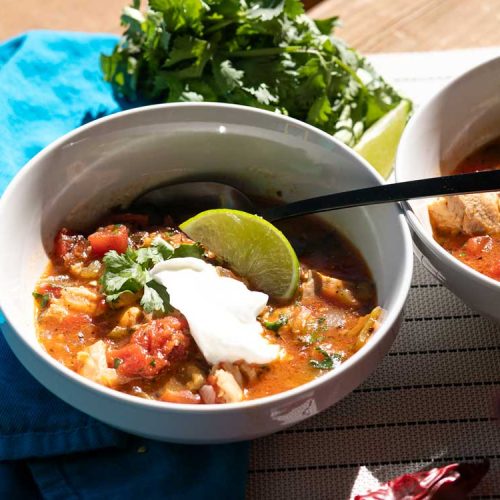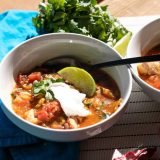 Print
Southwest Green Chile Soup
Ingredients
1

cup

chopped roasted green chile

,

about 4 chiles

2

tablespoons

extra virgin olive oil

2

cloves

garlic

,

minced

1

medium

white onion

,

diced

1 ½

pounds

skinless chicken thighs

,

deboned

2

teaspoons

oregano

1

teaspoon

salt

1

teaspoon

pepper

28

ounces

canned diced tomatoes

,

fire roasted, if available

2

cups

chicken broth

⅓

cup

chopped cilantro

1

large

lime

,

cut into wedges, optional

1

large

avocado

,

optional

sour cream or Greek yogurt

,

optional
Instructions
Roast the peppers using one of the methods described above or use jarred.

Heat olive oil in a large stock pot and add onions and garlic.

Saute until onions turn translucent, about 2 minutes.

Move the onions and garlic to the sides and place the chicken thighs against the pan.

Cook until the chicken starts to brown, then flip.

Once chicken is a little browned on both sides, add the oregano, salt and pepper and stir.

Pour in the tomatoes and chicken broth, cover the stock pot and bring to a boil for one minute.

Remove the lid and reduce heat to simmer for at least 20 minutes or until the broth starts to reduce.

Remove chicken from the pot and roughly chop into bite sized pieces.

Return chicken to the post and stir in cilantro and cook for 3 more minutes.

Serve soup hot and garnish with a squeeze of lime, avocado and sour cream, if desired.
Notes
Most of the carbs in this recipe come from the tomatoes, onion and green chilies. While I find vegetable carbs don't affect me, your mileage may vary. To reduce the carb count further, halve the amount of onions and tomatoes used in the recipe.
Nutrition
Serving:
1
serving
Calories:
264
kcal
Carbohydrates:
14
g
Protein:
23
g
Fat:
12
g
Fiber:
4
g
Net Carbohydrates:
11
g
Did you make this recipe?
Be sure to tag @healnourishgrow on Instagram to be featured in our stories or our newsletter! We love it when you make our recipes and share with your friends.