January 15, 2019
Keto Chicken Salad with Video – Low Carb Recipe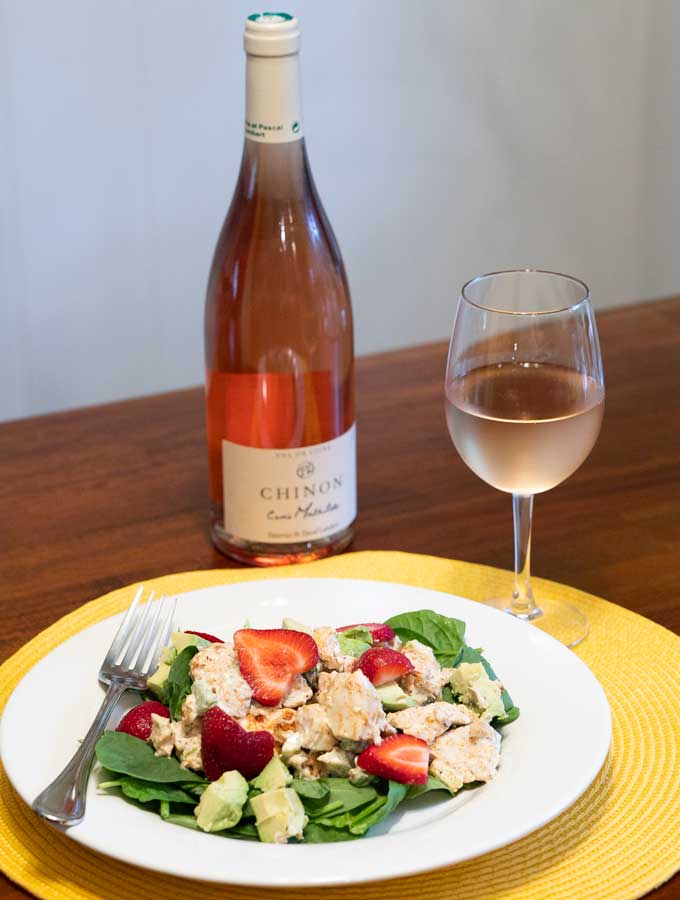 Chicken salad is such a delicious classic, and fortunately, a perfect fit when you're practicing a keto lifestyle. Keto chicken salad is ridiculously easy to make, making it a great choice for a weeknight meal. It's really no different from a traditional chicken salad recipe, so don't let "keto" in the title scare you away!
From start to finish, this delicious and easy meal only takes about 20 minutes. Even less if you chose to use pre-cooked chicken.
Why You Should Make Keto Mayonnaise From Scratch
Bottom line, most store-bought mayonnaise is full of crappy oils. Making it at home is really easy and you can control what oil you use. Hellmann's "Real" Mayonnaise is probably the most popular but it's full of soybean oil. It's the very first ingredient. Not only are most soybean oils full of GMO vegetables, it's very high in Omega 6. Because of the standard American diet, most people have an inflammatory Omega 6 to Omega 3 ratio.
I wouldn't want to use regular mayo in my keto chicken salad when there are better, healthier options.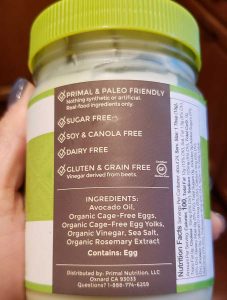 The ketogenic diet is naturally anti-inflammatory but making sure you choose the right types of fats is important. Check our Complete Beginner's Guide to the Ketogenic Diet for more information on making the healthiest choices for your keto diet.
Excessive amounts of omega-6 polyunsaturated fatty acids (PUFA) and a very high omega-6/omega-3 ratio, as is found in today's Western diets, promote the pathogenesis of many diseases, including cardiovascular disease, cancer, and inflammatory and autoimmune diseases, whereas increased levels of omega-3 PUFA (a low omega-6/omega-3 ratio) exert suppressive effects. In the secondary prevention of cardiovascular disease, a ratio of 4/1 was associated with a 70% decrease in total mortality.
It's unfortunate, but most store-bought condiments tend to use Omega 6 oils. Because of all the government subsidies, they're cheaper than healthier oils.
If you'd like to make your own mayo, it's very easy! Check out our recipe and video to learn how to make keto mayo from scratch.
Disclaimer: Links below may contain affiliate links, which means we may get paid a commission at no additional cost to you if you purchase through this page. Read our full disclosure here.
Don't Have Time To Make Keto Mayo From Scratch for Keto Chicken Salad?
Fortunately, there are now a few good choices for healthy mayonnaise. My favorite is Primal Kitchen Mayonnaise with avocado oil and it's the one I use most often for my keto chicken salad. I usually get it from Amazon, but you can also find in a lot of Kroger and Whole Foods stores. I like it because it tastes great and is made with healthy avocado oil.
You can easily pronounce all of the ingredients and it is sugar, gluten and soy free! Right now Primal Kitchen has a promotion for a thousand island dressing when you create a bundle. You can also get 10 percent off of your order by using our discount code, HNG10.
Speaking Of Good Keto Fats
While this recipe has about 44 grams of monounsaturated fat, the overall fat content is only about 30 percent. Always do what works for your macros, but one of my favorite accompaniments to chicken salad is diced avocado.
Adding Avocado to Keto Chicken Salad
Sometimes I mix the avocado into the chicken salad, sometimes I just add diced avocado to the top. It's also amazing with a couple of fresh strawberries as garnish and paired with a nice Rose from Dry Farm Wines. It would also be great on toasted keto bread as a sandwich. As a summer dish, it's really awesome with our Creamy Raw Zucchini and Avocado Chilled Soup or Chilled Cucumber Feta Soup.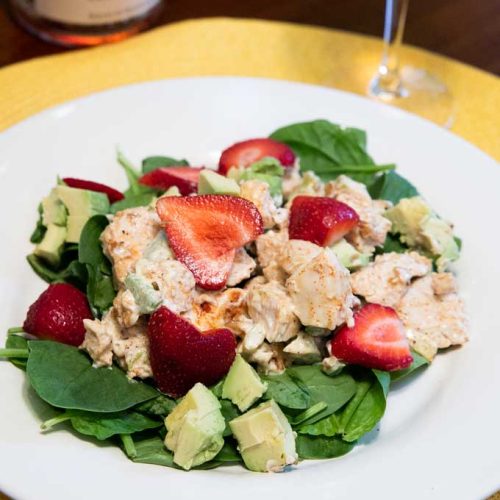 Print
This keto chicken salad couldn't be easier taking only 20 minutes or even less if you use rotisserie or precooked chicken. Double or triple this recipe for a week of super easy meal prep.
Ingredients
1.5

pounds

chicken breast

,

diced

½

cup

walnuts,

chopped

1

cup

celery

,

diced

½

teaspoon

ground mustard

½

teaspoon

celery salt

½

teaspoon

black pepper

½

teaspoon

smoked paprika

¼

teaspoon

salt

½

cup

mayonnaise
Instructions
Cook chicken breasts using your preferred method. For ease and quickness, we like to cut raw chicken into chunks and boil in salted water. You could also roast or use a pre-cooked rotisserie chicken.

Chop cooked chicken into bite sized pieces.

In a large bowl, combine all ingredients until mixed well.

Our favorite way to serve is over spinach and topped with diced avocado. It also makes a great sandwich!
Nutrition
Calories:
214
kcal
Carbohydrates:
2
g
Protein:
25
g
Fat:
11
g
Fiber:
1
g
Did you make this recipe?
Be sure to tag @healnourishgrow on Instagram to be featured in our stories or our newsletter! We love it when you make our recipes and share with your friends.