September 2, 2023
Chicken Crust Pizza – Carnivore Keto Recipe

Are you a pizza lover looking to try something new and exciting? Look no further than chicken crust pizza! This innovative twist on the classic dish offers a healthier alternative that will satisfy your cravings while keeping you on track with your dietary goals. Whether you follow a keto, low-carb, gluten-free, or carnivore diet, chicken crust pizza is sure to become a favorite in your household. Like many of my recipes, I've been making this for years but I'm just now getting around to sharing it! Let's explore what exactly chicken crust pizza is made of, whether it can be enjoyed on the carnivore diet, tips for creating the best chicken crust, and even some delicious flavor variations to try.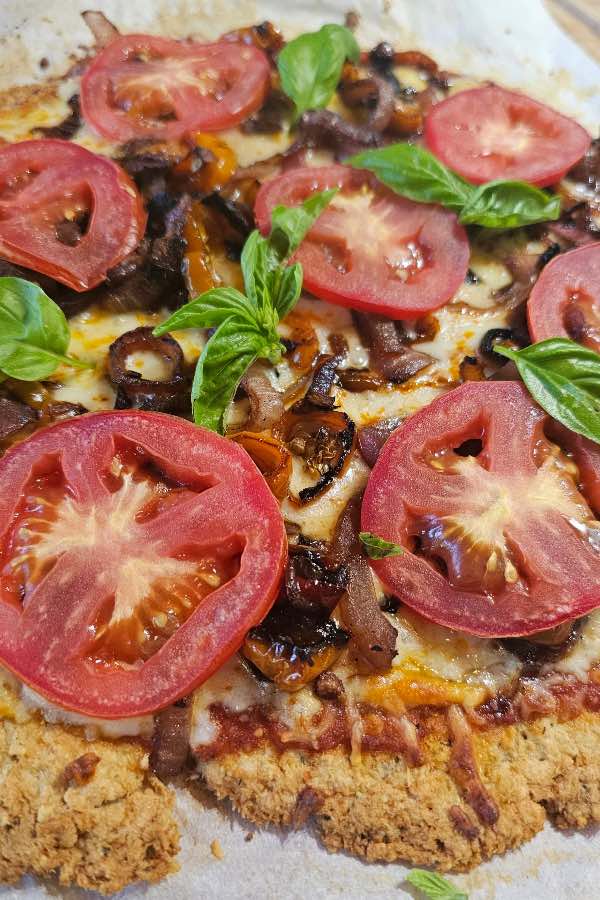 What is Chicken Crust Pizza?
Chicken crust pizza has been gaining popularity as a low-carb alternative to traditional pizza crusts. But what exactly is chicken crust? Well, instead of using dough made from flour or other grains, the base of this pizza is actually made from ground chicken! That's right, chicken is the main ingredient for the crust.

To make the chicken crust, you start with chopped chicken and mix it with some seasonings and binders like eggs and cheese. This mixture is then pressed into a thin layer and baked until cooked through. The result? A deliciously crispy and flavorful base that perfectly complements your favorite pizza toppings and holds up well enough to hold a slice in your hand.
Disclaimer: Links may contain affiliate links, which means we may get paid a commission at no additional cost to you if you purchase through this page. Read our full disclosure here.

So why choose chicken crust over traditional dough? For starters, it's almost zero carbohydrates since there are no grains involved. It's also higher in protein thanks to the lean chicken meat content. Plus, if you're following a gluten-free diet or simply looking for a healthier option, chicken crust is an excellent choice.

Don't let the name fool you, while it may sound like a dish solely for carnivores, anyone can enjoy chicken crust pizza! Whether you're looking to up your protein consumption or just want to switch things up from time to time, this unique take on pizza will still satisfy your cravings without compromising taste.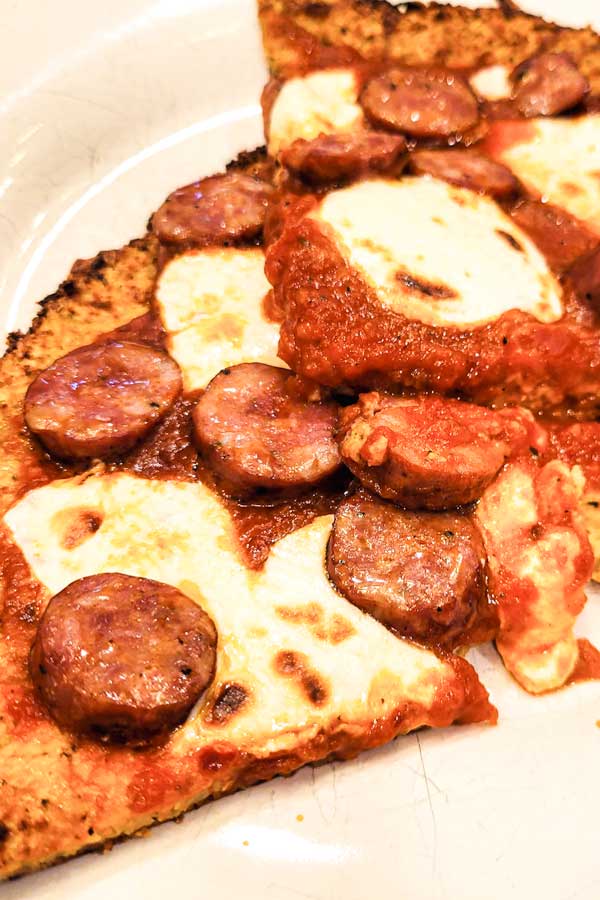 What is Chicken Crust Made Of?
Chicken crust is a unique alternative to traditional pizza crusts and this is stating the obvious, but it's made entirely of chicken! I've seen other variations that use almond flour as a binder, which may not work for you if you're looking for a carnivore pizza crust. The main ingredients for chicken crust include chopped chicken, Parmesan cheese, eggs, and seasonings. These ingredients are combined to form a dough-like mixture that can be shaped into a thin crust.

I prefer to make the chicken crust in a food processor since that makes it extra easy! However, you can make a chicken crust even if you don't have this handy kitchen appliance. To make the chicken crust without a food processor, start by mixing together finely chopped chicken with your grated Parmesan cheese in a bowl. Add beaten eggs and spices. Mix everything well.

Next, spread the mixture onto a baking sheet lined with parchment paper or a silicone mat. Use your hands or a spatula to shape the dough into your desired pizza size and thickness. This crust works and tastes best as a thin crust pizza, so keep pressing it out as thin as you can while still having some substance.
I like to beat an extra egg and brush the crust with it just prior to putting it in the oven. Bake in the oven until cooked through and slightly browned.

Once the crust has been baked and cooled slightly, you can top your chicken crust with sauce, cheese, vegetables, pepperoni or any other toppings you prefer before baking it again until everything is heated through and melted. Enjoy this delicious keto crust alternative that satisfies both pizza cravings and protein needs!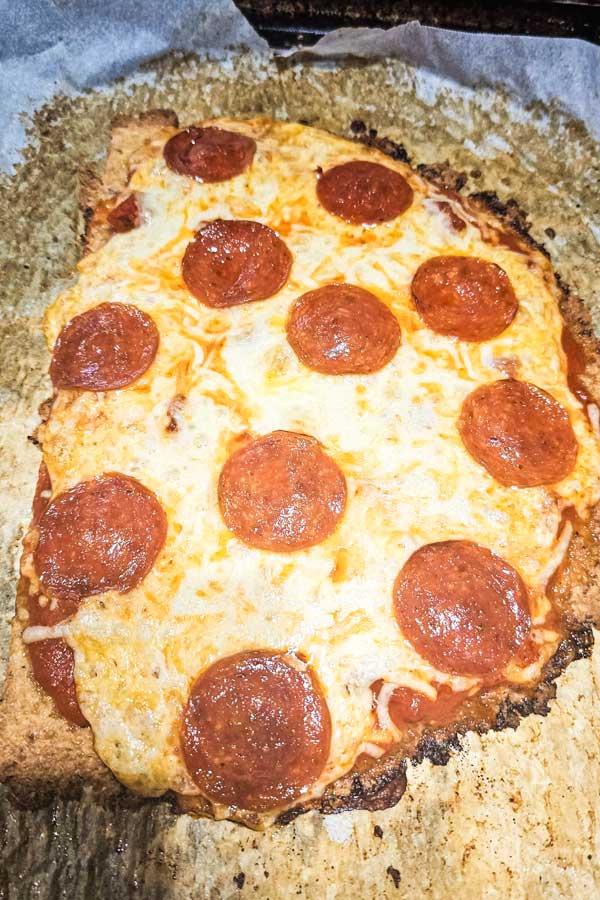 Can I eat Chicken Crust Pizza on the Carnivore Diet?
If you're wondering whether you can eat chicken crust pizza on the carnivore diet, the answer is yes! Since the carnivore diet focuses on consuming animal products and excludes most plant-based foods, chicken crust pizza can be a great option. Instead of traditional dough made from grains or vegetables, the crust is made from chicken mixed with various seasonings and spices. If you're following a more strict version of carnivore (aka hardcore carnivore), you may want to skip the seasonings and pizza sauce since they're vegetable-based.

The beauty of chicken crust pizza is that it allows you to enjoy the flavors and toppings of your favorite pizza while adhering to the principles of the carnivore diet. By using ground chicken as the base instead of traditional dough, you eliminate carbs and gluten from your meal. This can help promote weight loss, improve blood sugar control, and reduce inflammation in some individuals. So go ahead and indulge in a delicious slice of chicken crust pizza without any guilt!
Tips For The Best Chicken Pizza Crust
When it comes to making the best chicken pizza crust, there are a few tips and tricks that can take your creation to the next level. First and foremost, make sure you fully cook, shred and finely chop the chicken before using it as a base for your crust. I'm not a huge fan of canned chicken personally, but if you like it and want to use it feel free. It makes this recipe even easier and the finely chopped nature of canned chicken will ensure that the crust holds together when baking.

Next, be sure to squeeze out any excess moisture from the cooked chicken. Too much moisture can make the crust soggy and prevent it from getting crispy. You can use paper towels or a clean kitchen towel to remove any excess liquid.

Don't forget about seasoning. Adding spices to your chicken mixture enhances the taste of your crust. If you opt not to use spices for a more strict carnivore version, just know the crust will be a bit bland. Salt is definitely your friend if you forego other spices.

By following these tips, you'll be on your way to creating a deliciously crispy and flavorful chicken pizza crust that will have everyone coming back for seconds!
Flavor Variations
Flavor variations for chicken crust pizza are endless, allowing you to get creative and customize your pizza to suit your taste buds. One popular option is to season the chicken crust with Italian herbs like oregano, basil, and garlic powder for a classic Margherita flavor. If you prefer something spicier, add some cayenne pepper or chili flakes for a kick. For a Mediterranean twist, try using Greek seasoning with feta cheese and olives. Don't be afraid to experiment with different flavors and spices in the crust and on top, the possibilities are endless!
You can use a commercially prepared sugar-free pizza sauce or marinara, but it's so easy to make your own. What I use most often is a can of tomato puree that I season and cook down a bit on the stove to thicken, my marinara blended or Rao's if I'm using something from a jar.
Toppings and Serving Suggestions
When it comes to toppings and serving suggestions for chicken crust pizza, get creative. You can customize your pizza with a variety of delicious ingredients to suit your taste preferences. As long as the toppings fit your macros, feel free to experiment with a variety of flavors. Looking at pizza menus can give you some great ideas for untraditional toppings.

For a classic option, try topping your chicken crust pizza with marinara sauce, mozzarella cheese, and pepperoni. If you're looking for something lighter, go for fresh vegetables like sliced tomatoes, bell peppers, and onions. For an extra kick of flavor, add some crushed red pepper flakes (my favorite) or topped some extra virgin olive oil.

To take your chicken crust pizza to the next level, experiment with different types of cheeses such as feta or goat cheese. You can also get creative by adding cooked bacon bits or steak bites as additional toppings. Once your pizza is ready to serve, consider garnishing it with fresh herbs like basil or parsley for added freshness and visual appeal.

In terms of serving suggestions, accompany your chicken crust pizza with a side salad or steamed vegetables for a well-rounded meal. Alternatively, serve it as an appetizer at parties by slicing it into smaller pieces and offering various dipping sauces on the side.

With these topping ideas and serving suggestions in mind, you can create a mouthwatering chicken crust pizza that will satisfy both carnivores and health-conscious individuals alike!
Topping Ideas

Now that you have your delicious chicken crust pizza ready, it's time to get creative with the toppings! Here are some topping ideas that will take your chicken crust to the next level:

1. Classic Margherita: Keep it simple with fresh basil leaves, sliced tomatoes, and mozzarella cheese. This classic combination never fails to please.

2. BBQ Chicken: Spread a layer of tangy sugar-free barbecue sauce (use HNG10 for 10 percent off) on the chicken crust and top it off with red onions and cheddar cheese for a smoky and savory delight.

3. Mediterranean Delight: Add a Mediterranean twist by topping your pizza with crumbled feta cheese, Kalamata olives, diced cucumbers, cherry tomatoes, and a drizzle of tzatziki sauce.

4. Buffalo Chicken: For those who love a bit of heat, coat some chicken cubes in buffalo sauce before adding it to the pizza along with blue cheese crumbles or ranch dressing for a cooling contrast.

5. Pesto Paradise: Replace traditional tomato sauce with pesto for a burst of flavor. Top it off with grilled chicken strips, sun-dried tomatoes, artichoke hearts, and goat cheese for an irresistible combination.

6. Hawaiian Fusion: Give your pizza an island vibe by layering ham slices or Canadian bacon along with pineapple chunks on top of the chicken crust before sprinkling some mozzarella cheese over them all.

7. Garden Delight : Load up on colorful keto friendly veggies like bell peppers, jalapenos, mushrooms, onions, tomatoes etc. and sprinkle some mixed Italian herbs and grated mozzarella.
8. Carnivore Pizza: If you're going strict carnivore, skip the seasonings in the crust and use ricotta cheese as the "sauce" and top with pepperoni and ground beef.

These are just a few examples to get you started on creating mouthwatering combinations using different flavors and ingredients based on personal preferences!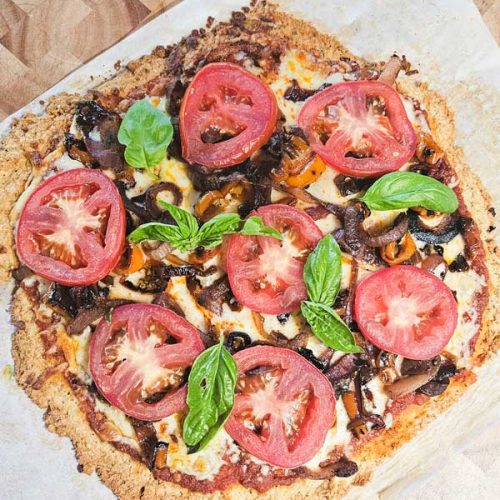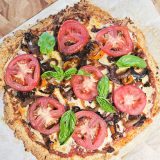 Print
Chicken Crust – Carnivore Keto Recipe
Ingredients
12

ounces

cooked chicken

1 ¼

cups

parmesan cheese

,

grated

1

teaspoon

garlic powder

1

teaspoon

onion powder

1

teaspoon

salt

2

teaspoon

Italian seasoning

2

large eggs
Instructions
Preheat the oven to 400°F.

Line a baking sheet, pizza pan, or pizza stone with parchment paper. The parchment is necessary since the crust is sticky.

In a large bowl, mix together the cooked chicken and parmesan cheese.

Mix in the garlic powder, onion powder, salt, and Italian seasoning.

Beat the eggs, add to the chicken, and mix thoroughly.

Place the chicken mixture on the parchment paper and spread it out as thin as possible. This recipe will make a 13- to 14-inch round crust or equivalent rectangular size.

Place the crust in the oven and bake for about 20 minutes, or until the crust is golden and firm. Remove from the oven.

Using the parchment paper, lift the crust off of the pan and let the crust rest for 15 minutes on a cool surface.

Place the crust back on the pizza pan.

Evenly spread the Pesto on the crust. Evenly distribute the cheese slices over the sauce, and then place the tomato halves.

Put the pizza back in the oven and bake for about 15 minutes, or until the cheese is melted and golden brown.

If you want to brown the cheese, place the pizza under the broiler for 30 seconds to a minute, but be careful to keep a close eye on it!
Nutrition
Calories:
151
kcal
Carbohydrates:
1
g
Protein:
18
g
Fat:
8
g
Fiber:
0.3
g
Net Carbohydrates:
1
g
Did you make this recipe?
Be sure to tag @healnourishgrow on Instagram to be featured in our stories or our newsletter! We love it when you make our recipes and share with your friends.