September 2, 2022
Cheryl's Famous Marinara – Keto Low Carb Recipe
There is no doubt that posting this recipe is long overdue! I've been making my own marinara sauce low carb for years now and it's actually famous, at least among my friends and family. I don't do anything special for this keto marinara sauce except make it from scratch. Oh and maybe the half bottle of wine in my marinara recipe has something to do with the extra richness? And of course, you know it's a sugar free marinara recipe, making it keto-friendly. When used with alternatives for pasta, keeping ths keto-friendly marinara sauce low carb is easy.
When I spent time in Italy, I was always paying attention to how they made their sauces. I also had some conversations with various chefs along the way. The most critical components of great marinara are fresh ingredients, including a copious amount of garlic.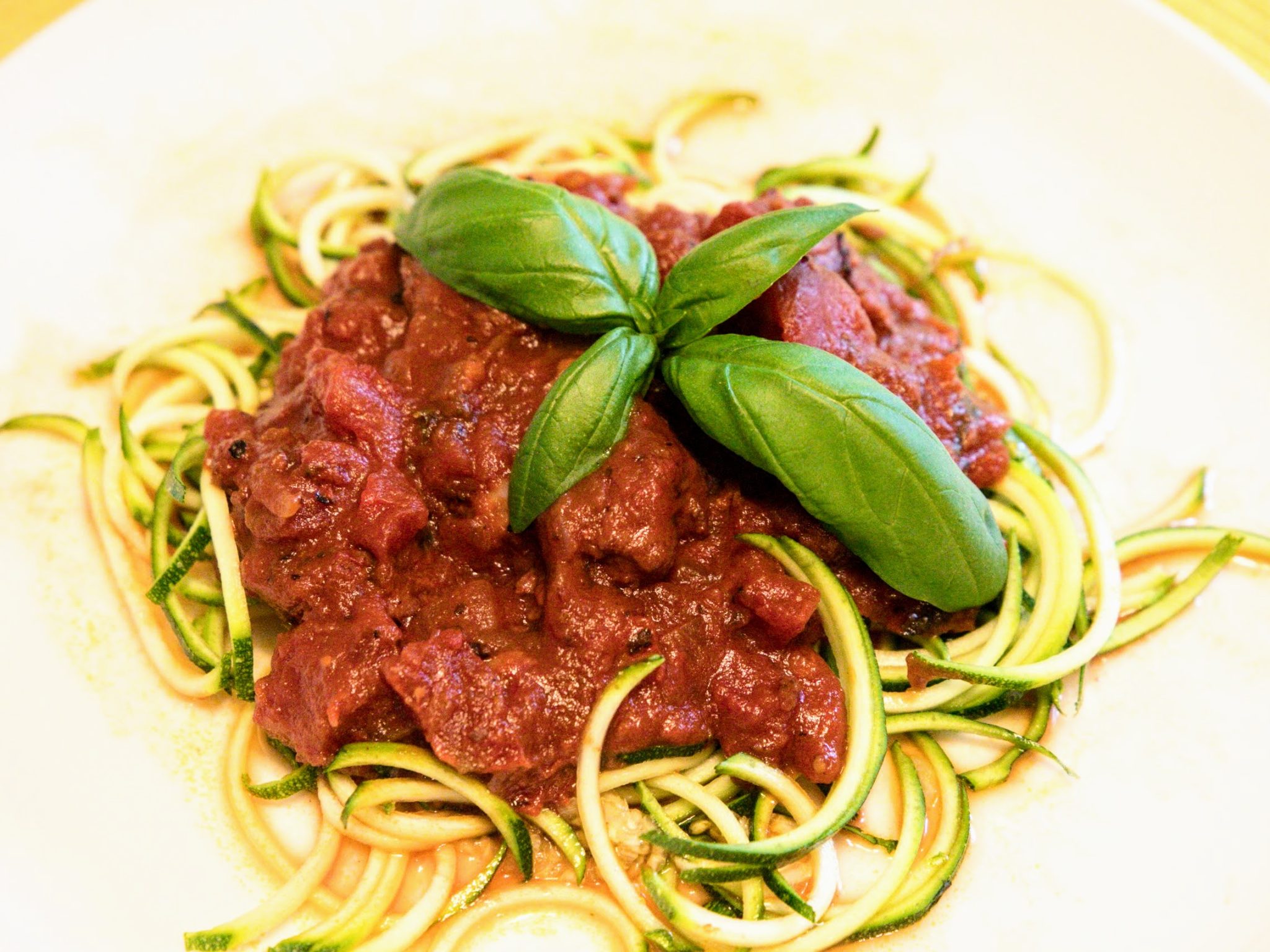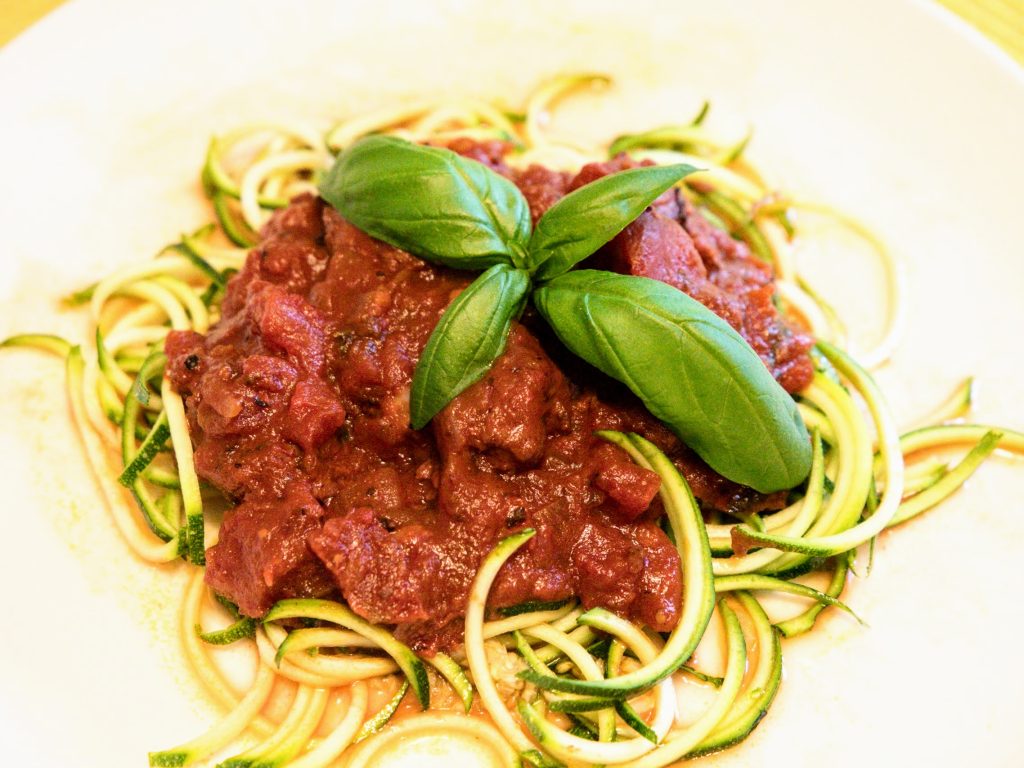 They also use San Marzano tomatoes quite a bit in marinara sauce. These tomatoes are grown in the volcanic soil of Mt. Vesuvius, giving them a distinct flavor. We can buy them canned in the U.S. and I highly recommend them for this marinara recipe.
What's Marinara Sauce?
If you're wondering what the true definition of marinara sauce is, you're not alone. Plenty of people go to google with this question. Traditionally, marinara sauce is a simple recipe with tomatoes, garlic and onion. Marinara sauce tends to be thinner in texture than pasta sauce and usually doesn't contain meat. Pasta sauces may be thicker, have a more complex flavor and may have meat, like a Bolognese sauce.
Disclaimer: Links may contain affiliate links, which means we may get paid a commission at no additional cost to you if you purchase through this page. Read our full disclosure here.
This recipe is for the most basic version of keto marinara, but quite often I'll cook Italian sausage or meatballs in this sauce. Cooking your meatballs in the sauce is the best way to keep them tender and full of flavor.
Is Marinara Keto Friendly?
Marinara sauce is naturally low carb and keto friendly when made without added sugar. The issue comes when chefs and brands add sugar to marinara sauce recipes. To make keto marinara sauce, leave out the sugar and all you have are the natural carbs in the tomatoes, garlic and onions.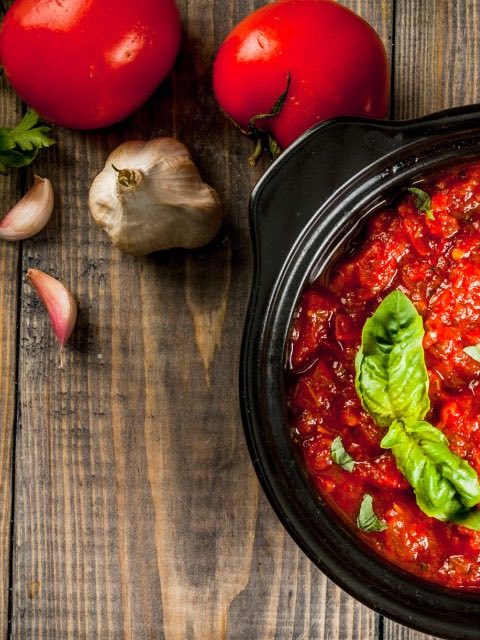 Most marinara sauce you purchase is full of sugar and sugar by other names like corn syrup. Did you know there are about 53 ingredients on labels that are synonymous with sugar? Be sure download our handy sugar names guide so you don't get duped!
To make your keto marinara sauce low carb as possible, I recommend using Dry Farm Wines. Their wines are amazing, tested to be under one gram of sugar in the whole bottle, are delicious and you get an extra bottle for a penny with my link. You can read my comprehensive review of Dry Farm wines here, as well as see an unboxing video to give you an idea of the types of wines you'll receive.
Make Marinara Sauce Low Carb
Fortunately, it's easy to make spaghetti sauce without added sugar and still have it taste delicious. To cut the acidity of tomatoes without adding sugar, you can use just a pinch of baking soda instead. This little trick along with the addition of red wine gives this keto marinara sauce a great flavor without adding sugar.
Faq
Is Rao's Marinara Keto?
Rao's sauces are very keto friendly. If you don't feel like taking the 30 minutes needed to make this recipe, Rao's brand is an awesome second choice. I always have some in my keto pantry! If you like your marinara sauce a little spicy, be sure to go for Rao's arrabbiata, extra yummy and still keto-friendly.
Is Pasta Keto?
When first getting started with low carb, people often wonder if they can still have pasta. With traditional pasta, it would be difficult to eat a normal serving and still stay in ketosis. If you're doing low carb and not keto, you can probably have a small amount of wheat pasta and still meet your goals. However, if your goal is ketosis, I'd stick with a pasta substitute.
Keto Meatballs
If you're use to putting breadcrumbs in your meatballs, they're really not necessary. For keto meatballs, simply take one or two ounces of ground beef or a mixture of beef and Italian sausage and form them into balls. You can also add some Italian seasoning, salt and pepper for extra flavor. l use my kitchen scale to weigh them for consistent size.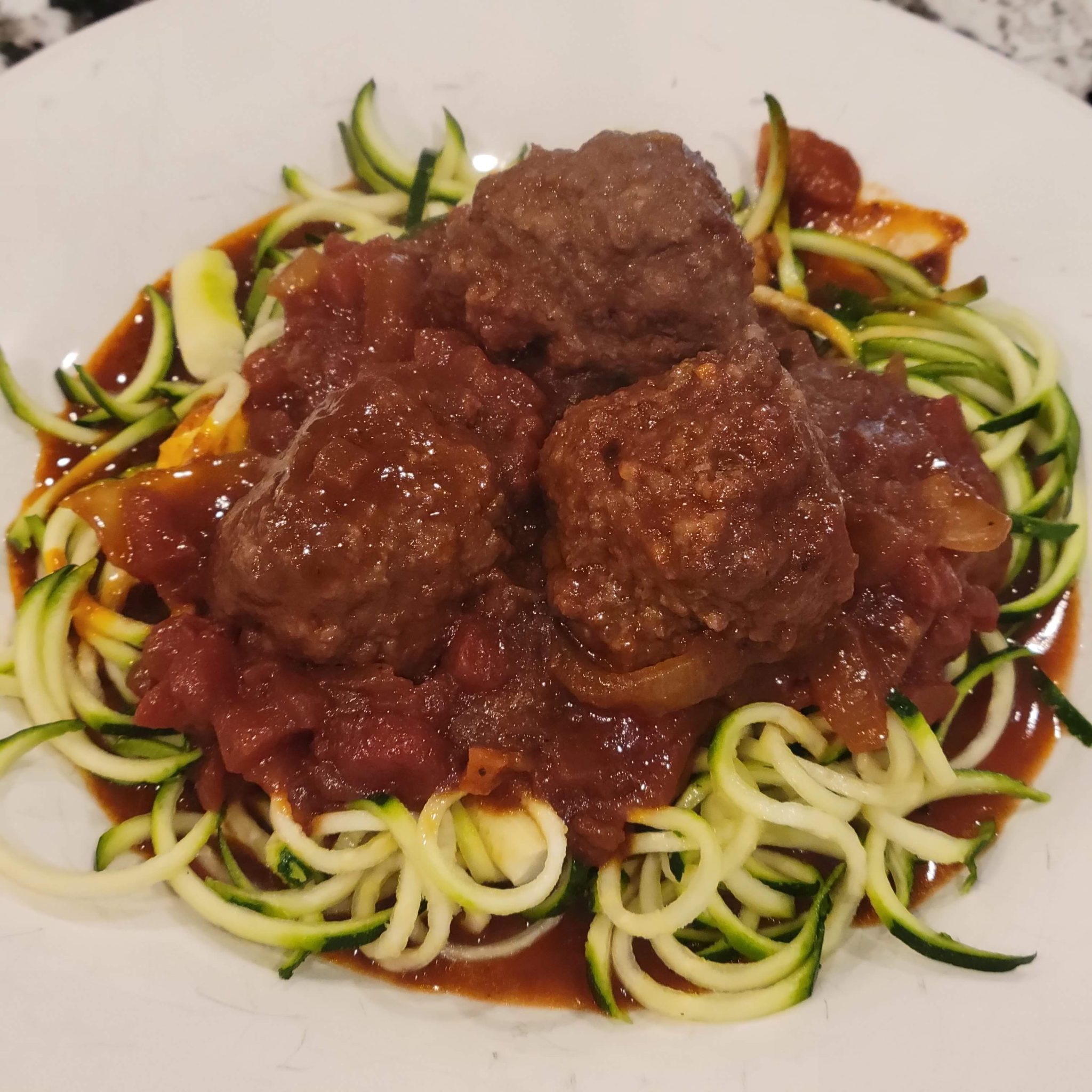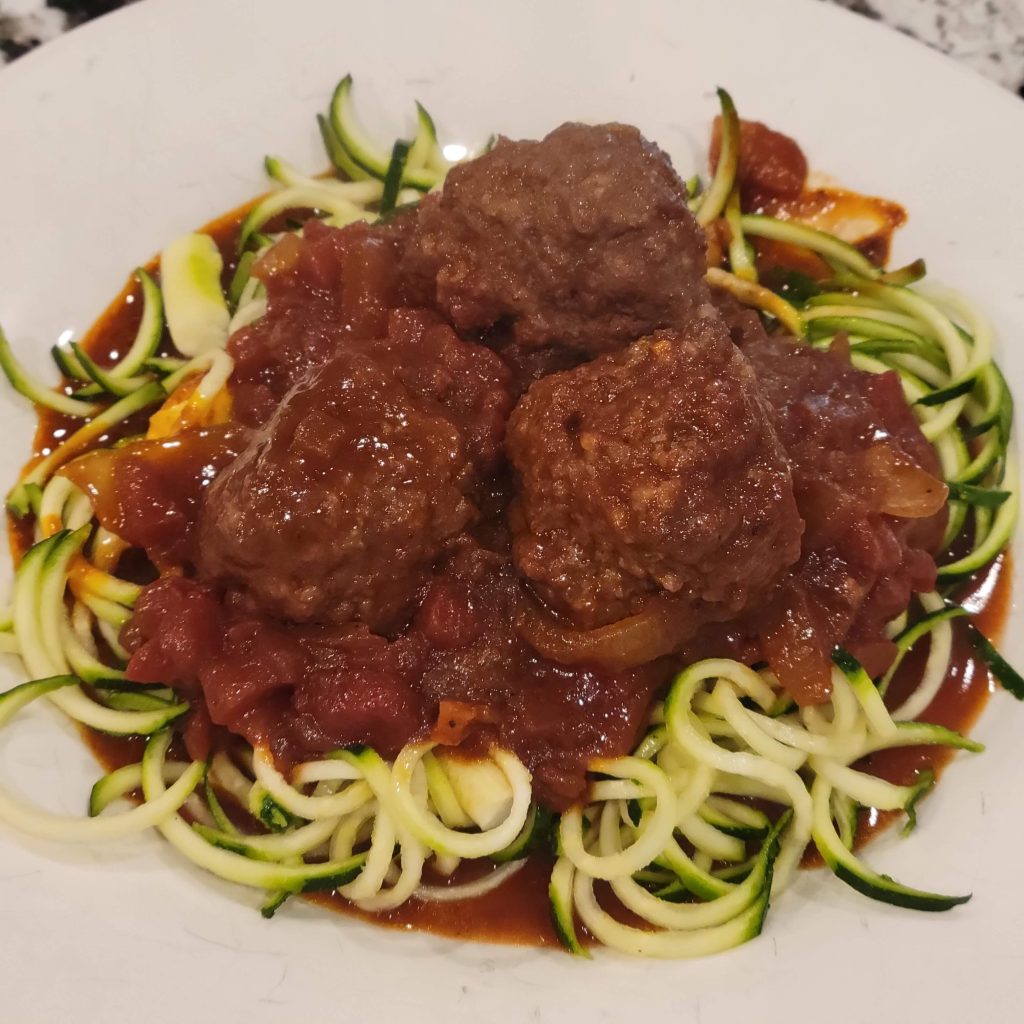 My favorite meatball variation is one I've been testing for a while. Look for my Lemon Ricotta meatball recipe up soon! I was inspired by a local Cincinnati restaurant to create my own version and we've been enjoying them for the last year or so at home. I thought the lemon part sounded strange the first time I heard it too, but they're legitimately amazing and perfect with this keto marinara sauce.
Pasta Substitutions for Marinara Sauce Recipe
The easiest and maybe healthiest alternatives for pasta are vegetables. Specifically, spiralized vegetable noodles. A spiralizer is a fantastic addition to your keto pantry, and they're inexpensive. You can find my favorite one on Amazon for around twenty dollars. If you happen to own a Kitchen Aid, there is also an attachment you can get to spiralize your vegetables.
Long before keto I actually preferred zucchini noodles as my substitution for pasta. They're a lot lighter and you'll feel great after eating them, unlike the heaviness a lot of people experience with wheat pasta.
Alternatives for Pasta: Vegetables
My absolute favorite alternative for pasta is zucchini noodles. This is followed by my second choice, spaghetti squash. You can also use cauliflower if you don't care whether they look like noodles. Cauliflower as a "noodle" is more like a macaroni or pieces of pasta.
Alternatives for Pasta: Products
I've tried a lot of keto pastas and they're generally disappointing. The best pasta substitutions are the types of noodles that use anything other than a wheat substitute. Keto pasta made from lupin, almond or wheat don't come close to the taste of real pasta and they're not a flavor I enjoy.
If I'm going for a prepared keto noodle, my favorite is Natural Haven, which is made of hearts of palm. I also like shirataki noodles made of konjac fiber. There are several brands of this type, all are zero carb as well as zero calorie.
Keto Spaghetti Sauce
If you want to make your keto marinara sauce, it's kind of useless if you don't lighten the carbs on your noodles too! I'd love to hear which pasta substitution you like best.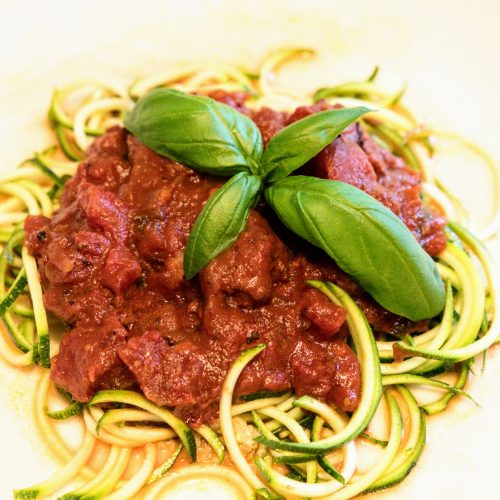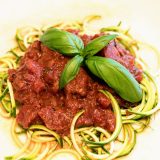 Print
Ingredients
¼

cup

extra virgin olive oil

1

medium

white onion

,

230 grams, chopped

5

whole

garlic cloves

,

minced

28

ounces

diced tomatoes

,

san marzano or muir glen fire roasted

28

ounces

crushed tomatoes

,

san marzano with basil in can if available

15

ounces

tomato sauce

,

san marzano or muir glen

1

teaspoon

red pepper flakes

½

teaspoon

salt

½

teaspoon

pepper

2

teaspoons

Italian seasoning

pinch

baking soda

2

cups

red wine

2

tablespoons

fresh basil

,

chopped, extra for garnish

3

drops

stevia,

optional to taste, for sweetness
Instructions
Over medium heat in a large dutch oven or sauce pot, heat the olive oil for about 3 minutes.

Pour in the onion and garlic, cook until fragrant, about 3 minutes, stirring frequently.

Pour in all of the tomatoes and tomato sauce, red pepper flakes, salt, pepper, Italian seasoning and baking soda and stir to combine.

Cook for about 10 minutes and taste to adjust seasoning to your preference.

Pour in the wine and stir to combine, cook for an additional 30 minutes.

For richer flavor, pour in 1/2 cup of wine every 30 minutes, cooking the sauce and letting it reduce over at least two hours.

Stir in the fresh chopped basil, reduce heat to simmer and cook an additional 10 minutes.

Serve over your favorite pasta or pasta substitute to keto it keto/low carb friendly and garnish with fresh basil leaves if desired.
Notes
To ensure the least amount of carbs possible, I recommend Dry Farm Wines. I've been using them for years and all of their wine is tested to be under one gram of sugar in the entire bottle! You'll get an extra bottle for a penny by using my link.
Nutrition
Serving:
12
servings
Calories:
120
kcal
Carbohydrates:
9
g
Protein:
2
g
Fat:
5
g
Fiber:
3
g
Net Carbohydrates:
6
g
Did you make this recipe?
Be sure to tag @healnourishgrow on Instagram to be featured in our stories or our newsletter! We love it when you make our recipes and share with your friends.