May 16, 2019
Triple Chocolate Fat Bomb – No Bake, Low Carb Keto Recipe
Fat bombs sometimes get a bad rap in the keto community. Many people don't think you should go out of the way to eat more fat when you're following the keto diet. However, there are times when you just want something sweet. When that urge happens, few things satisfy better than chocolate and fat. A keto chocolate dessert is the best. And when you have a triple chocolate keto fat bomb, well. It's like chocolate heaven!
Each serving of this chocolate fat bomb gives you just two net carbs and three grams of fat. So no matter which side you're on regarding keto fat bombs, you can easily enjoy this as a treat. Just think of it like any keto chocolate dessert.
The amount of fat you should consume on keto really depends on what your goals are. Fat consumption on the keto diet should be what keeps you satiated. You can read more about how you should treat your keto macros in our Complete Beginner's Guide to the Ketogenic Diet.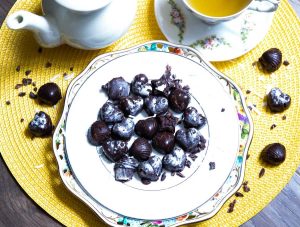 This chocolate fat bomb recipe was inspired by a collaboration I'm doing over at Instagram. The theme for this month is a tea party. This week everyone is making tea time sweet treats.
Chocolate is one of my favorite treats, so it was natural for me to pick these chocolate fat bombs to share. Our Double Chocolate Chip Keto Cookies or Double Chocolate Brownies would also make a good tea time sweet treat!
Chocolate Fat Bomb Nutrition
Triple chocolate fat bombs are low carb, no bake, keto, gluten-free and sugar-free. They also could be made paleo or vegan. For a paleo version, simply switch out the swerve for your paleo sugar of choice. For a vegan version, omit the collagen powder or sub a vegan protein (or ground coffee!) and add additional coconut oil in place of the butter and heavy cream.
The ingredients for this chocolate keto dessert include superfoods.
Disclaimer: Links below may contain affiliate links, which means we may get paid a commission at no additional cost to you if you purchase through this page. Read our full disclosure here.
Cacao Nibs
Cacao nibs are the raw, pure form of chocolate. They provide a nice crunch to foods with a texture similar to roasted coffee beans. They have lots of antioxidants and are a good source of fiber, magnesium and iron. Chocolate may improve cognitive function. 1 Our favorite brand of cacao nibs is Navitas Organics.

Cacoa is also related to increased blood flow to the brain. Researcher Macdonald said: "Acute consumption of this particular flavanol-rich cocoa beverage was associated with increased grey matter flow for two to three hours." Additionally, he stated,
The demonstration of an effect of consuming this particular beverage on cerebral blood flow raises the possibility that certain food ingredients may be beneficial in increasing brain blood flow and enhancing brain function, in situations where individuals are cognitively impaired such as fatigue, sleep deprivation, or possibly aging.2
Chocolate
Dark chocolate is purported to provide cardiovascular benefit. "Cocoa and dark chocolate polyphenols exert antioxidant and anti-inflammatory activities switching on some important signaling pathways …accounts for vasodilation and cardioprotective effects.3 There are multiple studies showing the beneficial effects of cacao. It also improves lipid profile.4
We used Ghiradelli 100 percent cacao unsweetened baking chocolate and Navitas Organics 100% cacao for the chocolate fat bombs recipe.
Coconut Oil
Polynesians consume about 60 percent of their calories from coconut. Despite all of the saturated fat (which has been wrongly demonized) they have almost no incidence of heart disease.5 Medium-chain triglyceride (MCT) oil has also been shown to increase fat burning capabilities, amounting to around 120 extra calories a day6 and can raise HDL, which is considered the "good" cholesterol.7
We like Vita Naturals virgin coconut oil or Trader Joe's. Virgin coconut oil retains its natural properties which will enhance the coconut flavor of the chocolate fat bombs. You can also use refined coconut for this chocolate keto dessert, but the coconut flavor will be less intense.
Collagen
This supplement is gaining popularity in alternative and functional medicine circles. It's the building block of your skin and cartilage and naturally declines as we age. Much of the evidence for collagen is anecdotal, but people report less wrinkles, better hair growth, stronger nails and improved gut health among other things. If you buy from a quality manufacturer, there is no doubt that it is at the very least a good protein source.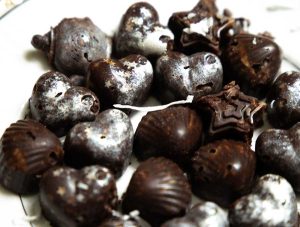 That said, there is some evidence coming out on collagen supplementation. A study published in 2013 showed improved skin elasticity with supplementation.8 Another study in the British Journal of Nutrition found that collagen supplementation with strength training improved body composition and muscle gain.9
Forms of Collagen
The best ways to get collagen are in powder form or through bone broth.
There are several brands of collagen you could choose from, but we like to go with pasture-raised, grass fed protein with no GMO hormones or antibiotics for this keto fat bomb and for all of our recipes. Drkellyann.com has 25 percent off of their products right now while they're repackaging. Her 10-Day Belly Slim Down book goes into more detail about the benefits of collagen, especially as it relates to gut health.
Get an additional $10 off your order at Drkellyannstore.com with our coupon code, HNG10. For even more savings, get 7.5 percent cash back on your order at there with Rakuten. We've been using Rakuten (formerly eBates) since 1999 and it's an awesome way to get cash back on your online purchases at hundreds of stores. There is a browser add on to alert you when you can save and they even pay you via paypal so it's super easy and convenient.
If you choose to drink your collagen in soup form, Kettle and Fire is awesome. Their store also earns cash back with Rakuten. They use organic vegetables for flavor and bones from grass-fed cows. Save 20% off soups & bone broth at Kettle & Fire with code SPRINGFORBROTH until 6/15/2019.
Chocolate Fat Bomb Recipe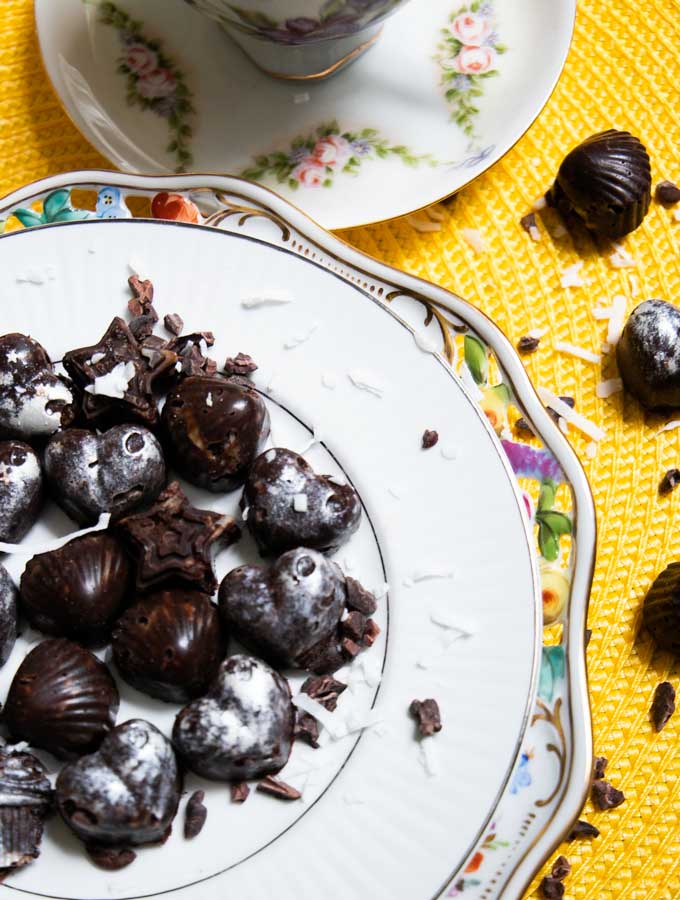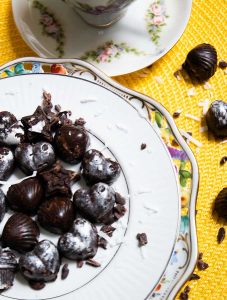 As a chocolate keto dessert, we hope we've convinced you that you can enjoy this sweet treat pretty much guilt free. Chocolate, cacao, coconut and collagen may all have some great benefits! Plus, it's all about moderation, right?
Optional but fun for this recipe are two products to add some glitz to your fat bombs. First I chose some silver sugar-free metallic glitter stars, complemented by silver cocktail glitter, also sugar-free.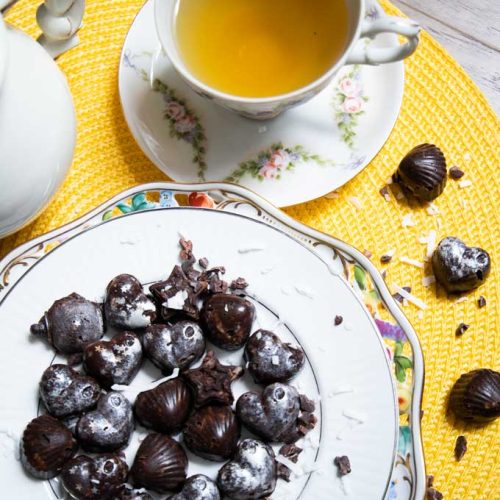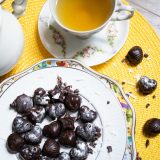 Print
Triple Chocolate Fat Bomb - Low Carb Keto Recipe
This triple chocolate fat bomb is the perfect keto dessert when you're looking for a bite or two of something sweet!
Ingredients
2

tablespoons

coconut oil,

virgin

1

tablespoon

heavy cream

2

ounces

unsweetened chocolate

1

teaspoon

vanilla

½

cup

swerve

1

ounce

cacao butter

1

tablespoon

butter

½

cup

unsweetened coconut flakes

1

tablespoon

cacao nibs

1

tablespoon

cacao powder

1

tablespoons

collagen powder
Instructions
Over low heat, add coconut oil and heavy cream to a saucepan.

Add chocolate and vanilla, stir constantly until melted.

Add sweetner and combine.

Add cacao butter and stir constantly until melted.

Add butter and stir constantly until melted.

Add coconut flakes a 1/4 cup at a time and stir until combined.

Add remaining ingredients and stir until well combined.

Put a light coating of glitter and stars if desired.

Put chocolate mixture into silicone mold. Press into mold to remove air bubbles.

Refrigerate at least 30 minutes or until hardened.

Store in the refrigerator for up to a month.
Nutrition
Calories:
32
kcal
Carbohydrates:
3
g
Protein:
1
g
Fat:
3
g
Fiber:
1
g
Did you make this recipe?
Be sure to tag @healnourishgrow on Instagram to be featured in our stories or our newsletter! We love it when you make our recipes and share with your friends.