July 5, 2023
Strawberry Mocktail, Mojito with Strawberries and Basil
Welcome to the world of mocktails, where refreshing flavors and vibrant colors come together to create a tantalizing beverage experience. Today, I have something you're going to love. This strawberry mocktail satisfies your taste buds but also fits perfectly into your keto diet!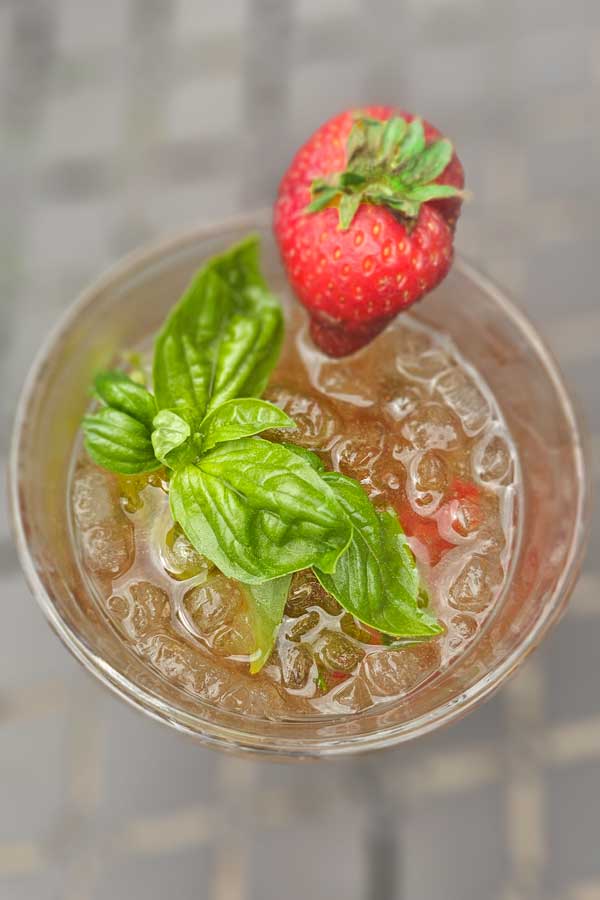 If you're looking for a regular cocktail, stick around, we have plenty of those too! This recipe can easily be made with real rum.
Whether you're looking for a non-alcoholic alternative or simply want to enjoy a delicious drink without guilt, mocktails are the perfect solution. Let's take a moment to explore the many benefits of mocktails and why they've become such a popular choice among health-conscious individuals.
The Benefits of Mocktails
Mocktails are not just for designated drivers or those avoiding alcohol. They offer a wide range of benefits that can be enjoyed by anyone, regardless of their drinking preferences.
Disclaimer: Links may contain affiliate links, which means we may get paid a commission at no additional cost to you if you purchase through this page. Read our full disclosure here.

First and foremost, since mocktails don't contain alcohol, there are no harmful neurotoxins. Skipping the alcohol (at least most of the time if not always) can really help you reach your health goals.
Mocktails allow you to quench your thirst and enjoy a flavorful drink without the negative effects of alcohol. Plus, they come in countless flavors and combinations, making it easy to find one that suits your taste buds perfectly.

They are a healthier choice compared to traditional cocktails. By using fresh ingredients like fruits and herbs, you can benefit from vitamins and antioxidants while still enjoying a refreshing drink. Since they don't contain alcohol, mocktails have fewer calories (as long as you stay away from juices and soda mixers) which makes them suitable for those watching their weight or sticking to keto.
Plus, if you use Ritual Zero Proof as your "spirit", they have virtually zero carbs, sugar and calories. Use HNG20 at checkout for 20 percent off your order. I've been using Ritual since 2020 and their nonalcoholic spirits taste surprisingly like the real thing! They've really been a great addition to my wellness program.
A Refreshing Twist: Strawberry Mocktail
If you're looking for a refreshing and guilt-free drink option, look no further than the delightful Strawberry Mocktail. Bursting with the sweet and tangy flavors of fresh strawberries, this mocktail is sure to satisfy your taste buds without adding unnecessary calories or sugar.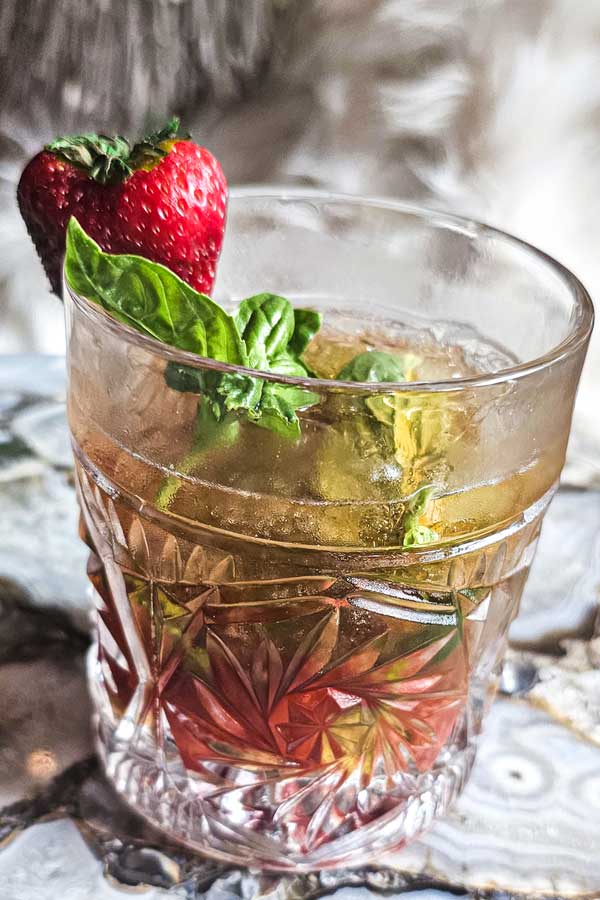 Mixing it Up: Strawberry Mocktail Mojito with Mint and Basil
Mojitos are a classic cocktail that can be easily transformed into a refreshing mocktail. By swapping out some of the rum for sparkling water, you can enjoy all the flavors of a Mojito. One delicious twist on this mocktail is to add fresh mint and basil to give it an extra burst of flavor.

To make the strawberry mocktail, start by muddling together fresh mint leaves and strawberries in a glass. Add nonalcoholic rum and stir. Fill a separate glass with ice pour in the strawberry mixture. Smack your basil leaves to release the oil and add those in too. Top it off with sparkling water. Give it a good stir and garnish with additional mint leaves. A slice of lime makes a nice garnish too, but I prefer not to any lime juice in this combination.
Most of the carbs in this mocktail come from the strawberries. Halve the number of strawberries or Ritual rum to reduce further (the ritual has two carbs per serving to mimic the sweetness of real rum.)

Enjoy this delightful mocktail at your next gathering or simply when you want something flavorful and refreshing without any guilt! The combination of mint and basil adds an herbaceous twist.
Tips for Creating the Perfect Strawberry Mocktail
Creating the perfect mocktail is all about balance and creativity. Here are a few tips to help you take your mocktail game to the next level:

1. Fresh Ingredients: Start with high-quality, fresh ingredients like low carb fruits and herbs. This will ensure that your mocktail has vibrant flavors that really shine through.

2. Experiment with Flavors: Don't be afraid to mix and match different flavors to create unique combinations. Try adding a splash of citrus or a hint of spice to add depth and complexity to your mocktails.

3. Garnish Like a Pro: The presentation is just as important as the taste! Take some time to garnish your mocktails with fresh fruit slices, herb sprigs, or even edible flowers (lavender!) for an extra touch of elegance.

4. Play with Texture: Consider using crushed ice or muddled fruits/herbs in your mocktails for added texture and visual appeal.

5. Balance Sweetness: Be mindful of sweetness levels by adjusting the amount of sweetener used in your recipes or opting for naturally sweet, low-carb ingredients like berries or coconut water instead.

Remember, creating the perfect mocktail is all about having fun and experimenting! So don't be afraid to get creative and try new things until you find the combination that suits your taste buds perfectly.

Next time you want to enjoy a tasty beverage without guilt or alcohol, try mixing up some mocktails at home. Get creative with your ingredients, experiment with different flavors, and don't forget to garnish with fresh herbs or fruit slices for an extra touch of elegance. Cheers to enjoying flavorful drinks that fit your low-carb lifestyle!
More Ideas for Low Carb Mocktails
All of the cocktail recipes on HealNourishGrow.com can easily be made into mocktails by using non-alcoholic spirits like Ritual. A lot of our recipes are written as mocktails as well. One of the most popular is the Coconut Lime Martini Mocktail. You can find all of our keto cocktail and mocktail recipes here.
Until I get to write them all, here are a few ideas for low carb mocktails to quench your thirst while sticking to your keto lifestyle.
Keto Mocktail Ideas

1. Cucumber Lime Cooler: Blend cucumber slices, lime juice, sparkling water, and a touch of sweetener.

2. Raspberry Lemonade Slushie: Combine fresh raspberries, lemon juice, ice cubes, and a sugar substitute in a blender for a fruity slushie that's perfect on hot summer days.

3. Watermelon Mint Spritzer: Puree watermelon chunks with fresh mint leaves until smooth. Mix it with sparkling water or soda water for a light and refreshing spritzer.

4. Peach Iced Tea: Brew some unsweetened black tea and let it cool down. Add a peach-flavored keto syrup (10 percent off with HEALNOURISHGROW). Serve over ice for an invigorating iced tea experience.

Remember to experiment with different flavors by incorporating herbs like basil or thyme into your mocktails! These low carb beverages will not only help you stay hydrated but also keep you motivated on your keto journey.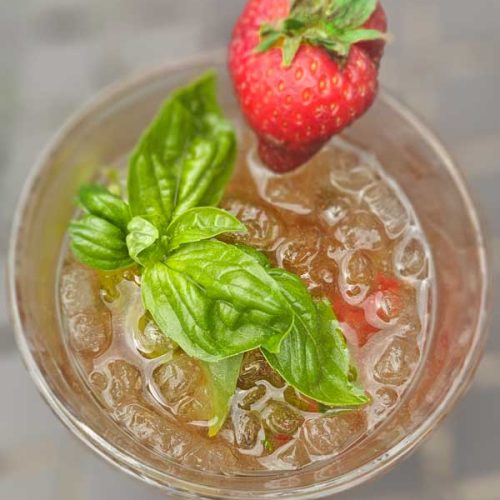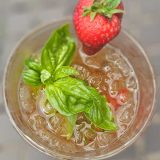 Print
Strawberry Mojito Mocktail with Strawberries and Basil
Ingredients
5

medium

strawberries

4

leaves

mint

4

leaves

basil

,

plus extra for garnish

2

ounces

Ritual Zero Proof Rum,

or traditional rum

sparkling water
Instructions
In a large glass, place the strawberries and mint and muddle.

Pour in the rum and stir.

Smack basil leaves to release the oils, place in the rum mixture and stir.

Into a cocktail glass with crushed ice, pour in the rum mixture.

Top the mocktail with sparkling water and give a final stir.

Garnish with fresh basil leaves, if desired.
Equipment
Nutrition
Serving:
1
people
Calories:
20
kcal
Carbohydrates:
5
g
Protein:
0.5
g
Fat:
0.2
g
Fiber:
1
g
Net Carbohydrates:
3
g
Did you make this recipe?
Be sure to tag @healnourishgrow on Instagram to be featured in our stories or our newsletter! We love it when you make our recipes and share with your friends.