September 3, 2023
Roasted Hatch Chile Salsa
Every year in August when the Hatch chiles start showing up in the grocery store, I get excited. These chiles mean fall is upon us and it's time to make some delicious roasted hatch chile salsa! If you're a lover of all things spicy and crave that extra kick in your salsa, then this is the recipe for you. Made with roasted Hatch chiles, this vibrant green salsa verde will elevate any dish to new levels of deliciousness. Whether you're hosting a BBQ or simply want to add some zest to your tacos, this versatile homemade salsa packs a punch that will leave your taste buds begging for more. So grab your apron and let's get cooking!
What are Hatch Chiles?
Originating from the small town of Hatch in New Mexico, these chilies have gained quite a reputation for their unique taste and versatility. But don't worry if you're not located in the Southwest because Hatch chiles have spread far and wide, capturing hearts (and palates) across the nation. So whether you're already familiar with Hatch chiles or curious about what makes them so special, we're going to shed some light on the Hatch.
Hatch chiles trace their roots back to the small town of Hatch, New Mexico. Nestled in the Rio Grande Valley's fertile soil and bathed in abundant sunshine, this region provides the perfect conditions for growing these flavorful peppers. The unique combination of hot days and cool nights creates an ideal environment that contributes to the distinct taste and heat levels found in Hatch chilies.
Disclaimer: Links may contain affiliate links, which means we may get paid a commission at no additional cost to you if you purchase through this page. Read our full disclosure here.
The people of Hatch take great pride in their chili heritage, with many families passing down traditional farming methods from one generation to another. The annual Hatch Chile Festival celebrates these fiery delights, showcasing everything from mouthwatering dishes to lively music and cultural festivities. It's no wonder that Hatch chiles have become synonymous with this picturesque town, capturing the essence of its vibrant culinary traditions.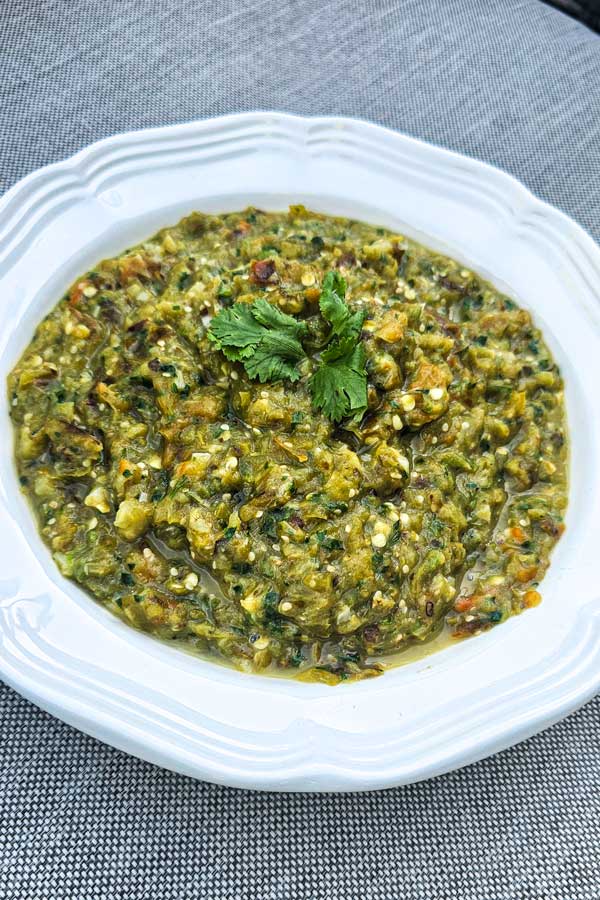 In 2022, I was actually in New Mexico when they came out and made this delicious Hatch chile Southwestern soup. You could also use Hatch chiles in place of poblanos in this Southwestern salad.
Hatch Chiles Beyond the Southwest
Hatch chiles are not only beloved in the Southwest, but they have also gained popularity beyond the region. These flavorful peppers have made their way into kitchens across the country, captivating taste buds with their unique and versatile qualities.

Restaurants and food enthusiasts are incorporating Hatch chiles into a wide range of dishes, from salsas and sauces to soups, stews, and even desserts. Their distinct smoky flavor adds depth to any recipe while providing a pleasant level of heat that can be adjusted according to personal preference. Whether roasted or used fresh, Hatch chiles bring an exciting element to culinary creations that is hard to replicate with other peppers.

As demand for Hatch chiles continues to grow outside of their native New Mexico, grocery stores and farmers' markets now offer them in various forms such as canned, frozen, or dried. This accessibility allows people from different regions to experience the rich flavors of these vibrant peppers without having to travel all the way to Hatch Valley. So no matter where you live, you can indulge in the deliciousness of Hatch chiles and elevate your cooking endeavors with this Southwestern gem!
Exploring the Different Varieties of Hatch Chiles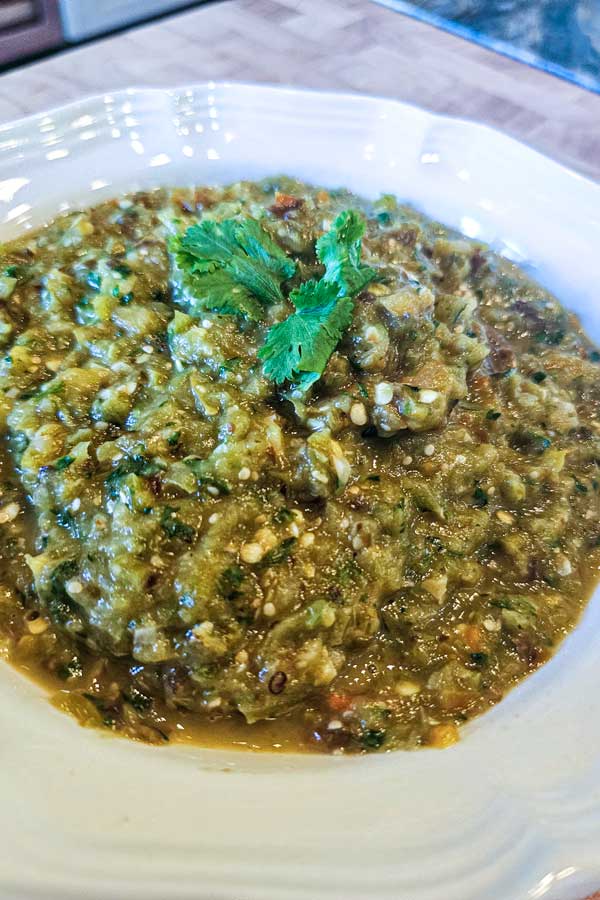 Hatch chiles come in various types, each with its own unique flavor profile and heat level. The most common varieties include the mild, medium, hot, and extra hot Hatch chiles.

The mild variety is perfect for those who want a subtle kick of spice without overwhelming their taste buds. It adds a mild smoky flavor to dishes like enchiladas or salsas. On the other hand, if you're looking for more heat, the medium variety strikes a balance between spiciness and flavor. Any of the Hatch Chiles make great salsa, it just depends how spicy you want to make it.

For those who can handle the heat, there's the hot Hatch chile which packs a punch but still retains its delicious taste. And if you're truly daring and crave maximum spiciness, try the extra hot chile. For this recipe, I used the extra hot variety. I found them to be spicy but not overly intense.
How to Make Roasted Hatch Chile Salsa
Hatch chile salsa is a versatile and flavorful condiment that adds a kick to any dish. Making your own homemade salsa is surprisingly easy and allows you to control the heat level and ingredients. Here's how to make Hatch chile salsa in just a few simple steps.

First, start by roasting the hatch chiles along with tomatillos and garlic. Roasting is crucial as it brings out the smoky flavor in the Hatch. Once roasted, you can use them in two ways. I go the easy route and simply remove the stem before blending with the other ingredients. For less heat and char taste, let them cool before peeling off the skin and removing the seeds.

Mix everything together in a food processor with a few pulses or just do a rough chop on everything then adjust the seasoning to taste. Some people prefer their salsa chunky while others like it smoother so using a blender or food processor is a great way to produce a smoother texture if you prefer.

Making your own Hatch Chile Salsa not only allows you to customize the flavors but also ensures that you're using fresh ingredients without any additives or preservatives!
Is This Salsa or Pico de Gallo?

Now that we've explored how to make Hatch chile salsa you may wonder is this recipe actually salsa or pico de gallo? To put it simply, both Hatch chile salsa and pico de gallo are flavorful condiments that can elevate any dish. However, there are slight differences between the two.

Salsa typically refers to a sauce made with cooked ingredients, while pico de gallo is a fresh salsa made with raw vegetables. So in this case, roasting the vegetables not only gives the Hatch chiles a unique smoky flavor but also makes this recipe a salsa having cooked ingredients.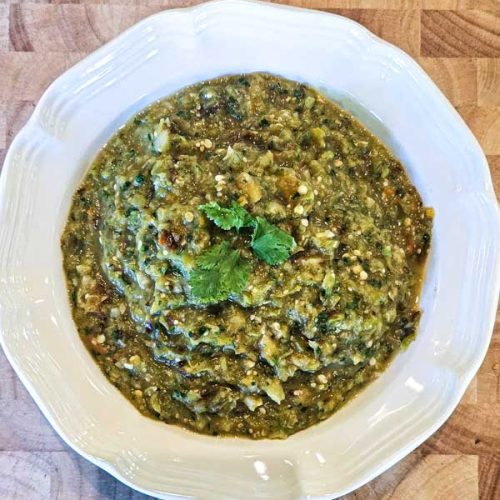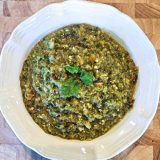 Print
Ingredients
5

large

hatch chile

6

whole

tomatillio

6

cloves

garlic

,

peeled

2

tablespoons

extra virgin olive oil

1

bunch

cilantro

1

teaspoon

cumin

1

teaspoon

Mexican oregano

½

teaspoon

sea salt,

or to taste

¼

cup

water

,

or enough to blend easily
Instructions
Place the chiles, peeled tomatillo and garlic cloves on a baking sheet and drizzle with extra virgin olive oil.

Roast the vegetables in the oven for 30 minutes or until soft and the peel on the chiles has browned.

Remove the vegetables from the oven and place in a food processor or blender with their juices and oil.

Place the cilantro and all remaining spices in the food processor with the vegetables.

Blend until smooth, adding water a little at a time to make blending easier without making the salsa too runny. You may not need any water at all.

Serve warm or chill in the refrigerator.
Equipment
Nutrition
Calories:
17
kcal
Carbohydrates:
1
g
Protein:
0.1
g
Fat:
1
g
Fiber:
0.4
g
Net Carbohydrates:
1
g
Did you make this recipe?
Be sure to tag @healnourishgrow on Instagram to be featured in our stories or our newsletter! We love it when you make our recipes and share with your friends.