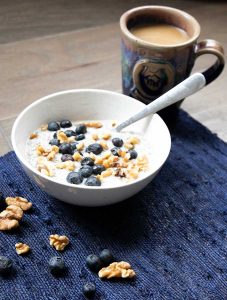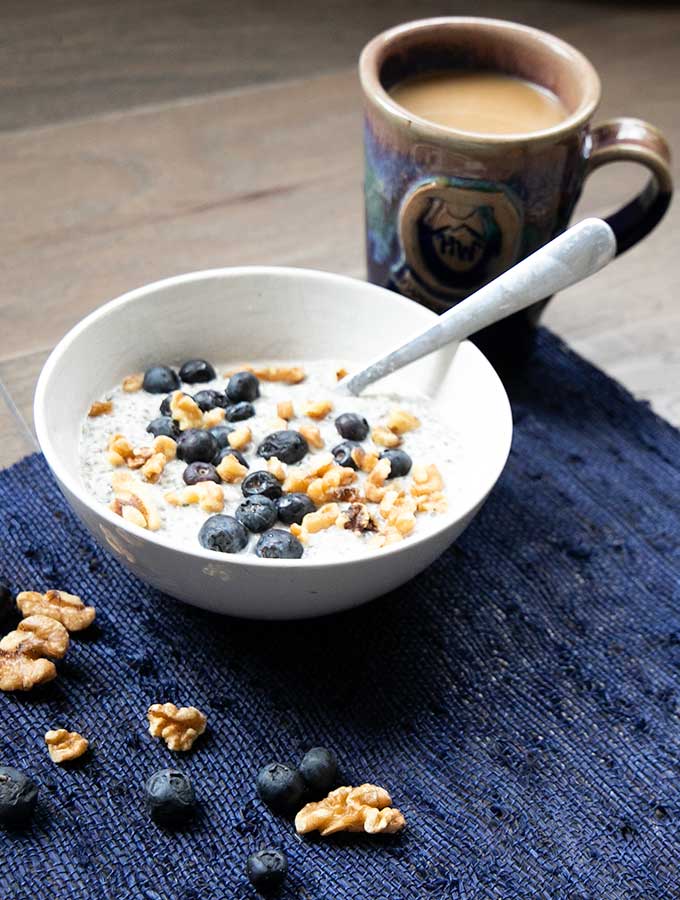 Still enjoy eating breakfast on keto but tired of bacon and eggs? It's time to get creative! There are plenty of keto substitutes for traditional breakfasts foods including the old breakfast standby, oatmeal. Keto oatmeal, keto noatmeal, keto hot cereal or keto porridge is a great way to start your keto day, no matter what you like to call it. Keto oatmeal cereal is a way to add a vegetarian keto meal to your diet and easily tweak macros to fit your keto goals.
Using this low carb, keto friendly oatmeal base, you can create lots of fantastic "power bowls" and hot keto cereals. Simply add toppings to your noatmeal that allow you to easily get extra fat, protein and calories in your keto diet depending on your needs.
These types of low carb substitutes for foods you know and love can be key to sustaining the keto diet. One of the great things about this recipe is most if not all of the ingredients can be found in your well-stocked keto pantry.
Keto Noatmeal Starts with Chia Pudding
Keto oatmeal aka noatmeal starts with a simple chia seed pudding. Chia seeds are quite a wonder. While dry, they're just tiny little seeds. When you add liquid, they expand into a gelatinous, pudding-like substance. At two net carbs per tablespoon, they're very keto friendly. If you look at a tablespoon dry you may not think so, but once these little seeds plump up with liquid to 10 times their size, they suddenly seem worth the two net carbs for what you're getting!
Chia seeds also have three grams of fiber, four grams of fat, two grams of protein and 35 grams of magnesium per tablespoon. Not only are they loaded with free radical fighting antioxidants (that's a good thing!) but they are also loaded with omega-3 fat, more gram per gram than salmon. Omega-3 has a lot of research behind it and has been shown to fight depression, heart disease, reduce inflammation, improve eye health, fight autoimmune disease and more.
Disclaimer: This article may contain affiliate links, which means we may get paid a commission at no additional cost to you if you purchase through this page. Read our full disclosure here.
Keto Oatmeal Toppings
This keto oatmeal can be absolutely transformed based on what you mix in or put on top. I like to think of it as a keto power bowl since you can turn it into a vehicle to hit any macro or "superfood" goals. Just keep in mind this recipe contains a lot of fiber and about three net carbs depending on the exact brands of ingredients you choose.
Additional toppings will obviously change your keto oatmeal carb count, but below are some of my favorite superfood, super antioxidant, super healthy additions. This recipe is especially great for the beginning keto dieter since it replaces a common carb filled food favorite.
1/4 cup blueberries, 20 calories and 4 net carbs
2 teaspoons lemon zest (goes great with blueberry!), negligible
1/4 cup whole almonds, 204 calories and 3 net carbs
1/4 cup chopped walnuts, 200 calories and 2 net carbs
1/4 cup chopped pecans, 205 calories, and 1 net carb
1/4 cup coconut chips, 200 calories and 6 net carbs
2 tablespoons cacao nibs, 125 calories and 2 net carbs
5 medium strawberries, 18 calories and 3 net carbs
2 tablespoons flaxseed, 60 calories and 1 net carb
1 teaspoon ground Ceylon cinnamon (learn more about why you should choose Ceylon cinnamon), 6 calories and .5 net carb
1 teaspoon vanilla extract, 12 calories and .5 carb
Stevia sweetener, 0 calories and carbs
1 tablespoon pumpkin seeds, 95 calories and 1.5 net carbs
1 teaspoon Bakto flavor such as banana bread, white cake batter, cherry etc., 0 calories and carbs
1 tablespoon Lily's chocolate chips, 55 calories and 3 net carbs
Two scoops Vital Proteins collagen peptides (flavorless but adds protein), 70 calories, 0 carbs, 18 protein
Nut butter (varies)
If you try our keto oatmeal recipe, please let us know! We'd love to hear what you put on top.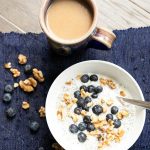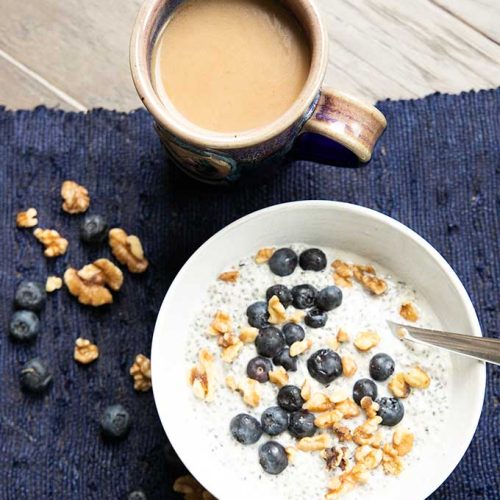 Keto Noatmeal - Low Carb Vegetarian Breakfast
Used this delicious keto noatmeal base as a way to create a delicious breakfast power bowl.
Ingredients
Optional Ingredients
1/2

ounce

walnuts

chopped

1/4

cup

blueberries
Instructions
Mix together chia seeds and 1/2 cup of unsweetened almond milk and leave in the refrigerator overnight to make chia "pudding."

Add 1/2 cup heated almond milk for hot cereal, or keep it cold if desired.

Mix in sacha inchi powder, hemp seeds and unsweetened coconut.

Enjoy cereal as is or add desired keto friendly toppings such as walnuts and blueberries.
Recipe Notes
This keto noatmeal recipe makes one very large serving or two lighter servings. As always, the exact macros will depend on the brands of ingredients used any toppings you may add.
Nutrition information does NOT include the optional ingredients.
Nutrition Facts
Keto Noatmeal - Low Carb Vegetarian Breakfast
Amount Per Serving
Calories 213
Calories from Fat 135
% Daily Value*
Total Fat 15g 23%
Cholesterol 0mg 0%
Sodium 3mg 0%
Potassium 75mg 2%
Total Carbohydrates 8g 3%
Protein 11g 22%
* Percent Daily Values are based on a 2000 calorie diet.