March 15, 2019
Keto Oatmeal Breakfast aka "Noatmeal" With Video- Low Carb Keto Recipe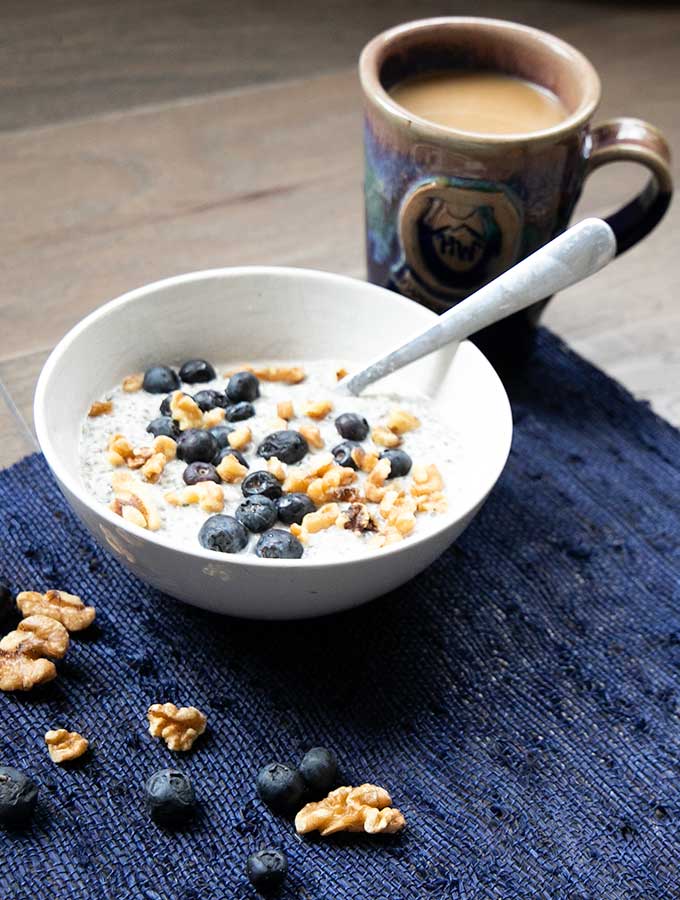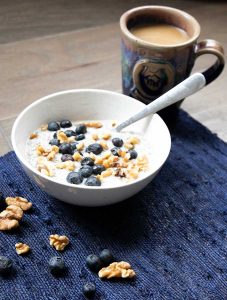 Still enjoy eating breakfast on keto but tired of bacon and eggs? Do you wonder if traditional oatmeal is keto-friendly? It's time to get creative! There are plenty of keto substitutes for traditional breakfasts foods including the old breakfast standby, oatmeal. Keto oatmeal, keto noatmeal, keto hot cereal or keto porridge is a great way to start your keto day, no matter what you like to call it. Keto oatmeal cereal is a way to add a vegetarian keto meal to your diet and easily tweak macros to fit your keto goals. This keto oatmeal substitute is even more delicious than the real thing.
Using this low carb, keto friendly oatmeal base, you can create lots of fantastic "power bowls" and hot keto cereals. Simply add toppings to your keto oatmeal that allow you to easily get extra fat, protein and calories in your keto diet depending on your needs.
These types of low carb substitutes for foods you know and love can be key to sustaining the keto diet. One of the great things about this recipe is most if not all of the ingredients can be found in your well-stocked keto pantry.
Is Oatmeal Keto?
Can I have oatmeal on keto? It's a fairly common question once people start the keto diet.
Oatmeal is such a traditional breakfast food that's be promoted to us by the food industry as a "heart healthy" breakfast for years. It's also been touted as a food that can help with cholesterol so it's no wonder that it's a pretty popular choice. However in terms of ketosis and blood sugar regulation, oatmeal is a nightmare. Many of the instant oatmeals in the grocery store have a lot of added sugar. For example, the label on the right from a popular natural brand…one serving has 30 net carbs. That's more than most people can have in an entire day and stay in ketosis.
Quick oats have a higher glycemic index than regular or whole oats, making it the worst for keto. Whole oats have a slightly lower glycemic index but are still likely to cause a blood sugar spike, especially if they contain added sugar. And I'm not really sure I know anyone that eats oatmeal plain! The only way to know for sure if oatmeal is keto friendly for you is to test your blood sugar before and about one hour after eating it. Or better yet, you can test a lot of foods to see how they affect you buy using a continuous glucose monitor. I got lots of great insights when I had mine. Check out Nutrisense if you're interested in that and use HNG20 for $20 off.
Based on what I've read from others in the Nutrisense community, most people have a pretty significant glucose response to oatmeal. Personally, I would not categorize oatmeal as keto friendly based on the glycemic index, the fact that grains are inflammatory. This systemic inflammation is bad for joints and may increase your risk for heart disease and diabetes. Most people do better when they eliminate grains from their diet. Besides, when you have a delicious keto-friendly oatmeal alternative like this recipe, why even bother with it? This keto oatmeal substitute is a great replacement and can easily fit into keto macros.
Keto Oatmeal Starts with Chia Pudding
Keto oatmeal aka noatmeal your keto oatmeal substitute, starts with a simple chia seed pudding. Chia seeds are quite a wonder. While dry, they're just tiny little seeds. When you add liquid, they expand into a gelatinous, pudding-like substance. At two net carbs per tablespoon, they're very keto friendly. If you look at a tablespoon dry you may not think so, but once these little seeds plump up with liquid to 10 times their size, they suddenly seem worth the two net carbs for what you're getting! They create the perfect base for a keto oatmeal replacement.
Chia seeds also have three grams of fiber, four grams of fat, two grams of protein and 35 grams of magnesium per tablespoon. Not only are they loaded with free radical fighting antioxidants (that's a good thing!) but they are also loaded with omega-3 fat, more gram per gram than salmon. Omega-3 has a lot of research behind it and has been shown to fight depression, heart disease, reduce inflammation, improve eye health, fight autoimmune disease and more.
Disclaimer: This article may contain affiliate links, which means we may get paid a commission at no additional cost to you if you purchase through this page. Read our full disclosure here.

Keto Oatmeal Alternatives
It can be difficult to find a oatmeal substitute or cereal that is both keto friendly and diet friendly. A lot of the options for keto oatmeal start to get in a higher calorie range since most of what we're replacing oats with are seeds and nuts which tend to be a higher calorie. Even so, at least these keto oatmeal substitutes and toppings tend to be very nutrient dense. You may just need to pay attention to the additions you choose for your keto oatmeal or keto hot cereal.
While I prefer to make my own keto oatmeal alternatives, there are a few prepared products you could try as well. Keto Oatmeal by High Key snacks has a clean version consisting mostly of hemp seeds. Keto Instant Hot Breakfast Cereal with MCT Oil is also a hemp-based oatmeal substitute that also includes chia seeds. Pro Granola is another keto breakfast option that's more like cereal than oatmeal.
I prefer to make my own keto oatmeal so I can keep the ingredients organic, non-GMO and clean. As usual, just keep an eye on the labels if you choose to go with a prepared keto oatmeal option.
Keto Breakfast Options
Quite often people find they aren't even hungry for breakfast when they've become fat adapted. Plus, if you practice intermittent fasting with your ketogenic way of eating, breakfast is the meal most people will skip. If you do eat breakfast, bacon and eggs are a popular standby. As are egg cups that you can make by placing a piece of ham in a muffin tin to create a cup and adding an egg to that.
This keto oatmeal substitute is not only a great choice for breakfast, but it can also be made into a nice keto friendly dessert. Depending on what toppings you put on it, you can make your keto oatmeal savory or sweet. A blend is nice as well, the savory base of the chia seeds acting as a perfect vehicle for bot sweet and not so sweet ingredients.
Keto Oatmeal Toppings
This ketogenic oatmeal recipe can be absolutely transformed based on what you mix in or put on top. I like to think of it as a keto power bowl since you can turn it into a vehicle to hit any macro or "superfood" goals. Just keep in mind this recipe contains a lot of fiber and about three net carbs depending on the exact brands of ingredients you choose.
Additional toppings will obviously change your keto oatmeal carb count, but below are some of my favorite superfood, super antioxidant, super healthy additions. This recipe is especially great for the beginning keto dieter since it replaces a common carb filled food favorite.
1/4 cup blueberries, 20 calories and 4 net carbs
2 large strawberries, 12 calories and 2 net carbs
2 teaspoons lemon zest (goes great with blueberry!), negligible
1/4 cup whole almonds, 204 calories and 3 net carbs
1/4 cup chopped walnuts, 200 calories and 2 net carbs
1/4 cup chopped pecans, 205 calories, and 1 net carb
1/4 cup coconut chips, 200 calories and 6 net carbs
2 tablespoons cacao nibs, 125 calories and 2 net carbs
5 medium strawberries, 18 calories and 3 net carbs
2 tablespoons flaxseed, 60 calories and 1 net carb
1 teaspoon ground Ceylon cinnamon (learn more about why you should choose Ceylon cinnamon), 6 calories and .5 net carb
1 teaspoon vanilla extract, 12 calories and .5 carb
Stevia sweetener, 0 calories and carbs
1 tablespoon pumpkin seeds, 95 calories and 1.5 net carbs
1 teaspoon Bakto flavor such as banana bread, white cake batter, cherry etc., 0 calories and carbs
1 tablespoon Lily's chocolate chips, 55 calories and 3 net carbs
Two scoops Vital Proteins collagen peptides (flavorless but adds protein), 70 calories, 0 carbs, 18 protein
Nut butter (varies)
If you try our keto oatmeal recipe, please let us know! We'd love to hear what you put on top.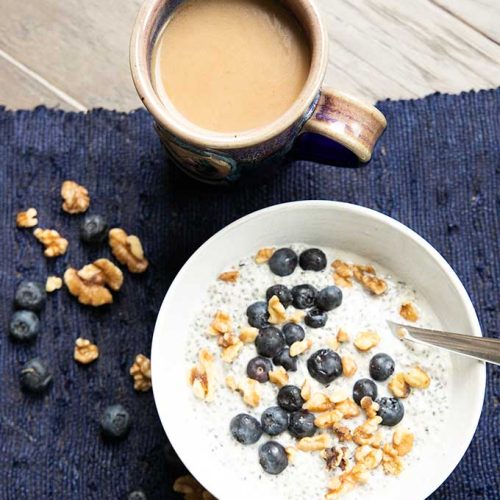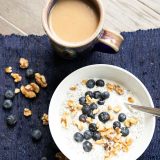 Print
Keto Oatmeal, Noatmeal - Low Carb Vegetarian Breakfast
Used this delicious keto noatmeal base as a way to create a delicious breakfast power bowl.
Ingredients
Optional Ingredients
½

ounce

walnuts,

chopped

¼

cup

blueberries
Instructions
Mix together chia seeds and 1/2 cup of unsweetened almond milk and leave in the refrigerator overnight to make chia "pudding."

Add 1/2 cup heated almond milk for hot cereal, or keep it cold if desired.

Mix in sacha inchi powder, hemp seeds and unsweetened coconut.

Enjoy cereal as is or add desired keto friendly toppings such as walnuts and blueberries.
Notes
This keto noatmeal recipe makes one very large serving or two lighter servings. As always, the exact macros will depend on the brands of ingredients used any toppings you may add.
Nutrition information does NOT include the optional ingredients.
Nutrition
Calories:
213
kcal
Carbohydrates:
8
g
Protein:
11
g
Fat:
15
g
Fiber:
5
g
Did you make this recipe?
Be sure to tag @healnourishgrow on Instagram to be featured in our stories or our newsletter! We love it when you make our recipes and share with your friends.