August 29, 2023
Keto Pumpkin Chocolate Chip Cookies
Hey there, cookie lovers! Fall is in the air, and you know what that means – it's pumpkin season. What better way to celebrate this cozy time of year than with a batch of warm and delicious Keto Pumpkin Chocolate Chip Cookies? These little bites of heaven are not only low-carb but also bursting with all the flavors of autumn. So grab your mixer, put on your apron and get ready to indulge guilt-free in these scrumptious treats. We're exploring everything you need to know about making the perfect keto-friendly pumpkin chocolate chip cookies. Get ready for some mouthwatering goodness ahead!
What is Pumpkin Spice Made of?
If you're a fan of fall flavors, you've probably heard of pumpkin spice. But what exactly is it made of? Well, the classic combination includes cinnamon, nutmeg, ginger, allspice, and cloves. These warm and aromatic spices come together to create that unmistakable autumn taste we all crave. So get ready to add some pumpkin spice magic to your keto cookies with this simple spice combination.
In this keto pumpkin chocolate chip cookie recipe, we call for ginger, cinnamon and nutmeg, but you can easily substitute with the same amount of premixed pumpkin spice.
Are Pumpkin Chocolate Chip Cookies Low Carb?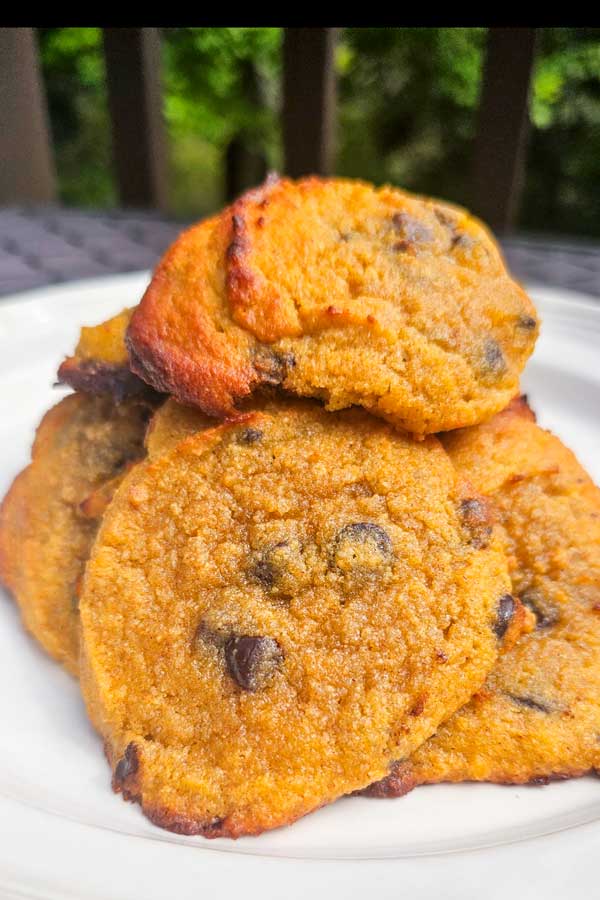 When it comes to pumpkin chocolate chip cookies, you might be wondering if they fit into a low-carb diet. The good news is that they can. With a few simple swaps and substitutions, you can enjoy these delicious treats without compromising your goals. Let's explore how to make low-carb pumpkin chocolate chip cookies that are just as tasty as the original version.
In the traditional version of any chocolate chip cookie, wheat flour, sugar and chocolate chips are the star ingredients. Fortunately, we can use the typical keto baking substitutions like almond flour, allulose sweetener and sugar-free chocolate chips to make keto pumpkin chocolate chip cookies.
Variations on Keto Pumpkin Chocolate Chip Cookies
If you're looking to switch things up with your keto pumpkin cookies, there are plenty of delicious variations to try. You can add chopped nuts like pecans or walnuts for some extra crunch and flavor. Another option is to incorporate a special and underutilized spice like cardamom…I LOVE cardamom. Adding sea salt to the top of any chocolate chip cookie before baking is one of my favorite hacks. And if you want an even richer taste, consider topping the cookies with some sweetened cream cheese.
Other Tips for Making Keto Pumpkin Cookies
Now that you have the basic recipe for keto pumpkin chocolate chip cookies, let's talk about some other tips to make them even more delicious. One tip is to use room-temperature ingredients as this helps with mixing and results in a better texture. Your butter especially should be softened at room temperature, not cold. Another tip is to chill the dough before baking. It helps the cookies hold their shape and prevents spreading too much, as does not greasing your baking sheet.
How to Store Pumpkin Cookies?
When it comes to storing your delicious keto pumpkin chocolate chip cookies, there are a few key things to keep in mind. First, let the cookies cool completely before storing them. Then, place them in an airtight container or sealable bag to keep them fresh. You can store them at room temperature for up to three to four days or freeze them for longer shelf life.
How Long are Pumpkin Cookies Good for?
Pumpkin cookies are so delicious, it's hard to resist eating them all in one sitting! But if you have any self-control (who has that with cookies?) or are watching your weight, you might be wondering how long these tasty treats can last. The good news is that pumpkin cookies can stay fresh for up to about four days stored in an airtight container at room temperature. So go ahead and savor them slowly!
Can I Freeze Pumpkin Cookies?
If you have a batch of keto pumpkin chocolate chip cookies and can't or don't want to eat them all at once, you might be wondering if you can freeze them. Keto pumpkin chocolate chip cookies freeze really well. Freezing your pumpkin cookies is a great way to extend their shelf life to enjoy them later. Just make sure to store them in an airtight container, freezer bag or vacuum pack to prevent freezer burn.
I finally got a vacuum sealer and absolutely love it. It's the best way to prevent freezer burn, especially great for protecting your extra meat.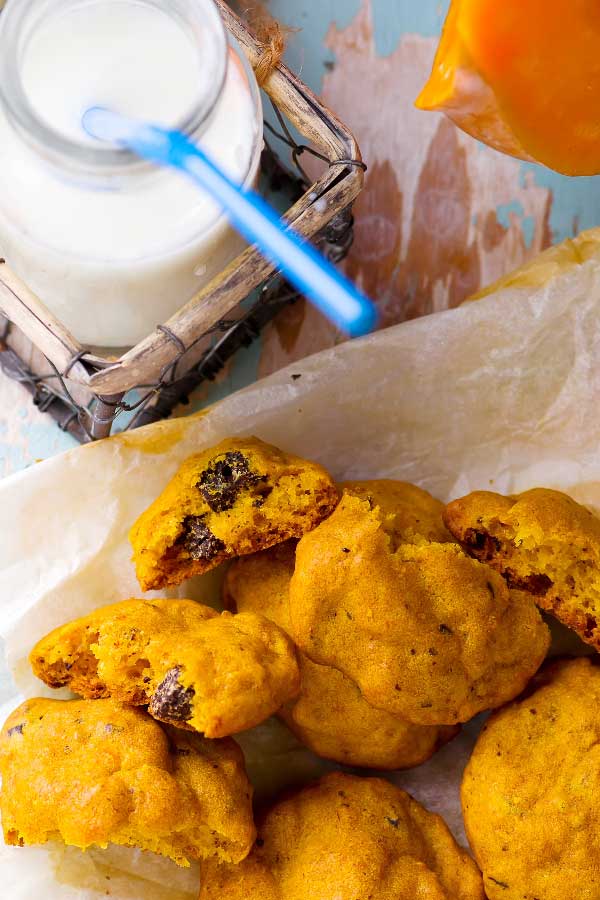 My Kitchen Essentials for Cookies
When it comes to making these delicious keto pumpkin chocolate chip cookies, having the right tools in your kitchen can make all the difference.
Here are my top essentials: a stand mixer (I've had my KitchenAid over 25 years, they last forever!) or electric mixer for smooth batter, a spatula for easy scraping, measuring cups and spoons for accurate portions, a light color baking sheet, and of course, a good quality cookie scoop (I used the 3T size for these), cooling racks and finally, a cookie spatula to create perfectly round cookies every time!
If you enjoy baking, the equipment listed above is well worth the investment. I've been baking my whole adult life and I use these same tools every time I bake. They last forever if you get high-quality items and take good care of them.
Tips for Making the Best Pumpkin Cookies
Now that you know all about keto pumpkin chocolate chip cookies and how to make them, let's talk about a few tips to ensure they turn out absolutely delicious.

1. Use quality ingredients: To achieve the best flavor and texture, make sure to use high-quality ingredients. If possible, opt for organic pumpkin puree, organic almond flour and sugar-free chocolate chips.

2. Don't overmix the dough: When combining the ingredients, be careful not to overmix the dough. Overmixing can result in tough cookies instead of soft and chewy ones.

3. Use a cookie scoop: For evenly sized cookies that bake uniformly, use a cookie scoop or ice cream scoop to portion out your dough onto the baking sheet.

4. Watch closely while baking: Since every oven is different, keep an eye on your cookies as they bake to prevent them from burning around the edges or becoming too crisp.

5. Let them cool completely: Allow your pumpkin cookies to cool completely on a wire rack before enjoying them or storing them away. This will ensure they set properly and maintain their chewy texture.

So there you have it, my top tips for making irresistible keto pumpkin chocolate chip cookies! With these guidelines in mind, you'll be well-equipped to whip up batches of scrumptious treats that are low-carb friendly without sacrificing taste. Whether it's fall season or any time of year when you're craving something cozy yet guilt-free, these keto pumpkin chocolate chip cookies will surely hit the spot.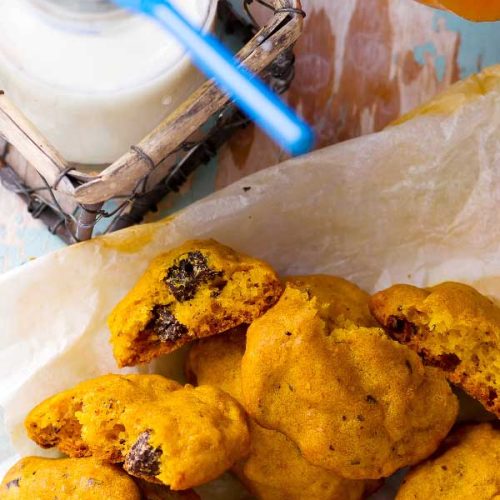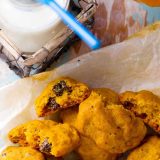 Print
Keto Pumpkin Chocolate Chip Cookies
Instructions
In the stand mixing bowl or a large mixing bowl, cream together the butter and allulose.

Add in the egg, pumpkin and vanilla and blend until smooth.

Pour in all of the dry ingredients except the chocolate chips and mix until thoroughly blended.

Stir in the chocolate chips and mix to combine.

Use a 3 tablespoon cookie scoop to place the dough on an ungreased baking sheet.

Bake for 13 mins or until cookies are evenly browned and set in the middle.

Using a wide spatula, transfer cookies to rack and cool for at least 10 minutes before serving.
Nutrition
Serving:
1
cookie
Calories:
173
kcal
Carbohydrates:
4
g
Protein:
6
g
Fat:
13
g
Fiber:
2
g
Net Carbohydrates:
2
g
Did you make this recipe?
Be sure to tag @healnourishgrow on Instagram to be featured in our stories or our newsletter! We love it when you make our recipes and share with your friends.