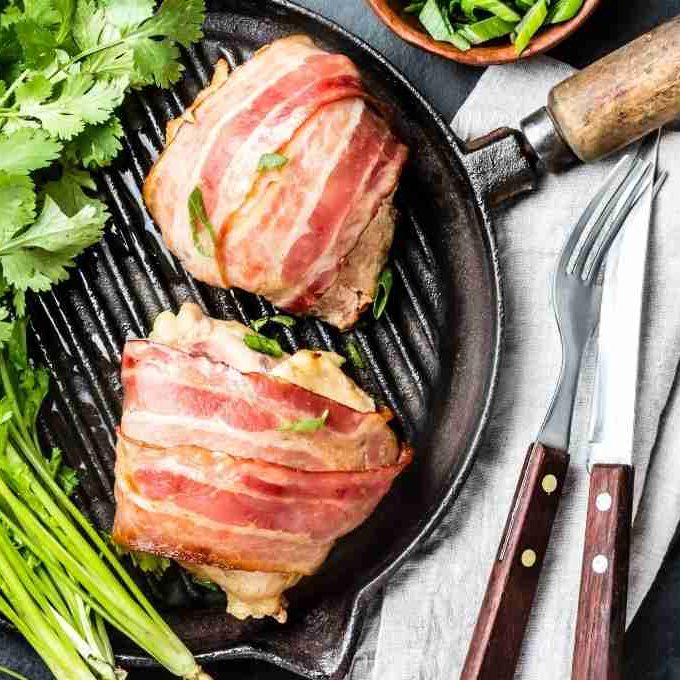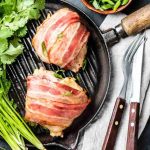 Doesn't wrapping anything in bacon make it better? That's my theory anyway! The keto bacon-wrapped chicken breast dish I made for the live keto cook along on Monday is no exception. Prep for these takes no more than 10 minutes then you finish them in the oven and a skillet. Chicken wrapped in bacon makes your boring old chicken breast so much more appealing and stuffing it ups the excitement too.
Just say no to boring chicken!
How to Make Bacon Wrapped Chicken Breasts
Making bacon wrapped keto hicken is super easy, but there are a few considerations.
First, if weight loss is a goal and you're restricting calories…which by the way, please don't do that for too long! Incorporate diet breaks to keep your metabolism optimal. More on that later, but be sure to get in touch if you have questions about that. Anyway, if calories are a consideration then you're going to want to go easy on the bacon. More about calories versus hormonal issues for weight loss in my Beginner's Guide to Keto.
Wrapping a whole stuffed chicken breast in bacon can take anywhere from 3 to 6 slices to cover it fully. It looks beautiful as you can see in the photo, but it might just be too many calories for your goals. If looking pretty isn't a consideration then I'd just wrap two to three pieces around it and call it done. That's what I did for this live keto cook along meal.
Disclaimer: Links may contain affiliate links, which means we may get paid a commission at no additional cost to you if you purchase through this page. Read our full disclosure here.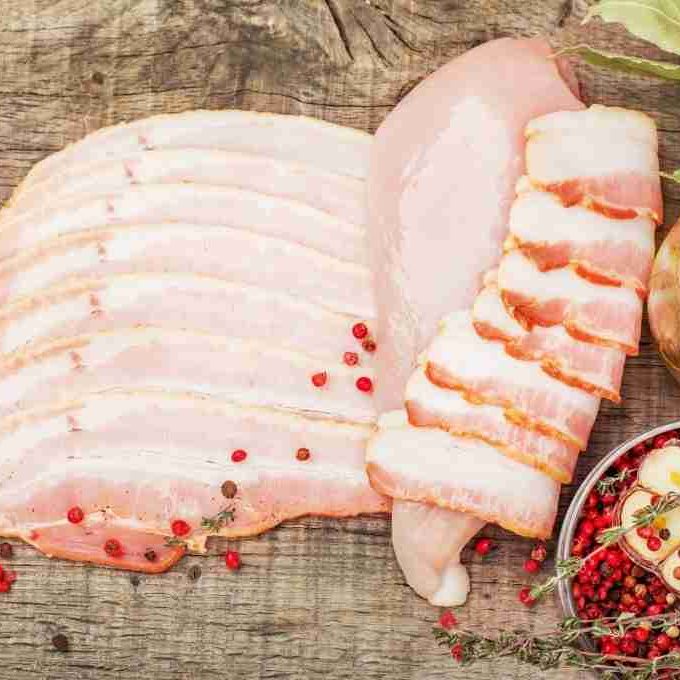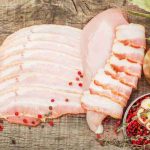 How to Butterfly a Chicken Breast
You'll want a sharp knife to butterfly a chicken breast. However, please don't hold it in your hand to do this, it's way too dangerous! I got it started that way on the video just to show you what direction you're cutting. When you're doing it at home, just place your hand on top of the chicken breast and slice horizontally. Stop before you get fully through to the other side. This will be about 1/2 to a 1/4 inch shy of the edge. When you open it up, it both sides should still be attached to each other and shaped like a butterfly.
Butterflying your chicken breast is the quickest and easiest way to do this recipe. However, if you have some more time, a meat mallet and kitchen twine, I recommend a roll-up method for this keto bacon wrapped chicken.
Place the butterflied chicken breast on a piece of plastic wrap. This makes for easy cleanup and keeps your counter more sanitary. If you have a smaller or less thick breast you can leave it whole. Use a meat mallet to pound, flatten and tenderize the chicken breast until it's a uniform thickness of about a quarter inch. Rather than stuffing the breast, you'll spread the filling evenly over the chicken then roll it up.
Preparing the Keto Bacon Wrapped Chicken
Whether you're stuffing or rolling, the final step is to wrap the breast in the desired amount of bacon. The kitchen twine tied around your finished product makes for a p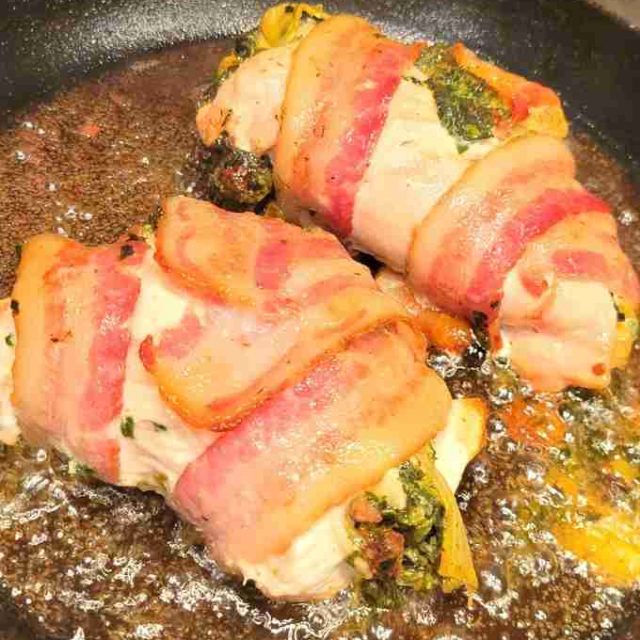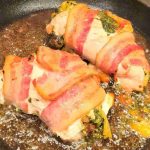 rettier and more refined look where all of the stuffing stays in place. However, on a regular weeknight when I'm not entertaining, I don't bother with this step for ease. The filling generally stays in fine. If you use the rolling method place the seam side down on the bottom of the pan and you'll still get a very nice looking final result.
How Long to Do I Cook the Bacon Wrapped Chicken?
If you've been around here for a while, you know I don't like leaving anything to chance! Sure you could say bake for 20 minutes at 400 but there are so many factors in how long it takes for meat to cook. Particularly with chicken, you can easily end up with an overdone and rubbery result.
Meat thermometers to the rescue! If you don't have one of these yet it's a critical piece of kitchen equipment that's not that expensive. My preferred thermometer is one that has a probe you place in the meat with a long cord and the digital unit sits outside of your oven, grill or smoker. You'll never have overdone, tough meat again if you get one of these!
As a backup, I also have an inexpensive instant-read thermometer. This one is easier to use when I'm making something on the cooktop or in the airfryer but you can use it everywhere.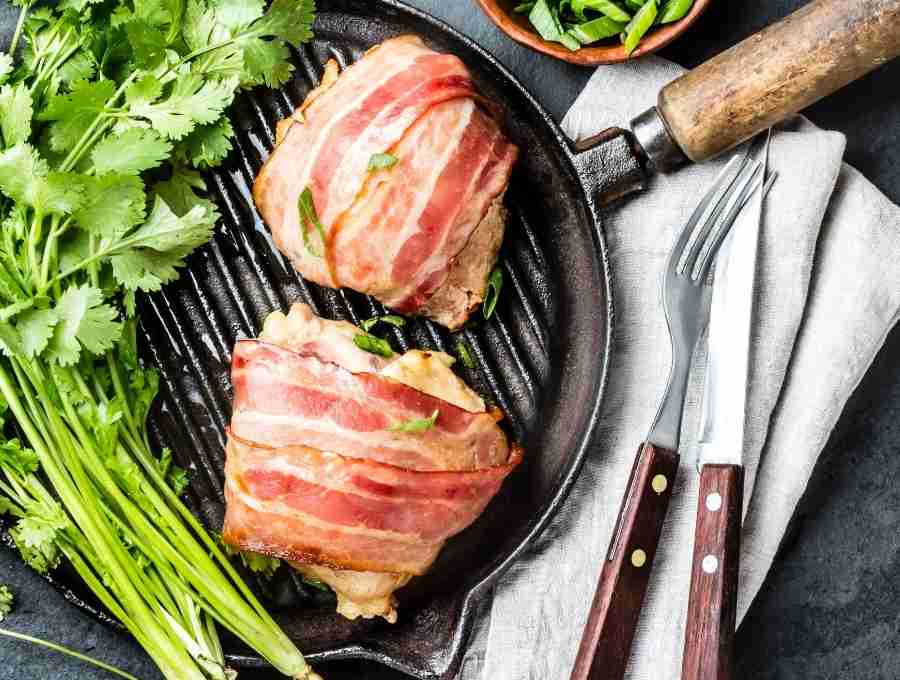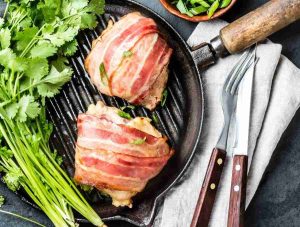 How to Make Sure Your Bacon Is Crispy
Whether you choose to suff your chicken or roll it, you're going to want to make sure your bacon is the amount of doneness you like before plating it. The baked chicken will generally be done before your bacon gets very crispy. I like to finish off the bacon in a skillet after the chicken has finished cooking.
Bonus points if you finish it off in lard or the jar of reserved bacon fat I know you keep in the cabinet! You can see how the bacon is cooked but not very crispy when I first took it out of the oven. It only took about two minutes per side in the skillet to make it more crisp. Bacon wrapped chicken that's not crispy would be a no go for me!
Keto Chicken Recipes
If you're looking for more great keto chicken recipes, be sure to check out my Easy Keto Chicken Salad, Chicken Taco Salad and Creamy Lemon Chicken. All are low carb/keto and ready in under 30 for an easy weeknight meal.
Live Keto Cook Along Mondays
The COVID pandemic and lockdowns inspired me to commit to a live keto cook along on Mondays. It's like a keto cooking show where you also get to ask questions as we cook together.
All you need to do is register using the form below to receive the shopping list on Friday. Then you just join in live on Facebook, Instagram or YouTube to cook with me at 6 pm eastern time. Or you can have your own keto cook along with the recording any time that's convenient for you.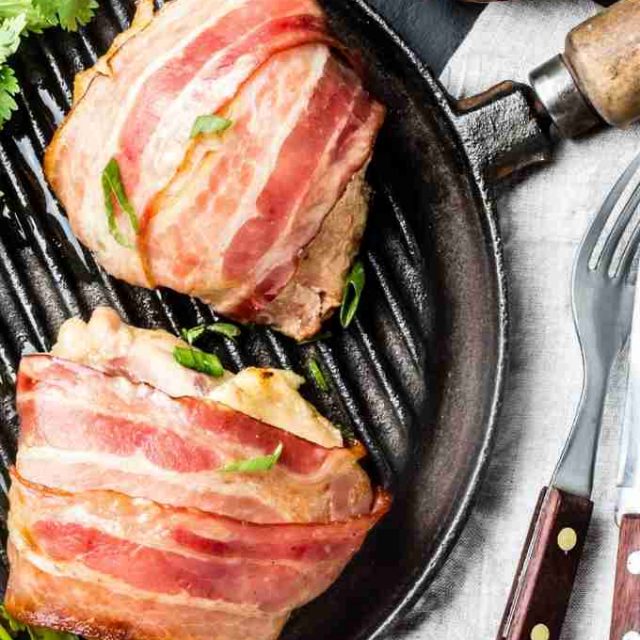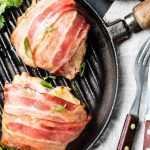 Print Recipe
Bacon Wrapped Stuffed Chicken Breasts
Make boring old chicken more exciting by wrapping it in bacon! This quick and easy keto meal is perfect to put into your weeknight rotation. About 7 net carbs per serving, all from low carb vegetable sources.
Ingredients
1

pound

chicken breasts

2 large

6

slices

bacon
Filling
10

ounces

frozen spinach

7

ounces

artichoke hearts

in olive oil or brine, chopped

3

ounces

cream cheese

3

tablespoons

sun dried tomatoes

1

teaspoon

garlic salt

to taste

pepper

to taste
Optional
2

tablespoons

parsley

chopped, for garnish
Instructions
Preheat oven to 375 convection or 400 conventional.

Defrost spinach in a skillet or microwave.

While the spinach defrosts, butterfly chicken breast, optional to pound out flat if you prefer to roll rather than stuff.

Add artichokes and cream cheese to spinach. Stir until fully combined and cheese is melted.

Add garlic salt and pepper, taste to adjust seasoning.

Stuff the butterflied chicken breasts with the filling. You may have leftover that can be used later as a dip or on the side if you'd like extra.

If you chose the roll method, spread filling over breast and roll tightly using a skewer or toothpick to hold in place if needed.

Wrap chicken breasts in the desired amount of bacon depending on your calorie goals.

Place chicken in the oven for about 20 minutes or until an internal temperature of 165 is reached. Be sure to test the temperature in the breast, not the filling.

If the bacon is your desired level of crispy you're finished. If not, add bacon fat or other oil to a skillet and cook on either side until bacon is done.

Garnish with chopped parsley, if desired.
Video
Notes
If you really want to minimize carbs even more, cut the amount of spinach and artichokes in half.
Nutrition
Serving:
2
servings
|
Calories:
764
kcal
|
Carbohydrates:
13
g
|
Protein:
66
g
|
Fat:
48
g
|
Saturated Fat:
18
g
|
Trans Fat:
1
g
|
Cholesterol:
235
mg
|
Sodium:
2491
mg
|
Potassium:
1798
mg
|
Fiber:
7
g
|
Sugar:
6
g
|
Vitamin A:
17687
IU
|
Vitamin C:
19
mg
|
Calcium:
254
mg
|
Iron:
5
mg