May 6, 2019
Cucumber Salmon Roll Ups – Keto Low Carb Recipe
Cucumber appetizers are great for the summer. Cucumbers are so fresh and light tasting, as well as keto friendly! I'm especially looking forward to creating cucumber appetizers this summer since I have three different varieties of cucumbers I'm growing. Cucumber rolls as an appetizer give you the opportunity to fill them with lots of different things, but for this one I decided to make a keto tea sandwich style cucumber appetizer. This cucumber roll-up recipe focuses on the classic combination of cream cheese and smoked salmon.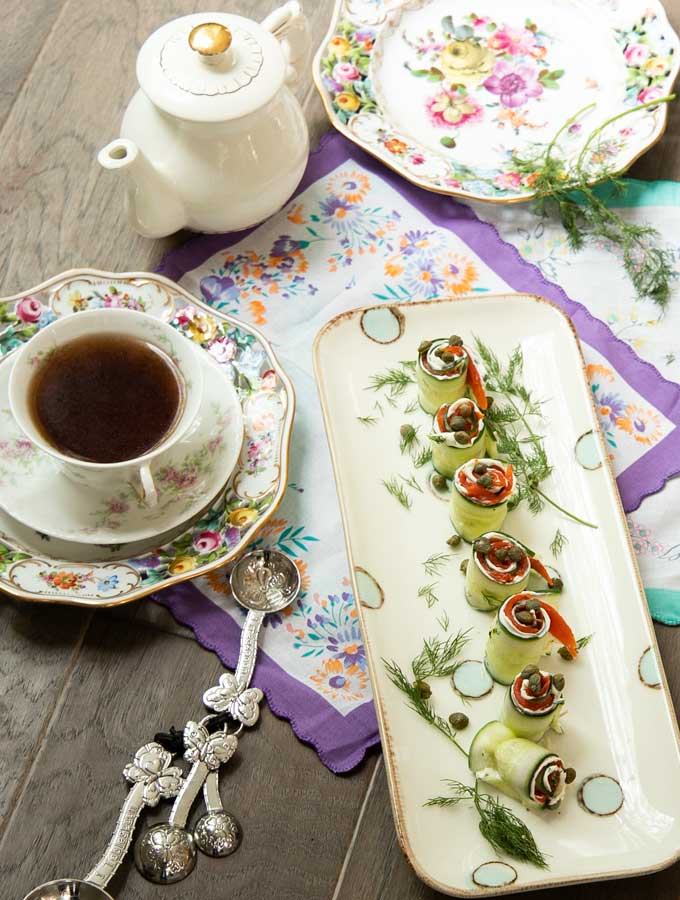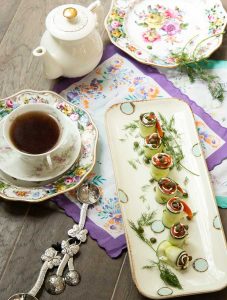 The recipe was inspired by a collaboration I'm doing over at Instagram. The theme for this month is a tea party, so you'll definitely see that in my photos. The first assignment in the collaboration is a keto friendly tea sandwich.
My most favorite tea sandwich is the classic white bread with cucumber and cream cheese on it. Of course, regular bread is not keto friendly at all. Rather than use a keto bread, I chose to leave it out entirely to let the flavors come through. Why not let that great cucumber freshness be the star ingredient in a cucumber appetizer?
That's what I notice about eating keto anyway, is that sandwiches are really just a delivery system for all of the awesome ingredients you REALLY want to eat. So why not just ditch the bread altogether?
Types of Cucumbers
I am amazed at the variety of cucumbers. When I was deciding what kind of cucumbers to grow in my garden this year, I found so many great ones! The ones I chose were mostly based on looks (hello Instagramable food photos) and the description of the taste.
The first one I chose, Jelly Melon cucumber is absolutely adorable with it's spine, pattern and yellow flesh. However, it's not a true cucumber. The fruit has a flavor like pomegranate or citrus and is high in vitamin C. As an actual melon, it has a carb count higher than a regular cucumber but will be great for garnish and to give away to friends.
The next variety I chose is the Empereur Alexandre cucumber. It's known for uniformity, being quite productive and a mild flavor. This variety is perfect to make salmon cucumber roll-ups and other cucumber appetizers. Basically, I'm thinking of the cucumber roll as my new go-to summer appetizer.
The one I'm maybe most excited about is the Lemon cucumber. It has a hint of nuttiness and yellow flesh. I think this variety will be perfect for salads or sliced into rounds to use as a keto cracker substitute. Cucumbers are my favorite keto "cracker". I have sliced cucumbers on every charcuterie board I make. Cucumbers taste extra great topped with cheese and meat!
Disclaimer: This article may contain affiliate links, which means we may get paid a commission at no additional cost to you if you purchase through this page. Read our full disclosure here.
How to Thin Slice for Cucumber Roll-Up Appetizer
I've wanted a mandoline forever, so when I came up with this recipe for cucumber roll-ups I knew it was finally time to buy one. After quite a bit of research, I decided on this Benriner. Unfortunately, I would not recommend it. The nonskid part didn't hold on the counter and holding it at an angle seemed a bit dangerous. I may do a review two other mandolines at a later date.
If you anticipate using it a lot, the classic French Bron Coucke Stainless Steel Classic Chef's Mandoline is the way to go. It gets great reviews, is very high quality, recommended by chefs and should easily last a lifetime given its quality construction.
If you'd like something less expensive, try the Kyocera Advanced Ceramic Double-edged Mandolin Slicer With Guard. I would expect this to be very sharp. Kyocera is known for its sharp blades and having owned one of their knives, I can attest to that. At least one of the reviews I read really liked this Kyocera. It only does the basic flat slice but does it well.
Personally, I'd really like to have one that does all the great julienne cuts as well, so as long as the Bron works well when I try it, I'm going to go with that model as my next mandoline.
No Mandoline? No Problem!
Check out our video to see the other methods for slicing the cucumber as well as how to roll it.
If you don't have a mandoline or don't want to get one! You can still make this cucumber roll-up appetizer with a basic kitchen tool that you probably already have. A vegetable peeler works fine for making long cucumber slices. They just may not be as consistent in width and thickness; it's my least favorite method. I've had the Oxo Good Grips standard peeler for a while, but if I were going to use it a lot for making thin vegetable slices, I'd choose the Y style peeler instead because it's more suited to easily making thin slices.
No vegetable peeler? Also no problem! You can use your good old kitchen standby, a very sharp knife. This option works well but it just might take you a little longer.
Special thanks on this recipe goes to my great friend Corey Rineair who stuck around while I made this for three reasons; to make sure I didn't seriously injure myself using a new mandoline, to help me eat it afterward and to style the shot. She also got her professional photographer husband over here to supervise and take a few photos. It was nice to get some tips and we had fun eating the cucumber roll-up with some champagne and beer.
Tips for Making Cucumber Roll-Up Appetizers
The key for making cucumber roll-ups easy is the thinness of the cucumber strip. The thinner your cucumber slice is, the easier this roll-up style cucumber appetizer is to make.
Thicker slices are much more difficult to roll consistently. I tested that idea since thicker slices are definitely easier to make with the knife or vegetable peeler options, but they just won't easily roll or hold their shape. The mandoline makes it very easy to get thin, consistent slices which is what you need for this recipe.
The other thing I discovered about making these is that the cucumber slices need to be dry. As you're cutting the cucumbers for this recipe, lay them out flat on a paper towel to absorb the moisture. Make sure to dry the tops of the slices as well before spreading the cream cheese. The cream cheese doesn't want to stick to the cucumbers if they're wet.
Serving Suggestions for Keto Cucumber Appetizer
Be sure to check out our other keto appetizers while you're here. If you'd like to stay with the cucumber theme, this cucumber salmon roll-up appetizer would be fantastic with our Chilled Cucumber Feta Soup! It is fantastic served with champagne (I tested this) or a nice sauvignon blanc. If you like sushi, you could try a different kind of fish here as well. Sushi cucumber roll-ups would be amazing!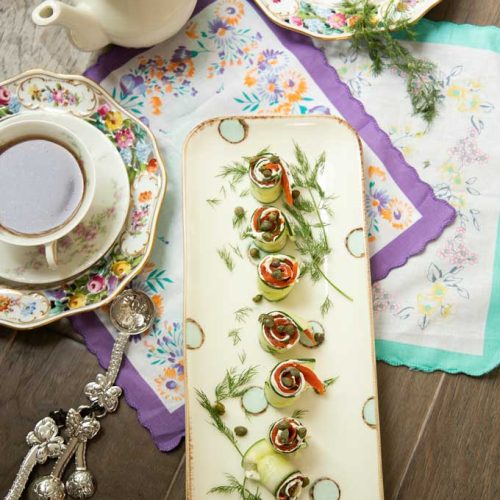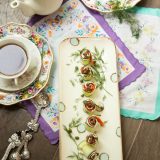 Print
Looking for a fresh and easy keto friendly appetizer? These low carb cucumber salmon roll-ups are light and fresh tasting, perfect for summer or any time. They also make great tea party snacks!
Instructions
Bring cream cheese to room temperature so it's easy to spread.

Cut ends off of the English cucumber and then cut in half. Make 12 very thin cucumber strips lengthwise that are approximately 6 inches long.

Place the cucumber slices on a paper towel to dry.

Chop dill and divide into 1 tablespoon portions.

Add 1 tablespoon dill and salt to the cream cheese and mix well.

Sprinkle the remaining tablespoon of dill on your work area. This is for getting some of the dark green color of the dill against the outside of the cucumber for asthetic purposes.

Making sure that both sides of the cucumber are dry, spread a thin layer of cream cheese on the cucumber slice.

Add thin pieces of smoked salmon on top of the cream cheese, making it the same width as the cucumber or slightly smaller.

Roll up the cucumber and secure with a toothpick. It's a nice look to push the salmon slightly towards the top as you roll so it looks like a rose.

Taste your capers first, it varies by brand but they probably need to be rinsed to they aren't too salty. Top each roll up with 3 to 5 capers, depending on the size of your roll.

Refrigerate at least 45 minutes or overnight.

Garnish the roll-ups with capers and fresh dill sprigs.
Notes
Find lox style salmon that's typically used for bagels. The thin, flat sheets work best although you can make this work with other types of smoked salmon.
Nutrition
Calories:
111
kcal
Carbohydrates:
2
g
Protein:
5
g
Fat:
8
g
Fiber:
0
g
Did you make this recipe?
Be sure to tag @healnourishgrow on Instagram to be featured in our stories or our newsletter! We love it when you make our recipes and share with your friends.