July 12, 2023
Creamy Cajun Shrimp with Zoodles – Keto Recipe
Cajun food has a special place in my heart since I grew up in Louisiana. My grandmother was French Cajun and many of my uncles worked on the gulf shrimp boats. Weekends at grandma's house were often spent peeling shrimp and watching her cook amazing Cajun seafood dishes. Whenever I get the chance to go back to New Orleans, I still think it's some of the best (maybe THE best) food in the world. This creamy Cajun shrimp is inspired by New Orleans flavors. It's often served with pasta, but made keto-friendly with the use of zucchini noodles.
Zoodles, which are noodles made from zucchini, are the perfect substitute for traditional pasta. Plus, the creamy Cajun sauce adds just the right amount of spice.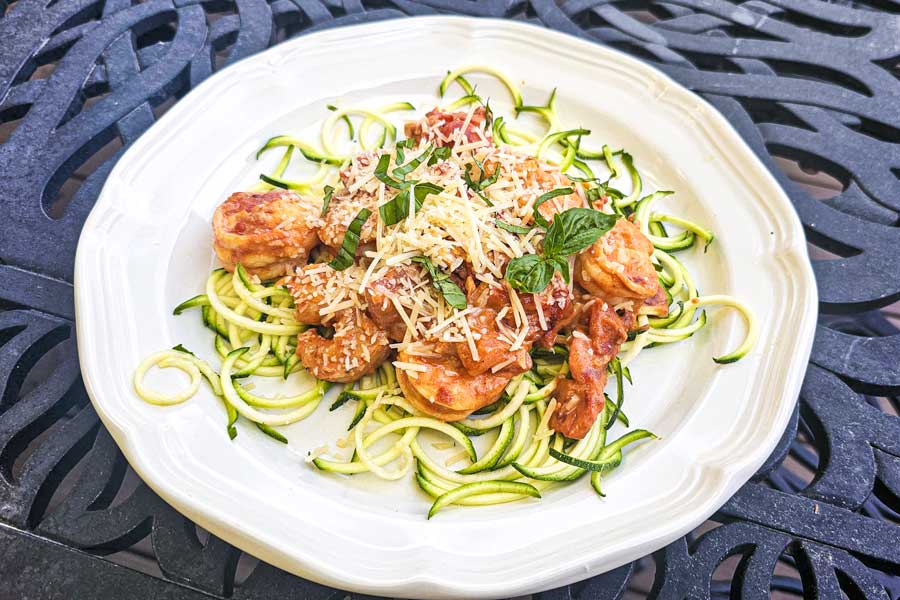 What are Zoodles and Why Use Them for Creamy Cajun Shrimp
Zoodles are a healthy and low-carb alternative to traditional pasta made from spiralized zucchini. They have gained popularity in recent years due to their versatility and nutritional benefits, making them an excellent choice for those looking to reduce their carbohydrate intake or follow a gluten-free or grain-free diet.
Not only do zoodles provide an excellent source of vitamins, minerals, and fiber, they also contain fewer calories than traditional pasta. Zoodles are easy to make with a spiralizer tool. A spiralizer is inexpensive and can be used for other purposes as well. I've had mine for over 10 years with no issues so they're worth the investment in your low-carb lifestyle!
They're great in this dish because they're super light in taste and calories as well as being keto friendly. The fresh, green taste of the zucchini balances the creaminess of the sauce and shrimp perfectly.
Disclaimer: Links may contain affiliate links, which means we may get paid a commission at no additional cost to you if you purchase through this page. Read our full disclosure here.
faq
Do You Cook Zoodles?
Whether to cook zoodles or eat them raw is a matter of personal preference. They are great raw, cold or at room temperature, but you can also cook them. Raw zoodles stay crunchy and can be a great addition to the texture of a dish.
If you cook zoodles, they tend to get limp and watery so you may wish to plan accordingly depending on the dish. I recommend trying them both ways and then decide what you prefer.
Are Zoodles Keto?
Zoodles are keto-friendly. In 100 grams of zoodles (zucchini), or about 3/4 cup, there are 17 calories, three grams of carbohydrates and one gram of fiber for a net carb count of two per serving.
Where Can I find Zucchini Noodles or "Zoodles"?
Zucchini noodles can be found in most grocery stores, either pre-packaged or fresh. If your local store doesn't carry them, try using a spiralizer to make your own at home.
How Do I Know When the Shrimp is Fully Cooked?
Shrimp should be pink and opaque when fully cooked. It only takes 2-3 minutes per side to cook the shrimp for this creamy Cajun shrimp recipe. Overcooking results in tough and rubbery shrimp.
How to Make Creamy Cajun Shrimp Pasta with Zoodles
Creamy Cajun shrimp pasta is common, but serving it with zoodles instead lowers the calories and carbs. It's a super quick and easy dish to make that's perfect for busy weeknights. If you don't have a spiralizer, there are usually zucchini noodles in the refrigerator or frozen section of the grocery store.
However, if you use frozen, you'll have to cook them at least a bit to defrost them. My experience with frozen zoodles is they turn out pretty soft. I much prefer fresh zoodles, but sometimes you just have to work with what you can find!
Tips for Perfectly Cooked Zoodles for Creamy Cajun Shrimp
Zoodles, or zucchini noodles, are a great low-carb substitute for traditional pasta. However, if they're not cooked correctly, they can become mushy and lose their texture. I much prefer to eat them raw but here are a few tips if you do decide to cook them.
Drain the excess moisture from the zucchini before cooking. This can be done by salting them and letting them sit in a colander for about 20 minutes before patting dry. Don't rinse them since that defeats the purpose of removing the moisture.
Don't overcook the zoodles! They only need about a minute in the microwave or sautéed in a pan with butter or oil. Overcooking will result in soggy noodles that won't hold up well when mixed with sauce or toppings.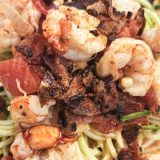 Print
Creamy Cajun Shrimp with Zoodles
Ingredients
2

tablespoons

unsalted butter

2

garlic cloves

,

minced

3

tablespoons

minced shallot

,

from 2 large shallots

15

ounces

petite diced tomatoes

,

drained

½

cup

dry white wine

¼

cup

heavy whipping cream

1

large

lemon

,

juiced

1

teaspoons

creole seasoning

1

teaspoon

crushed red pepper

1½

pounds

large raw shrimp

,

peeled and deveined

2

tablespoons

chopped fresh basil

1

large

zucchini

,

spiralized

2

slices

bacon

,

cooked and chopped, optional

4

tablespoons

grated parmesan cheese

,

optional
Instructions
In a large skillet over medium heat, melt the butter.

Add the garlic and shallot and stir, cooking for about 1 minute.

Add the tomatoes, wine, heavy whipping cream, lemon, and creole seasoning and crushed red pepper. Stir to combine and cook for about a minute.

Add the shrimp, and stir occasionally until the shrimp are cooked through and opaque, about 4 minutes.

Serve the creamy shrimp over spiralized zucchini (zoodles) and garnish with fresh basil. Top with parmesan and bacon, if desired.
Equipment
Nutrition
Serving:
1
people
Calories:
336
kcal
Carbohydrates:
15
g
Protein:
38
g
Fat:
13
g
Fiber:
4
g
Net Carbohydrates:
11
g
Did you make this recipe?
Be sure to tag @healnourishgrow on Instagram to be featured in our stories or our newsletter! We love it when you make our recipes and share with your friends.