November 19, 2018
Copycat Whole Foods Greek Orzo Salad – Low Carb Keto Recipe
Whole Foods Greek Orzo Salad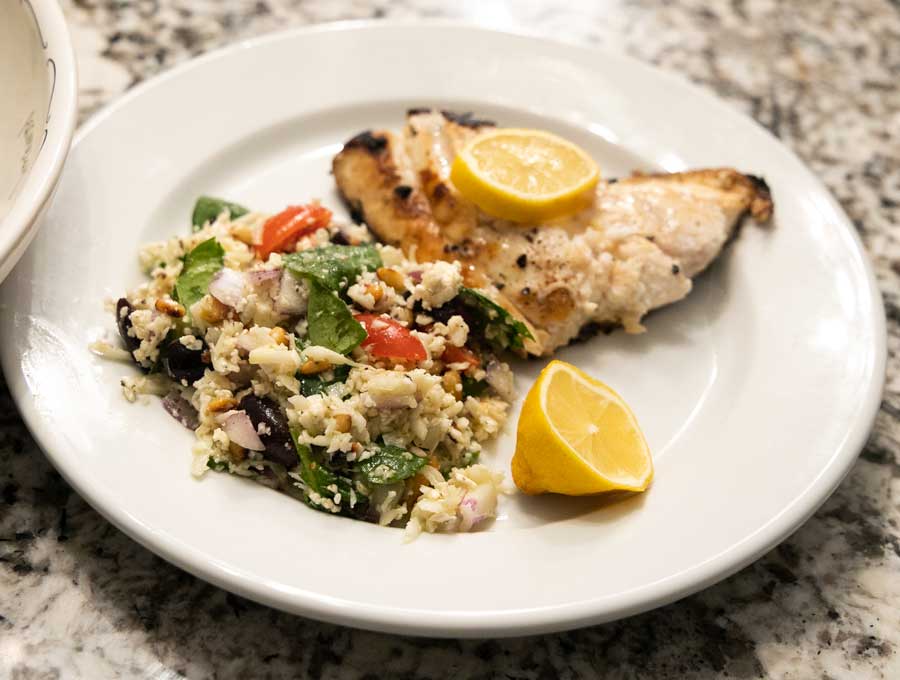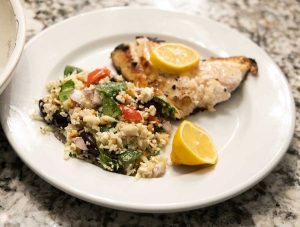 If you've ever had the Mediterranean Greek orzo salad from Whole Foods, you know what a flavor sensation it is. The salty olives, the feta, delicious olive oil and orzo combine together to create a flavor that just can't be beaten. This Copycat Whole Foods Greek Orzo Salad will satisfy your craving while allowing you to stay in ketosis.
Disclaimer: Links below may contain affiliate links, which means we may get paid a commission at no additional cost to you if you purchase through this page. Read our full disclosure here.
Copycat Keto Whole Foods Greek Orzo Salad
I've missed the Whole Foods Green Salad since eating keto. Obviously, pasta is a big no-no when you're following the ketogenic diet. So I set out to create a copycat Whole Foods greek orzo salad. Rather than using a shirataki noodle substitute, I used the ever-popular keto low carb stand-in: riced cauliflower.
Grocery stores are making it a lot easier to find cauliflower rice. You can find it both frozen and in the area where stores sell bagged lettuce. However, I prefer to rice my own cauliflower. It's easier, cheaper, and there are three easy ways to do it. Check out my methods in this article and video. Two of the methods use kitchen tools you already have.
Greek Ingredients
After having experienced food in Greece first hand, I have much more of an appreciation for just how amazing their food is. I've also realized it's not as easy as I might like to find authentic, high-quality Greek ingredients in the states, at least in Cincinnati. We do have the famous Jungle Jim's that has a great selection of Greek feta, but if you're thinking you can just run to Kroger for good Greek ingredients, you'd be mistaken.
Don't get me wrong, not everything has to be all gourmet all the time. But for certain dishes, high-quality ingredients take it to another level. This is one of those dishes.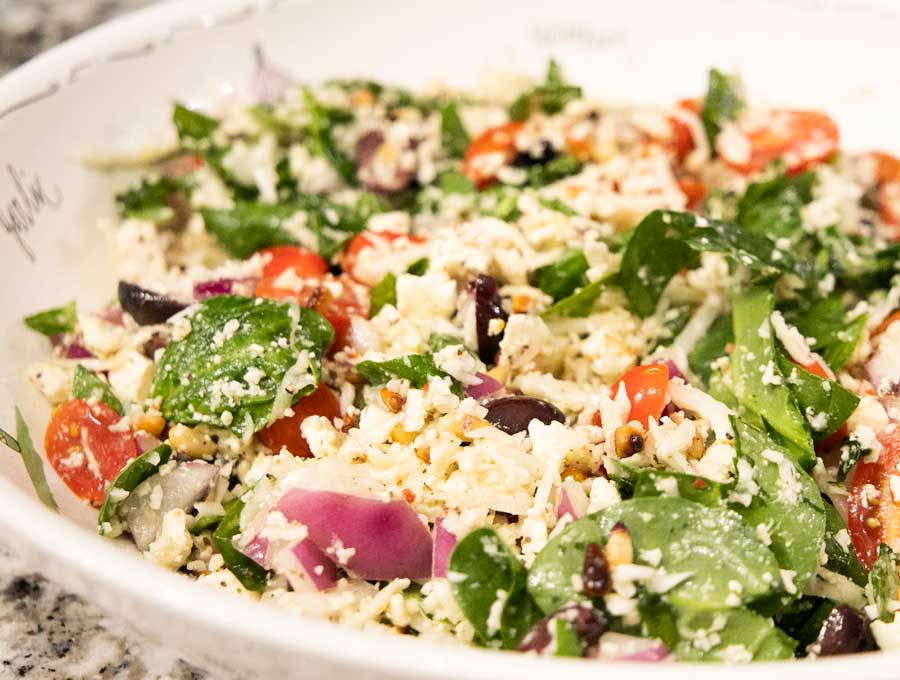 The light, citrusy freshness of this dish demands a good olive oil. When you're cooking with olive oil, you can't always taste the subtle differences in type and quality. But when you're eating olive oil on fresh, light vegetables such as cauliflower and spinach,a high-quality olive oil really shines.
I've tried a few over the years, but right now I would recommend Sky Organics cold-pressed olive oil. And for reference, Colovita Italian is the one I like for everyday cooking. I buy it in the three-liter size so I never run out. It tastes fine by itself as well, but not nearly as good as the Greek Sky.
How to Serve Copycat Keto Whole Foods Greek Orzo Salad
This is a great side dish for any main course, but pairs particularly well with fish or chicken. Try it with our Creamy Lemon Chicken or a nice grilled snapper. It also makes a fantastic filling for omelettes! Just cook over medium heat four a couple of minutes before adding to the middle of your eggs.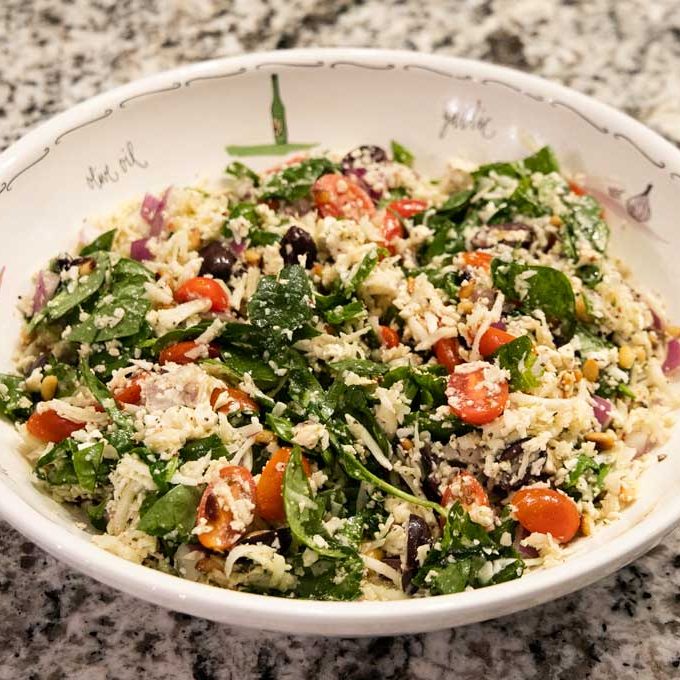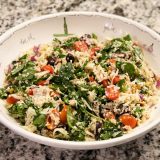 Print
Copycat Whole Foods Greek Orzo Salad - Low Carb Keto Recipe
This recipe substitutes riced cauliflower for the orzo. Keto friendly and absolutely delicious.
Instructions
Prepared all ingredients as noted.

Combine all ingredients in a large bowl and stir until fully combined.

Add salt and pepper to taste.
Notes
This delicious Greek "orzo" salad is inspired by the version of this Mediterranean sold at Whole Foods. The original dish has orzo, which is not keto friendly. Cauliflower steps in for orzo here making this dish even lighter and more delicious than the original. This stores well and is also great the next day in an omelette!
Nutrition
Calories:
214
kcal
Carbohydrates:
4
g
Protein:
3
g
Fat:
21
g
Fiber:
1
g
Did you make this recipe?
Be sure to tag @healnourishgrow on Instagram to be featured in our stories or our newsletter! We love it when you make our recipes and share with your friends.