April 25, 2019
Copycat Skyline Cincinnati Chili – Keto Low Carb Recipe
You may be surprised to learn that the famous Cincinnati style chili can be extremely keto friendly, despite it's sweeter taste. It's also gluten free. According to its site, a Skyline Chili bowl has ZERO carbs. The downfall of Cincinnati style chili is that it's traditionally served with several things that are full of ketosis wrecking carbohydrates. Fortunately, those are easily avoided and the chili itself is quite good. This Cincinnati Chili recipe has all the flavor of Skyline and Gold Star while keeping the carbs low.
Cincinnati chili at restaurants is like any other fast food, mass produced and may not be as high quality as you'd like. However, if you're not in Cincinnati and craving this regional specialty there are some easy options. Skyline chili is sold in the refrigerated section of some grocery stores, as well as on Amazon in cans.
If you really want a treat though, make this tasty Skyline style chili at home with our copycat Skyline Cincinnati Chili recipe. It can be served with the traditional accompaniments or presented as a totally keto friendly meal. The copycat Skyline is absolutely delicious and Skyline Chili fan approved!
Disclaimer: Links below may contain affiliate links, which means we may get paid a commission at no additional cost to you if you purchase through this page. Read our full disclosure here.
My Chili History
When I lived in Texas as a young girl, chili was an extremely popular dish. However, the style there was much more similar to my Triple Meat Carnivore Chili recipe than Cincinnati style chili.
I remember when I first moved to northern Kentucky I was so excited to discover that there was not just one, but TWO whole restaurant chains devoted to chili: Gold Star Chili and Skyline Chili. However, the first times I tried them, I was disappointed. Cincinnati style chili was so different from the Texas style chili to which I'd become accustomed.
Cincinnati Chili Recipe Origins aka Skyline Chili
Cincinnati style chili recipes include some "unusual" seasonings, at least when compared to Texas-style chili. It's much sweeter and has a flavor profile more similar to Greek braised lamb shank than what people typically think of as chili. This makes a lot of sense when you discover that the most popular Cincinnati style chili chain, Skyline Chili, was founded by Nicholas Lambrinides from Kastoria, Greece.
Traditionally, Kastoria is known for its lamb dishes, particularly lamb with quince. As part of Macedonia, lots of Kastoria area recipes have a middle eastern flavor profile. If you look at recipes for lamb with quince, you'll start to see where the base for the Skyline Chili family recipe was created. Most of the Greek recipes for quince lamb dishes call for cinnamon (read more about why you should use Ceylon cinnamon here), cumin and coriander, which are at least some of the flavors present in Cincinnati chili recipes. The true Skyline Cincinnati chili recipe is a closely guarded secret!
Skyline Chili History
Before Skyline was founded in 1949, there was another Macedonian immigrant Tom Kiradjieff that created a version of Cincinnati chili in 1922. Their small Greek restaurant was called the Empress. The restaurant didn't do well, but the Middle Eastern spiced Cincinnati chili recipe lived on in various forms and was copied by other Greek restaurants. The brothers also invented the "ways" of ordering. According to Wikipedia, Nicholas Lambrinides was a former employee of Empress Chili. When Lambrinides opened Skyline Chili in 1949, it took over as the largest Cincinnati chili chain.
While Skyline Chili is probably now still the largest with a few stores even outside of the Cincinnati area, there are actually hundreds of local restaurants that serve this Cincinnati favorite. Every restaurant has its own unique version of a Cincinnati Chili recipe. Trying different versions of the chili is a local past time, but most arguments come down to whether Skyline or Gold Star rules the Cincinnati Chili world.
Keto Cincinnati Chili Recipe
Cincinnati chili is traditionally served over spaghetti noodles and with oyster crackers. They also serve it with a mild hot sauce similar to Frank's Red Hot or Louisiana Hot Sauce. If you prefer to have an exact copy, you can find Skyline Chili's own brand of hot sauce at Kroger or online.
This Cincinnati chili recipe is definitely different than Texas chili and most certainly an acquired taste if Texas chili is what you're used to.
There are multiple ways to order Cincinnati chili in a restaurant. Just in case you aren't familiar with ordering, all of the ways (including my newly defined keto ways) are below. You'll easily see which ingredients need to be avoided to keep your meal from kicking you out of ketosis.
It's super easy to keep this copycat Skyline Cincinnati Chili recipe keto friendly at home. It's also gluten free since it's not being served with crackers. You can follow these same principles to keep it keto at the restaurant too. Stick with keto friendly toppings. This means the traditional shredded cheddar cheese and a small amount of white onions are fine. The spaghetti, beans and oyster crackers are a big no-no if you're eating keto. Nutrition information at the Skyline site puts a regular size five-way at 70 grams of carbohydrates and 900 calories (that's without the crackers).
Cincinnati Chili Traditional "Ways"
2-way = spaghetti and chili
3-way = spaghetti, chili, cheese
4-way = spaghetti, chili, onions OR beans, cheese
5-way = spaghetti, chili, onion AND beans, cheese
Cincinnati Chili Traditional Coneys
Bun, hot dog, chili
Bun, hot dog, chili, cheese
Bun, hot dog, chili, mustard OR onion, cheese
Bun, hot dog, chili, mustard AND onion, cheese (my fav!!)
Cincinnati Chili "Keto-Ways" (I totally made these up so they won't know what you're talking about if you try to order a Keto-Way at Skyline)
2-way keto = chili and cheese in a bowl
3-way keto= chili, cheese and hot dog in a bowl
4-way keto = chili, cheese, hot dog and onion in a bowl
Cincinnati Chili Recipe – Keto Friendly and Gluten Free
While this copycat Skyline recipe might not be a dead-on copy of the original, it's very close. Please try it and let us know what you think. If you happen to be in the Cincinnati area, try a taste test against the original. You may even find you like the Heal Nourish Grow version better!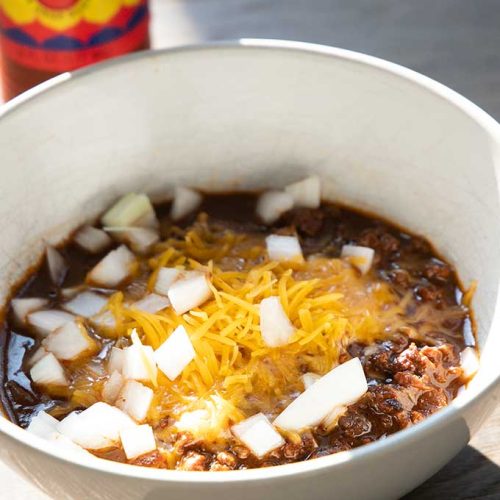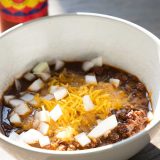 Print
Copycat Skyline Chili - Keto Low Carb Recipe
If you've ever wanted to make Cincinnati style Skyline Chili at home this is your recipe! We keep it low carb by avoiding the traditional spaghetti and serving it in a bowl or with a noodle substitute instead.
Ingredients
2

tablespoons

olive oil,

greek

140

grams

onion

,

chopped

1

pound

ground chuck

,

finely ground

1

ounce

bakers chocolate

3

ounces

tomato paste

3

cups

water

2 ½

tablespoon

apple cider vinegar

1

tablespoon

bone broth powder,

or beef broth concentrate

1

tablespoon

chili powder

1

teaspoon

ceylon cinnamon

½

teaspoon

garlic salt

½

teaspoon

nutmeg

½

teaspoon

allspice

½

teaspoon

ground cloves

½

teaspoon

ground cumin

¼

teaspoon

black pepper

¼

teaspoon

red pepper

5

drops

liquid stevia

1

tablespoon

molasses,

optional
Traditional Cincinnati Chili Toppings
finely shredded cheddar cheese

chopped white onion
Instructions
Add olive oil to a dutch oven over medium heat.

Sautee onion in the heated olive oil until softened, about 3 minutes.

Keeping heat medium to low, add bakers chocolate and stir until melted. Turn off heat.

In a separate pan, cook the ground beef over medium heat, mashing with a potato masher as it's cooking to result in a very finely ground consistency. To keep the consistency of traditional Cincinnati chili, you are NOT looking to brown the meat. This is why you need the heat lower and continual mashing as it's cooking.

If you can have your butcher finely ground the meat, much more than what you typically find in a grocery store, you'll be much closer to the final consistency needed for Cincinnati style chili.

Add tomato paste and ground beef to the dutch oven onion mixture and stir until combined.

Turn heat back on to medium. Add water and the bone broth powder or concentrate and mix thoroughly.

Add all remaining spices and ingredients and mix thoroughly.

Bring mixture briefly to a boil then reduce to a simmer.

Keeping at a low simmer with the top on, cook the chili for 40 minutes. This step is necessary to produce the consistency of traditional Cincinnati chili.

Remove the lid and cook chili an additional 45 minutes or until liquid is reduced by about a quarter. Consistency should be between a sauce and a stew.

If you'd like a thicker chili than the traditional Cincinnati style thinner consistency, simply cook until the water has reduced more.

Cincinnati Chili is traditionally served over spaghetti. To keep this recipe low carb, simply serve in a bowl or use your favorite noodle substitute.
Notes
Nutrition information is for the chili only.
The optional one tablespoon of molasses adds 15 carbohydrates to the overall recipe but also adds a flavor that mimics the original recipe. You can reduce the carb count by leaving it out. The chili is still excellent without it.
Nutrition
Calories:
177
kcal
Carbohydrates:
6
g
Protein:
8
g
Fat:
13
g
Fiber:
1
g
Did you make this recipe?
Be sure to tag @healnourishgrow on Instagram to be featured in our stories or our newsletter! We love it when you make our recipes and share with your friends.