November 5, 2022
Bone Marrow Recipe – Keto and Low Carb
This bone marrow recipe is great for getting a hit of collagen, glucosamine and CLA. All of these things have some great health benefits in addition to helping build our blood cells, which is important for immune function. Plus bone marrow just plain tastes amazing! It's so rich and creamy, kind of nutty and buttery at the same time. While I can't really think of a direct comparison food, it's definitely worth trying.
Benefits
Benefits of bone marrow include boosting immunity, greater gut and joint health, healthy skin and decreases inflammation. Of particular interest to this audience is that marrow contains adiponectin, which supports insulin sensitivity and helps regulate blood sugar.
It consists of 97 percent fat, very little protein and no carbs, making it a perfect addition to your keto diet. Some also call it the rocket fuel that propelled the brain growth of early man to become the intelligent species we are today. In early cultures where nose to tail eating was practiced, bone marrow was highly prized.
You can find bones sliced horizontally or vertically. Either is fine for this bone marrow recipe, but I think the bones sliced lengthwise makes for a better presentation if you can find them.
Disclaimer: Links may contain affiliate links, which means we may get paid a commission at no additional cost to you if you purchase through this page. Read our full disclosure here.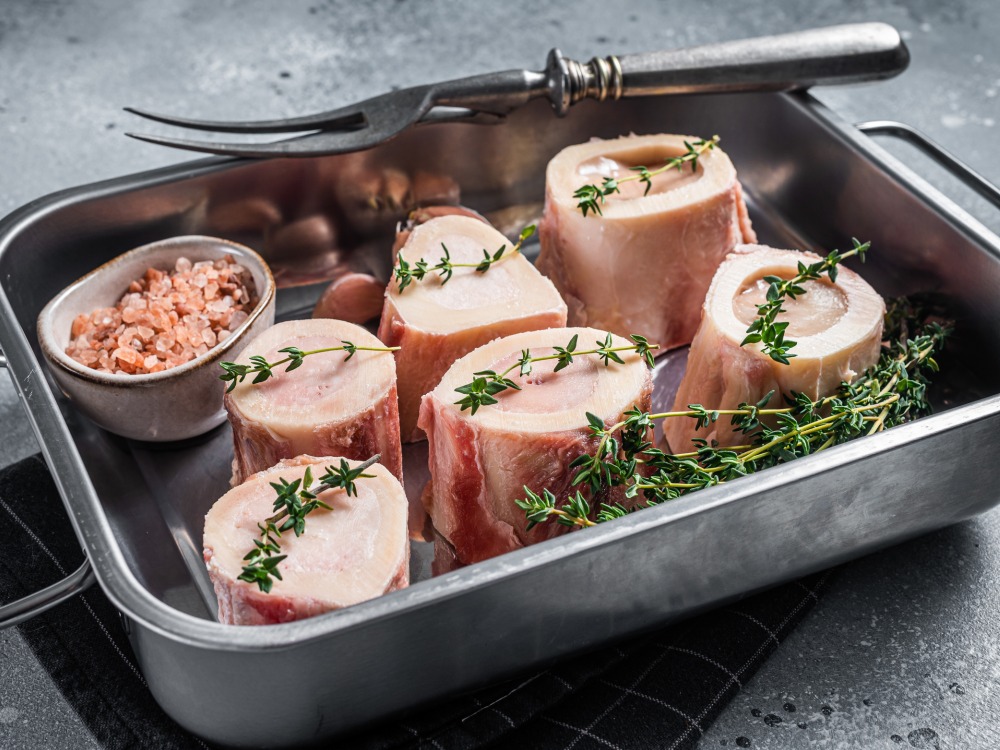 Bone Marrow Recipe
While there are many other flavors you can add to bone marrow, we're going to stick to the most basic bone marrow recipe here. Once you have the basic method, you can experiment with adding vegetables and herbs that will compliment the flavor of bone marrow. It's very fatty, so you may want to try using it anywhere you'd typically use butter.
Some ideas once you have the basic method down:
Parsley, shallot and caper salad on the side
Serve with tabbouleh
Sprinkle with parmesan cheese
Spread on keto friendly bread
Drizzle with garlic infused extra virgin olive oil
Saute with mushrooms
Squeeze a lemon over the marrow
Sprinkle with thyme
This roasted bone marrow recipe is so simple it can hardly be called a recipe! All you need is two simple ingredients and a roasting pan or baking sheet.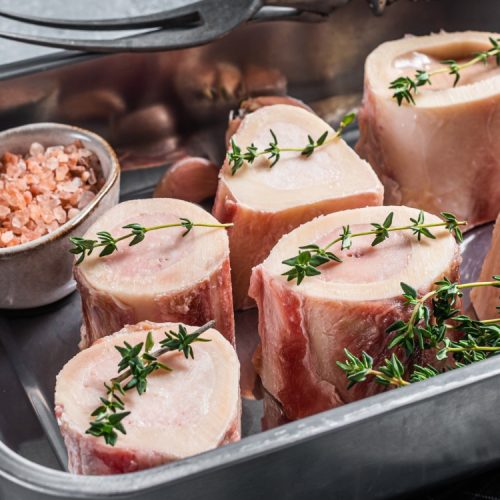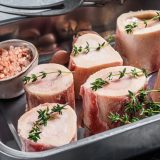 Print
Roasted Bone Marrow Recipe
Ingredients
pounds

marrow bones

salt,

Redmond or sea preferred
Instructions
Place marrow bones on baking sheet, flat side down for horizontal cut or bone side down for vertical cut.

Roast until lightly browned, about 20 minutes.

Some fat may render out but the majority will stay in the bones. Pour any rendered fat over bones before serving.
Equipment
Nutrition
Serving:
1
serving
Calories:
321
kcal
Carbohydrates:
0
g
Protein:
3
g
Fat:
34
g
Net Carbohydrates:
0
g
Did you make this recipe?
Be sure to tag @healnourishgrow on Instagram to be featured in our stories or our newsletter! We love it when you make our recipes and share with your friends.