September 21, 2023
Zucchini Appetizer Roll Ups with Cream Cheese and Proscuitto
Are you looking for a delicious and healthy zucchini appetizer to impress your guests? These zucchini roll ups are both healthy and festive. Whether you're hosting a party or simply want to add some excitement to your next meal, zucchini roll ups are the perfect choice. They're so easy to make and great as either an appetizer or side dish.
Zucchini roll ups are a fantastic appetizer option that combines the freshness of zucchini with flavorful fillings. These bite-sized treats are not only visually appealing but also incredibly versatile. You can customize them to suit your taste preferences and dietary restrictions, making them suitable for everyone at your gathering. This zucchini appetizer is gluten-free and can easily be made vegetarian by leaving out the prosciutto. Looking for a vegan version? Replace the cream cheese with nut cheese. Another great variation for a roll up appetizer is to use salmon in the filling and cucumber instead of zucchini.

The beauty of zucchini roll ups lies in their simplicity. All you need is thinly sliced zucchini and a delicious filling of your choice. Although you can accomplish this with a sharp knife, a mandoline is a much better choice. The zucchini acts as a perfect vessel, providing a refreshing crunch while allowing the flavors of the filling to shine through.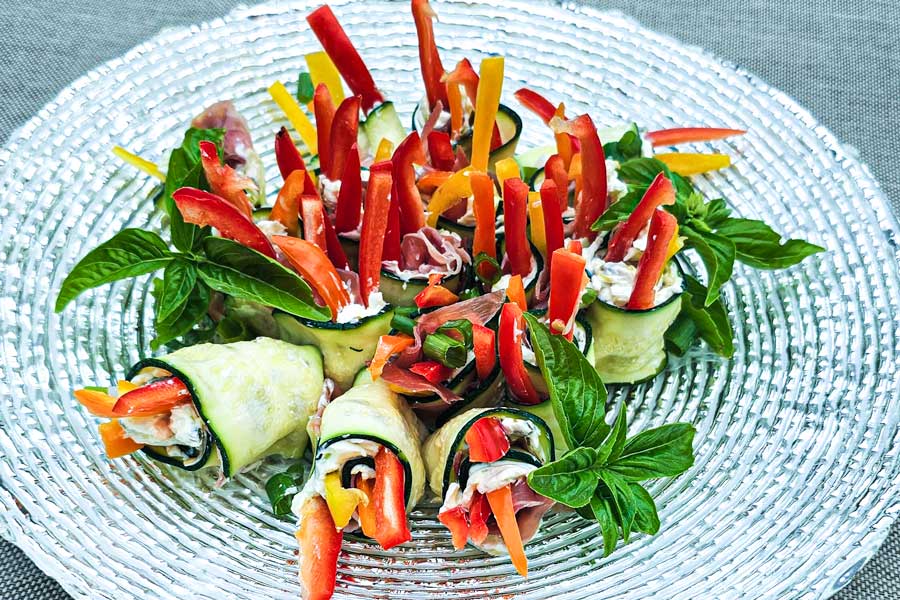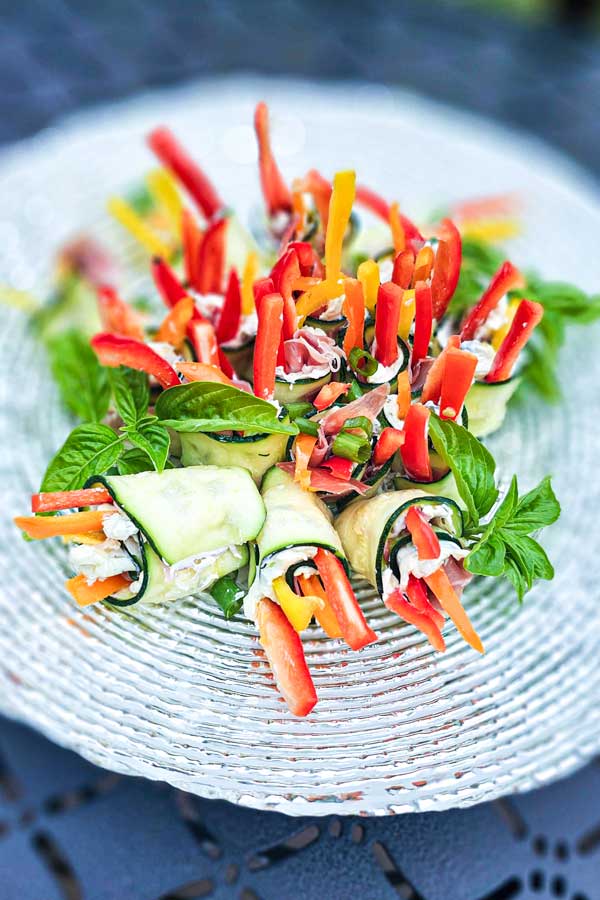 Disclaimer: Links may contain affiliate links, which means we may get paid a commission at no additional cost to you if you purchase through this page. Read our full disclosure here.
How to Make Zucchini Appetizer Roll Ups

To prepare the zucchini, lay out the slices on a baking sheet and add salt. The salt draws out the extra moisture and makes the zucchini slices more flexible. Once the water comes out, dry the zucchini slices with paper towels.

Next, it's time to fill the zucchini. Spread your cream cheese mixture evenly onto each slice of zucchini. Be generous but make sure not to overstuff them; you want to be able to easily roll up each slice without any spillage. Place the pepper sticks on top of then cheese, then place a length of prosciutto over the cheese and peppers. Once all the slices have been filled, carefully roll them up from one end to create neat little bundles.

Serve these tasty zucchini roll ups chilled as an elegant starter or finger food at parties, gatherings, or even as part of a light lunch or dinner menu. Your guests will love how fresh and vibrant they look, not to mention how incredible they taste!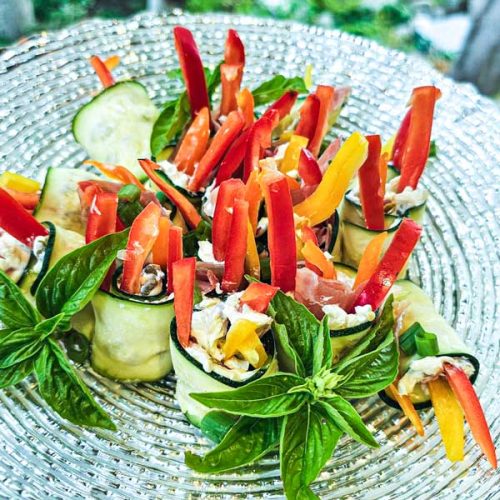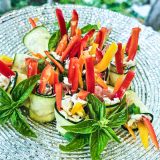 Print
Zucchini Appetizer with Cream Cheese and Proscuitto
Ingredients
2

large

zucchini

,

sliced thin, lengthwise

2

teaspoons

salt

4

ounces

cream cheese

,

softened

2

tablespoons

chopped basil

3

tablespoons

green onion

,

minced

2

tablespoons

chopped capers

3

ounces

proscuitto

4

small

sweet peppers

,

cut in to sticks
Instructions
Using a mandoline or sharp knife, cut the zucchini into thin lengthwise slices.

Place the zucchini on a baking sheet and lightly salt on each side and let sit until water comes out of the zucchini, about 10 minutes.

In the meantime, mix together the cream cheese, basil, green onion and capers.

Spread cream cheese on each of the zucchini slices and place about 3 sticks of bell pepper on top of the cheese with the pepper partially hanging over the edge, spreading them out evenly.

Place a strip of proscuitto over the cheese and peppers.

Roll each zucchini so that the peppers stick out of the top and place standing up on a serving tray.

Serve chilled or at room temperature.
Equipment
Nutrition
Calories:
47
kcal
Carbohydrates:
2
g
Protein:
1
g
Fat:
4
g
Fiber:
1
g
Net Carbohydrates:
1
g
Did you make this recipe?
Be sure to tag @healnourishgrow on Instagram to be featured in our stories or our newsletter! We love it when you make our recipes and share with your friends.