July 1, 2023
Watermelon Salad with Feta, Mint and Jicama – Low Carb Recipe
Are you looking for a refreshing and delicious low-carb recipe to add to your summer menu? Well, look no further because we have the perfect dish for you! Although we often avoid watermelon on keto, it can definitely fit into your macros, depending on what your goals are. Plus, sometimes you need a classic summer favorite that works for gatherings with your non-keto friends. This Watermelon Salad with Feta, Mint, and Jicama is a vibrant and flavorful salad that combines juicy watermelon with creamy feta cheese, fresh mint leaves, and crunchy jicama. It's not only delicious but still low in carbs, calories and made of whole foods, making it a great option for any diet.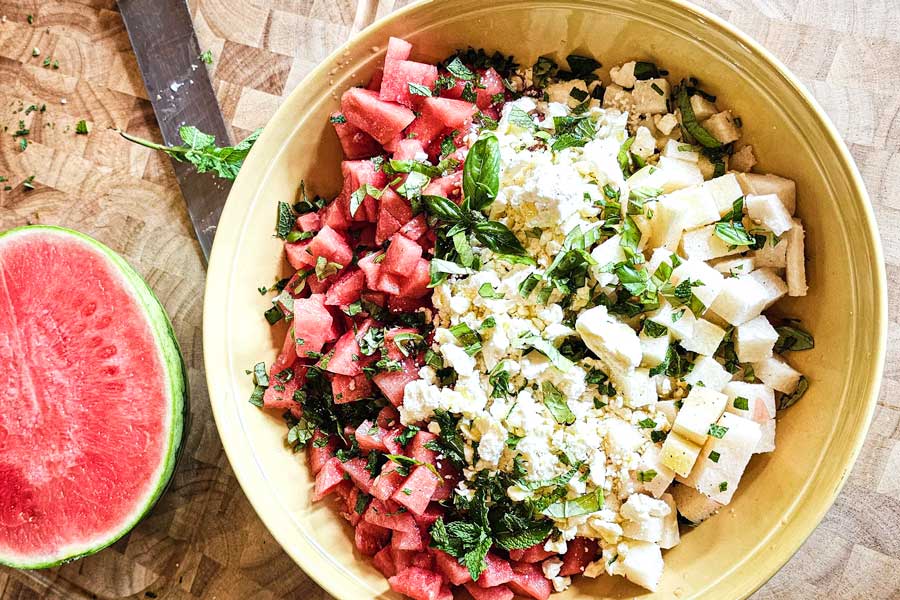 How to Make Watermelon Salad
Making this watermelon salad is as easy as a summer breeze! Start by cutting juicy watermelon into bite-sized cubes. You'll add crumbled feta cheese, fresh mint leaves, and diced jicama for some refreshing crunch. To make it extra easy, use jicama that is already peeled and cut into sticks, I find these at Trader Joe's.
Drizzle with a simple dressing made from lime juice and olive oil. Toss everything together gently, and voila! Your vibrant and flavorful Watermelon Salad is ready to be enjoyed. It's that simple!
Is Watermelon Salad Keto or Low Carb?
If you're following a low-carb or keto diet, you might be wondering if watermelon salad is a good choice. Well, the good news is that watermelon is relatively low in carbs although certainly higher carb than our strawberry and blueberry mainstays. When combined with feta, mint, and jicama in this refreshing salad, it's even more satisfying without packing on the carbs. For even less carbs, reduce the amount of watermelon in this salad and add more jicama.
Each serving of this salad as written has about 9 net carbs per serving, making it easy to fit into your macros and still stay in ketosis.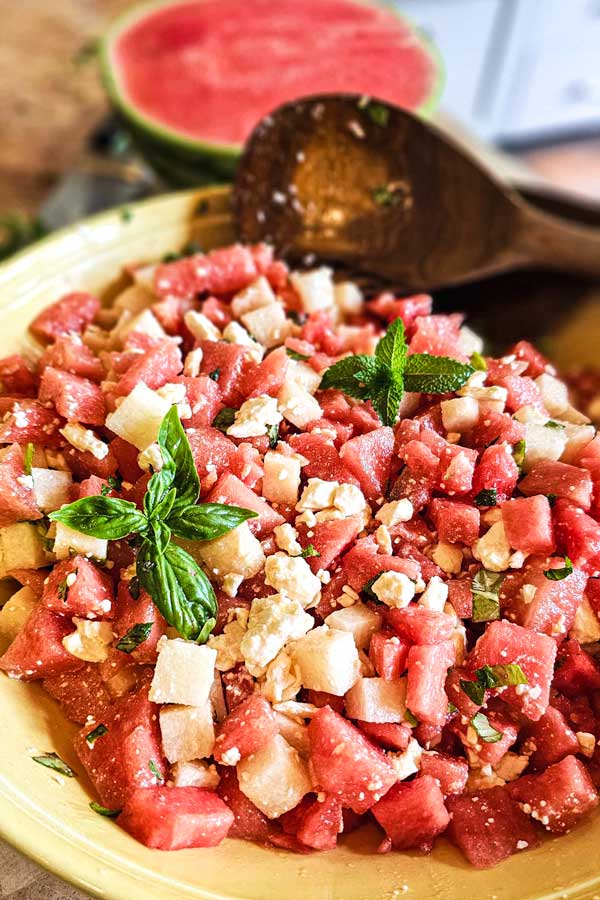 faq
Can I Make This Salad Ahead of Time?
Absolutely! The best way to prepare this ahead of time is to cut everything to size but don't combine it just yet. After you cut and store the watermelon it will release some extra juice. You can pour this off and use in cocktails or add to water for a refreshing drink. Combine all the ingredients just before you're ready to serve to keep everything crisp. You can do the prep a day in advance, but I wouldn't do it much longer ahead than that.
How to Choose a Ripe Watermelon
Look for a watermelon that feels heavy for its size, has a dull rind and has a deep, hollow sound when tapped. I like to use seedless.
Is Jicama Necessary in This Recipe?
Not at all! It adds a nice crunch and really doesn't taste like much, but you can omit it if you prefer. If you haven't tried it before though I highly recommend it.
Different Variations of Watermelon Salad
Watermelon salad is versatile and can be customized to suit your taste preferences. You can add a variety of ingredients like cucumbers and tomatoes. Experiment with different dressings too! Try a lime vinaigrette or a balsamic glaze for a tangy twist. The possibilities are endless when it comes to creating unique variations of this refreshing summer dish. Get creative and enjoy the endless combinations that watermelon salad has to offer.
Serving Suggestions for Watermelon Salad
Most enjoy a good watermelon salad as a refreshing side dish for summer barbecues or picnics. It pairs perfectly with grilled meats and seafood. For a light lunch or dinner, you can add some protein like grilled chicken or shrimp on top of the salad.
A great serving idea is to use your hollowed-out watermelon as a bowl for a really fun presentation.
Cutting the Watermelon
Cutting the watermelon is an essential step in making this delicious salad. There are several ways to do it, but this is the safest. Start by rinsing the watermelon and patting it dry. Then, slice off an end to create a stable base. If you're creating a hollowed-out watermelon as a serving bowl, cut as little off the rind one side as possible to make a flat base without cutting into the flesh.
Stand the watermelon upright and carefully cut away the rind, following its natural curve. Once you've removed all the rind, slice the watermelon into bite-sized cubes. Remove any seeds as you go or just get a seedless watermelon to make it super easy! Now your perfectly cut watermelon is ready to be mixed with feta, mint, and jicama for this refreshing low-carb salad.
Storage Instructions for Watermelon Salad

After making this refreshing watermelon salad, you might have leftovers. To keep it fresh and tasty, transfer the salad into an airtight container. Store it in the refrigerator for up to 2 days. Just remember to give it a good stir before serving again to redistribute the flavors.
Fruit on Keto?
Depending on your goals, you can enjoy the flavors of summer while staying on track with your health! Although you may need to reduce fruit if you have blood sugar issues, most people using keto for weight management and general health can enjoy fruit on occasion. I especially recommend doing this when you can get fruit that are in season and local.
This Watermelon Salad will surely become one of your favorites. So grab some fresh ingredients today and get ready to experience the perfect balance of sweetness, saltiness and freshness that will leave you craving more!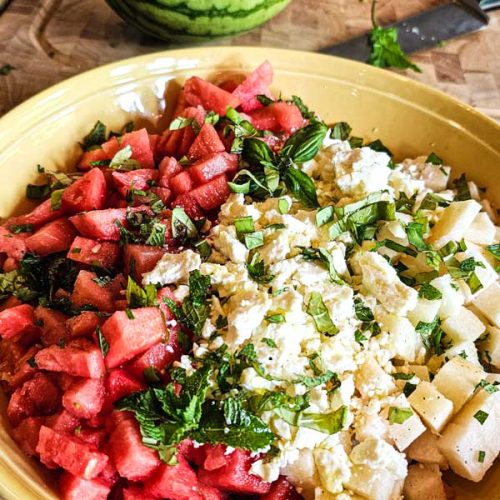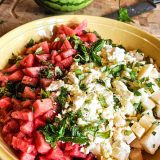 Print
Watermelon Salad with Feta, Mint and Jicama
Ingredients
7

cups

diced watermelon

3

cups

diced jicama

6

ounces

crumbled feta cheese

½

cup

extra virgin olive oil

2

tablespoons

chopped mint

,

plus extra leaves for garnish, if desired

2

tablespoons

chopped basil

,

plus extra leaves for garnish, if desired

salt and pepper

,

to taste
Instructions
Dice the watermelon and jicama into bite-sized pieces and place into piles in a large serving bowl.

Crumble the feta and place alongside the watermelon to create a nice contrast in colors.

Drizzle the olive oil over the watermelon, jicama and cheese.

Sprinkle the top of the salad with mint, basil and salt and pepper.

Toss the salad together just before serving and garnish each serving with whle basil or mint leaves if desired.
Equipment
Nutrition
Serving:
1
people
Calories:
188
kcal
Carbohydrates:
12
g
Protein:
3
g
Fat:
15
g
Fiber:
2
g
Net Carbohydrates:
10
g
Did you make this recipe?
Be sure to tag @healnourishgrow on Instagram to be featured in our stories or our newsletter! We love it when you make our recipes and share with your friends.