January 14, 2023
Immunity Soups, Soup for a Cold
Whenever I'm feeling under the weather, I start craving soup. I've been making this soup for a cold for years. Fortunately, I don't get colds very often. When I do though, I absolutely hate it! Once I feel a cold set in, like that little scratch at the back of my throat, throw the kitchen sink at it. This immunity soup has everything that could possibly support your immune system against a cold and still taste good. Let's take a look at the ingredients.
Garlic in Immunity Soup for Colds
Garlic is one of the most important ingredients in immunity soup. It is known for its medicinal properties. The health benefits come from sulfur compounds that are formed when a garlic clove is chewed or crushed.
According to this study, garlic not only helps prevent the common cold but also reduces the length of cold symptoms by 70 percent. After reading this, I'm going to start taking a garlic supplement all winter long!
Onion in Soup for a Cold
Onions are in the same botanical family as garlic, so it's no surprise that they have similar health properties. Onions contain antioxidants, anti-cancer and antibacterial substances.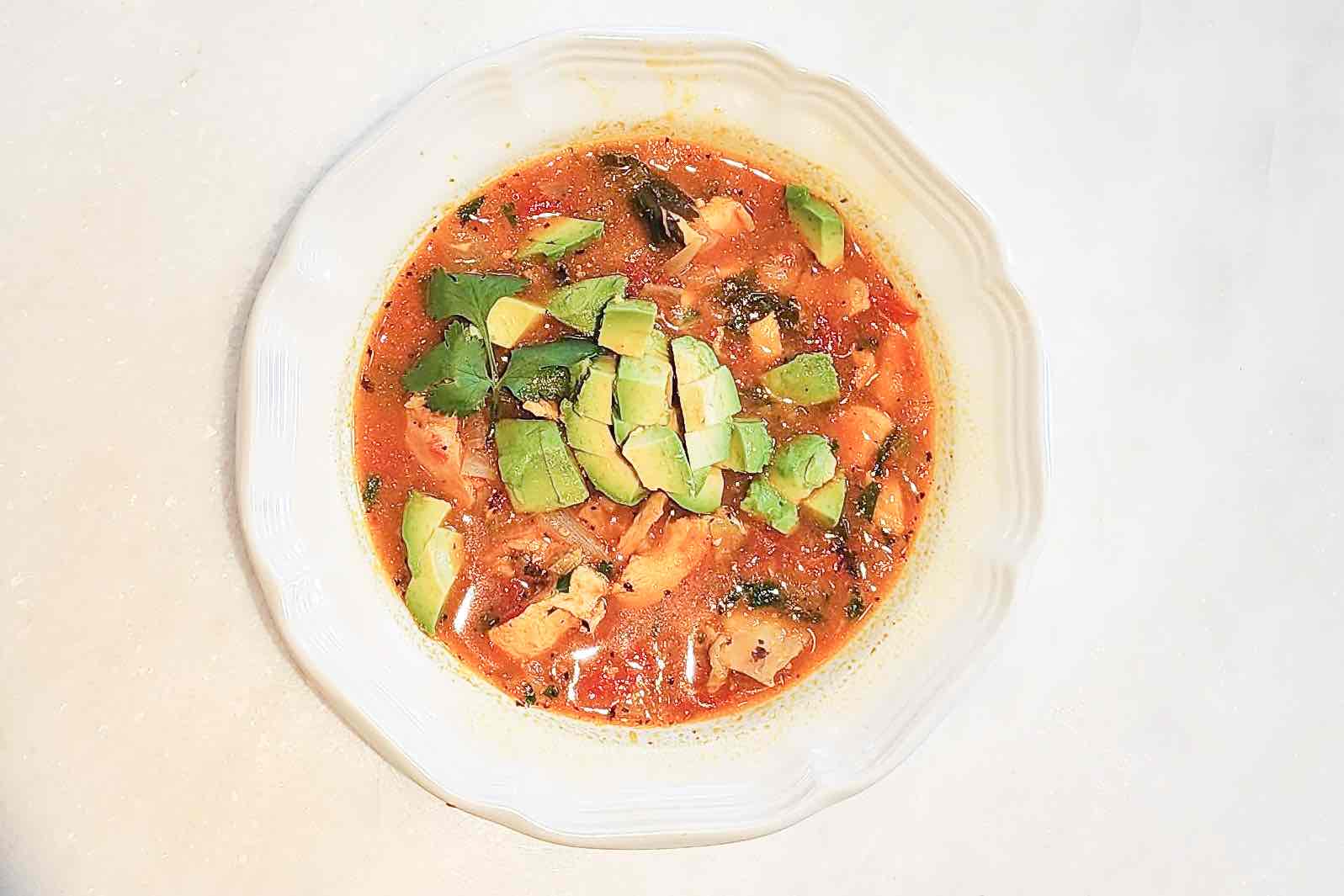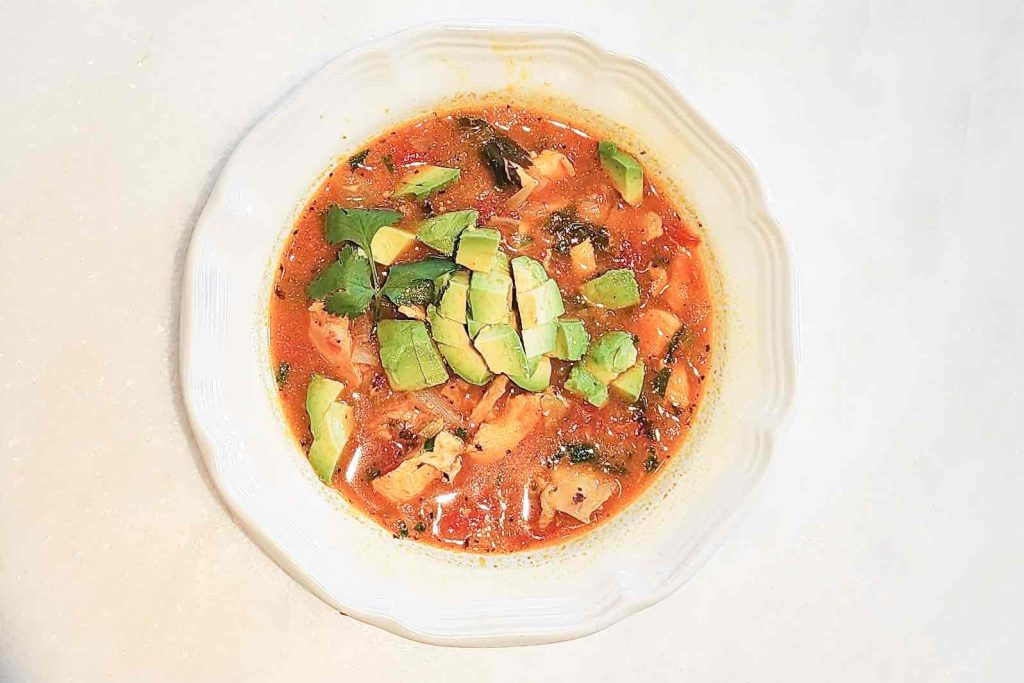 Disclaimer: Links may contain affiliate links, which means we may get paid a commission at no additional cost to you if you purchase through this page. Read our full disclosure here.
Tumeric for Immunity Soup
Tumeric is well known for its anti-inflammatory and antioxidant properties. In addition, research shows that turmeric offers an antihistamine effect as well which may be useful to combat cold symptoms.
Best Ingredients for Immunity Soup/Soup for a Cold
Really, almost every ingredient in this soup was chosen for its immune-boosting or germ-fighting properties. Cilantro, paprika and cayenne all have health-promoting properties as well.
Other Cold Fighting Herbs
Remember how I said I always throw the kitchen sink at my colds? It doesn't stop with this soup. As soon as I feel symptoms I also start taking echinacea and drinking immunity tea.
faq
Why is Chicken Soup Good for a Cold?
Chicken soup is great for a cold in a number of ways. The liquid helps with hydration and the warm broth soothes a sore throat, helps keep mucus thin and sinuses open. In addition, spices in the soup can help open up the sinuses as well.
While hydration and soothing are nice, a study at the University of Nebraska discovered that chicken soup may contain anti-inflammatory properties. This may explain how chicken soup helps with a stuffy nose and may make you feel better.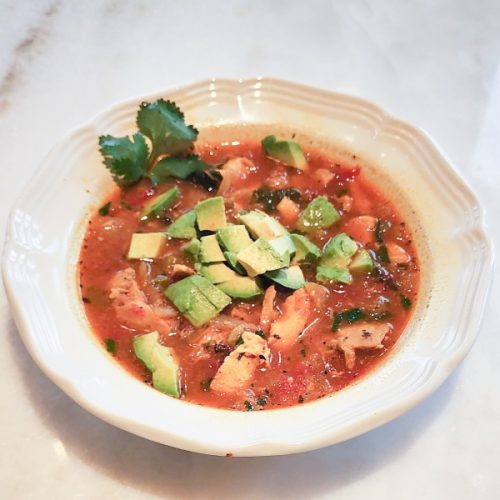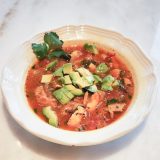 Print
"Sicky Soup," Soup for a Cold
Ingredients
2

tablespoons

butter

,

divided

1 ½

pounds

boneless skinless chicken thighs

6

cloves

garlic

2

medium

yellow onions

1

cup

chopped celery

32

ounces

chicken broth

14 ½

ounces

canned tomato

1

teaspoon

turmeric

2

teaspoon

italian seasoning

½

teaspoon

cayenne

½

teaspoon

smoked paprika

⅓

cup

chopped cilantro

avocado, for garnish

,

optional
Instructions
In a large dutch oven or soup pot, melt a tablespoon of butter.

Place the chicken on the bottom of the pot, brown both sides and remove.

In the same pot, melt the rest of the butter.

Pour in the garlic, onions and celery. Cook for about 3 minutes, stirring occasionally.

In the meantime chop the chicken into bite sized pieces.

Add the broth, tomatos, turmeric, Italian seasoniing, cayenne and paprika. Stir to combine.

Cook at least until chicken is fully cooked, about another 15 minutes.

Add the fresh cilantro and cook for an additional 5 minutes.

Serve hot and garnish with avocado, if desired.
Video
Notes
Most of the carbohydrates in this recipe come from the onion and tomato. You can reduce each of these by a half or more if you'd like reduce carbs.
Nutrition
Serving:
1
serving
Calories:
225
kcal
Carbohydrates:
11
g
Protein:
25
g
Fat:
9
g
Fiber:
3
g
Net Carbohydrates:
9
g
Did you make this recipe?
Be sure to tag @healnourishgrow on Instagram to be featured in our stories or our newsletter! We love it when you make our recipes and share with your friends.