July 2, 2023
Negroni Mocktail: All the Flavor, No Alcohol or Calories
The Negroni is such a classic. Refreshing in the summer and quenching in the winter, I really love them any time! This recipe uses nonalcoholic versions of the traditional ingredients to create a delicious keto Negroni mocktail. This elegant beverage is a non-alcoholic take on the classic Negroni cocktail, perfect for those who prefer to skip the booze but still want to indulge in a deliciously balanced and complex drink. Get ready to impress your guests (or simply treat yourself) with this keto-friendly concoction. Cheers to enjoying all the taste without compromising your lifestyle. Of course, you can just as easily sub in real gin to keep it low-carb and delicious.
Still want a little alcohol in your drink? Campari does have a fair amount of carbs so definitely still use the aperitif. It's an amazing no carb substitution to use along with the sparkling water and sweetener in place of vermouth. Then use real gin for a zero-carb alcohol addition to this make this mocktail into a cocktail.
What is a Negroni Mocktail?
The Negroni Mocktail is a delightful non-alcoholic version of the classic Negroni cocktail. It captures the essence of the original drink, with its vibrant and bitter-sweet flavors, but without any alcohol involved. This refreshing mocktail is perfect for those who want to enjoy a sophisticated beverage without compromising lifestyle choices. Get ready to tantalize your taste buds with this alcohol-free twist on a timeless favorite!
Ingredients for a Non-Alcoholic Negroni
A non-alcoholic keto Negroni is a delicious and refreshing mocktail that captures all the flavors of the classic cocktail. To make this drink, you'll need a few key ingredients: non-alcoholic gin or botanical spirit and non-alcoholic Campari. These components come together to create a vibrant and flavorful blend that will satisfy your taste buds without any added alcohol.
Disclaimer: Links may contain affiliate links, which means we may get paid a commission at no additional cost to you if you purchase through this page. Read our full disclosure here.
Although you may be able to find other non-alcoholic options, I've been using Ritual Zero Proof since 2021 and find their flavors to be my favorite of all the non-alcoholic spirits. The aperitif they sell is an amazing facsimile of Campari. With about 10 carbs per ounce, Campari could knock you out of ketosis pretty quickly if you have more than one. In contrast, the Ritual aperitif has zero calories, zero sugar and zero alcohol making it perfect for keto! Same with their gin.
Plus, you can get 20 percent off your order at Ritual with code HNG20.
How to Make a Non-Alcoholic Negroni
Making a non-alcoholic Negroni is so easy. The traditional recipe has equal parts each of gin, vermouth and Campari. For this Negroni mocktail, we use equal parts Ritual gin, Ritual aperitif and sparkling water with a little sweetener to mimic the vermouth. Combine these in a mixing glass filled with ice. Stir gently to combine and strain into a chilled glass then garnish with an orange twist or slice. Cheers to deliciousness without the hangover or calories!
Tips and Variations of the Negroni Mocktail
When it comes to the keto Negroni mocktail, there's room for creativity and customization. Experiment with different types of bitters or add a splash of citrus juice for a refreshing twist. You can also try substituting the nonalcoholic gin with herbal teas or flavored soda water.
Final Thoughts on the Negroni Mocktail

The Negroni mocktail is a truly delightful and versatile drink that brings all the flavors of its alcoholic counterpart without any alcohol. Whether you're looking for a refreshing summer beverage or a sophisticated alternative to traditional cocktails, the non-alcoholic Negroni hits all the right notes.

By using simple ingredients like herbal teas, bitters, and citrus peel, you can create a keto-friendly and no-alcohol version of this classic cocktail that will impress your taste buds. It's easy to make at home and allows you to enjoy the complex flavors of a Negroni without worrying about alcohol content.

Exploring new flavors doesn't have to mean compromising on health goals or missing out on social experiences. The Negroni mocktail provides an elegant solution that caters both to those who prefer no alcohol in their drinks and those following keto diets. So raise your glass filled with this enticing concoction – cheers! Here's to enjoying all the indulgent tastes without sacrificing anything but alcohol content.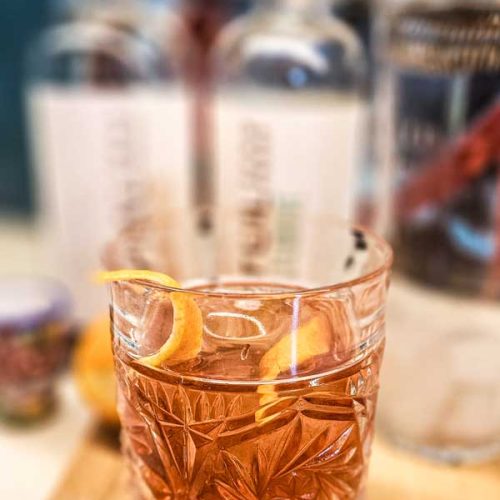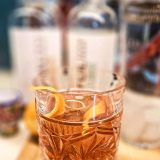 Print
Instructions
Add the gin, campari, sparkling water and simple syrup to a mixing glass filled with ice and stir until well-chilled.

Strain into a rocks glass over a large ice cube.

Garnish with an orange peel.
Equipment
Nutrition
Serving:
1
people
Calories:
0
kcal
Did you make this recipe?
Be sure to tag @healnourishgrow on Instagram to be featured in our stories or our newsletter! We love it when you make our recipes and share with your friends.