October 4, 2022
Mexican Keto Stuffed Peppers
Stuffed peppers are one of my favorite easy meals. There is a lamb keto stuffed peppers recipe featured in my Easy Weeknight Keto cookbook that's more Mediterranean style. That's what I love about keto stuffed peppers, there are nearly endless flavor profiles to play with and they're very easy to make.
This recipe for Mexican keto stuffed peppers includes chorizo, tomatoes and queso fresco to add authentic Mexican flavors to this dish. The other seasonings are kept very simple but you can easily add in some other delicious flavors with optional toppings like salsa, jalapenos, hot sauce, sour cream, red onion and avocado.
My favorite combination includes sour cream and avocado on the side with salsa and Cholula poured on top. This hot sauce is named after the 2,500-year-old city of Cholula, Puebla. It's the oldest still inhabited City in Mexico. While it's not as hot as many other sauces, I love the flavor that comes from the combination of poblano and jalapeno.
I've also made these without cauliflower resulting in a much more concentrated flavor.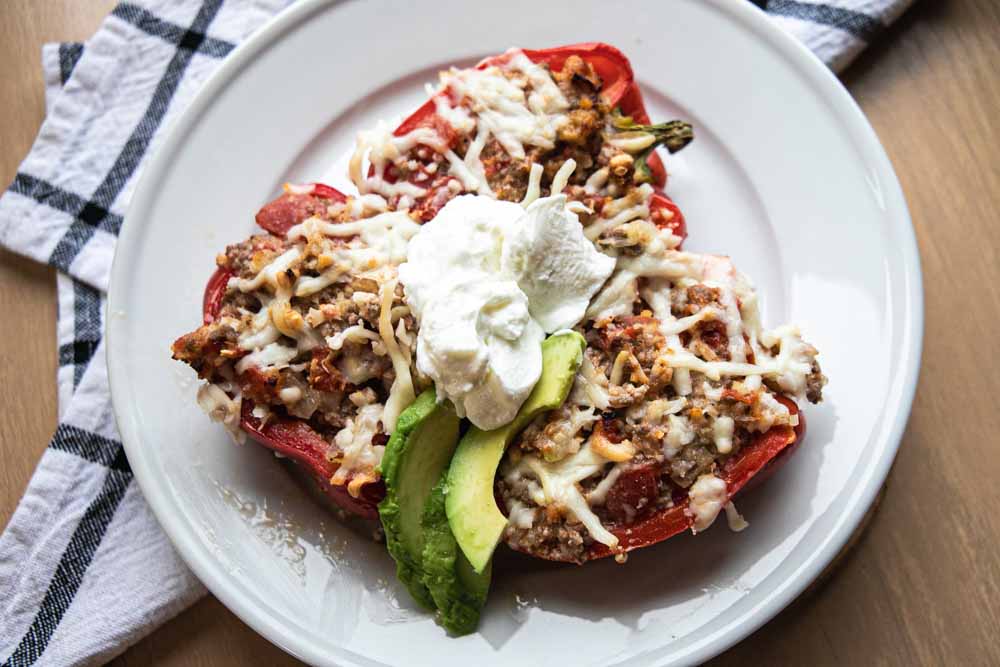 How to Make Stuffed Bell Peppers
Once you know the basics of making stuffed bell peppers, you can experiment with any number of flavor combinations. One of the most important things is how to work with the peppers. Your first consideration is whether to cut the top off of the bell pepper and use them basically whole or to cut the pepper in half. I've done both over the years and find I prefer cutting them in half. You can more easily mound the filling that way and there is more surface area for cheese or sauce to find it's way into the filling.
Then you'll want to parboil your peppers. This allows for quicker cooking once you fill the peppers and put them in the oven. Getting the peppers tender in the oven without this step significantly extends cooking time and can make the stuffing overcooked.
I like to cook all of the ingredients in the stuffing ahead of time. This results more even heating of the ingredients and less cooking time over all. Once the bell peppers are stuffed and in the oven, all you're really looking for is for the cheese to melt and brown and the stuffing to get heated through.
faq
What Does Parboil Mean in Cooking?
All parboiling means is partially cooking something by boiling it first before finishing cooking with a another method.
What Does Blanching Mean in Cooking?
Blanching is a cooking term that describes a process in which food is quickly placed into boiling water, usually just for a minute or two. This is followed by plunging the food into an ice back to stop the cooking process.
What is the Difference Between Blanching and Parboiling?
These terms are sometimes used interchangeably, but they are slightly different. You can consider parboiling a type of blanching. Parboiling is used to partially cook the food that will then be finished using another method. Blanching is often used for fruits or vegetables that will be consumed raw like in salads. It may remove bacteria and enhances the color of the food.
Disclaimer: Links may contain affiliate links, which means we may get paid a commission at no additional cost to you if you purchase through this page. Read our full disclosure here.
Keto Stuffed Peppers
The filling is also a primary consideration for keto stuffed peppers. Most traditional stuffed bell peppers include rice, which will kick up the carb count. Fortunately, it's easy to use riced cauliflower in its place as I did in this keto stuffed peppers recipe. You can also just completely leave out any vegetable filler and stuff your peppers with mostly meat.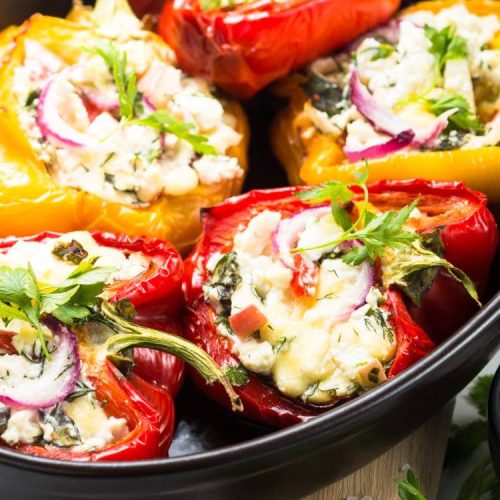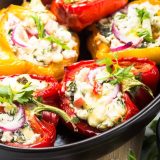 Print
Mexican Keto Stuffed Peppers – Low Carb Recipe
Ingredients
4

large

red bell peppers

,

or a mix of yellow, red and orange

2

teaspoons

extra virgin olive oil

2

cloves

garlic

1

medium

onion

1

pound

ground beef

⅓

pound

chorizo

1

teaspoon

smoked paprika

1

teaspoon

chili powder

,

hot or mild per preference

½

teaspoon

salt,

more to taste

¼

teaspoon

pepper

,

more to taste

28

ounces

canned diced tomato

,

drained

2

cups

riced cauliflower

1

cup

queso fresco

¼

cup

chopped cilantro

,

plus extra for garnish

1

cup

queso asadero
Instructions
Preheat the oven to 375°F.

Fill a large stockpot within 10 inches of the top and bring to a boil.

While waiting for the water to boil, cut the tops off of 4 bell peppers and remove seeds and vein. Alternatively, cut the peppers in half lengthwise.

Place the peppers in the boiling water for 5 minutes. Drain and set aside.

In a large skillet over medium heat, add the olive oil and cook for 1 minute.

Add the garlic and onion to the pan and cook for about 2 minutes until fragrant and onions start to turn translucent.

In the same skillet, stir in the ground beef, chorizo, paprika, chili powder, salt and pepper and cook until meat is browned.

Remove the meat mixture from the heat.

In a large mixing bowl, stir together the meat, tomatoes, cauliflower, queso fresco and cilantro until thoroughly combined.

Stuff the peppers and place in a casserole dish. Extra filling can be placed around the peppers or stored in the refrigerator to use later in a omelette or more stuffed peppers.

Top the peppers with the queso asadero.

Serve hot. Leftovers are great and are good for several days in the refrigerator.
Nutrition
Serving:
1
pepper
Calories:
552
kcal
Carbohydrates:
11
g
Protein:
33
g
Fat:
41
g
Fiber:
3
g
Net Carbohydrates:
8
g
Did you make this recipe?
Be sure to tag @healnourishgrow on Instagram to be featured in our stories or our newsletter! We love it when you make our recipes and share with your friends.