August 21, 2023
Keto PF Changs Lettuce Wraps {Copycat Low Carb Recipe}
Are you following a keto diet but still craving the delicious flavors of your favorite restaurant dishes? You can make a PF Changs Lettuce Wraps recipe at home! These mouthwatering appetizers have gained quite a reputation for their tantalizing blend of savory flavors and satisfying crunch. But if you're on a low-carb journey, you may be wondering if these delectable bites fit into your keto lifestyle.
We'll dive into the carb content of PF Chang's Lettuce Wraps and explore this keto-friendly alternative that will keep your taste happy. Say goodbye to carb-filled regrets and hello to guilt-free indulgence, it's time to discover just how keto-friendly PF Chang's Lettuce Wraps can be! So let's dig in (pun intended) and uncover all there is to know about this Asian-inspired meal.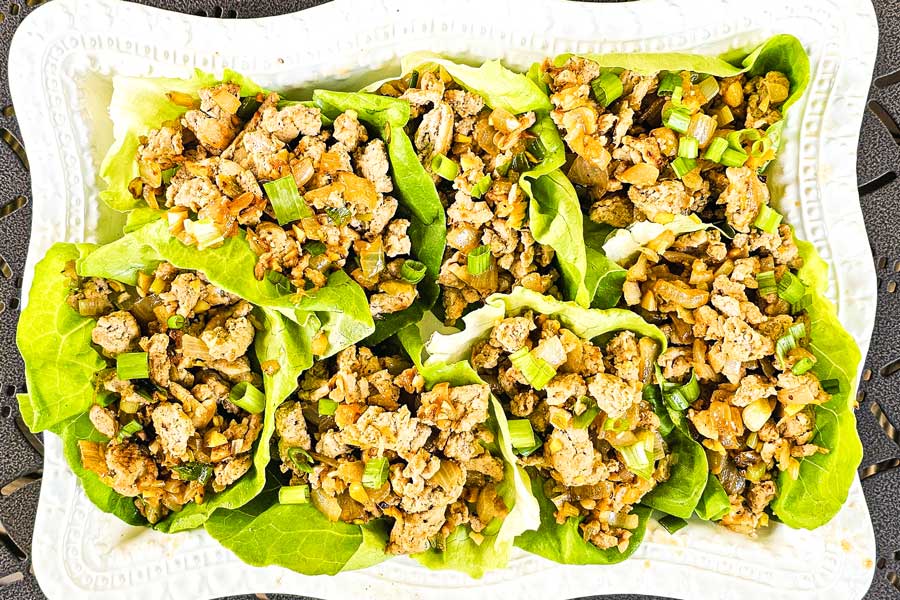 Why Are PF Changs Lettuce Wraps So High in Carbs?
If you're on a keto diet and have been eyeing those delicious PF Chang's lettuce wraps, you might be wondering how they can be so high in carbs. As always, the answer lies in the ingredients used to create them.
The protein component of PF Chang's Lettuce Wraps, which is chicken, is fine. Since these are marketed as an appetizer, their website lists two servings, with 19 grams of protein per serving. Meat is basically zero-carb, but it's important to consider the marinades and sauces that are used to flavor the filling. These sauces often contain added sugars, gluten, soy and other ingredients that can not only derail your quest for ketosis but just aren't good for your health in general.
Let's not forget about the other fillings like water chestnuts and onions. These veggies may seem innocent enough but can also add up in terms of carb count. Water chestnuts have a surprising amount of carbs. Just four water chestnuts have nine carbohydrates! Even though they provide crunch and flavor to your wrap experience, there are some easy substitutions that can provide crunch with a must less carbs.
So while PF Chang's Lettuce Wraps may satisfy your taste buds with their savory goodness, it's essential to keep an eye on your carb intake if you're following a strict keto diet. Luckily there are some easy ways to make them more keto-friendly at home without sacrificing flavor.
faq
How Many Carbs Do PF Chang's Lettuce Wraps Have?
If you're following a keto diet, keeping track of your carb intake is crucial. So, how many carbs do PF Chang's Lettuce Wraps actually have? Let's dive into the numbers!
PF Chang's Lettuce Wraps typically come with a mixture of ground chicken vegetables and sauce. The good news is that the lettuce used as the wrap itself has minimal carbs. However, it's important to be mindful of the sauce because that's where most of the carbs hide. According to their website, each serving has 33 carbs.
To put things into perspective, if you're following a ketogenic diet, which usually allows for around 30 carbs per day, consuming one serving would take up all of your daily carb allowance. So while they may be delicious, it might be best to enjoy them in moderation or find ways to make your own keto-friendly version at home!
Are PF Chang's Lettuce Wraps Keto-Friendly?
If you're following a keto diet, you might be wondering if you can indulge in the deliciousness of PF Chang's Lettuce Wraps without going over your carb limit. If you're eating them at the restaurant, a small amount could be acceptable based on the carb count above. However, you might have to forego carbs for the rest of the day.
What Can I Substitute for Hoisin Sauce?
If you're following a keto diet and craving PF Chang's Lettuce Wraps, but want to avoid the high carb content of hoisin sauce, don't worry! There are plenty of delicious substitutes you can use that won't derail your ketosis. One option is to make your own low-carb hoisin sauce by combining tamari or coconut aminos with almond butter, sesame oil, garlic powder, and a touch of sweetener like erythritol or stevia. This homemade version will give you that rich umami flavor without the added carbs.
In the recipe here, we're keeping the substitution very simple by avoiding gluten, legumes, seed oils and other substitute ingredients that can be harmful to health. The combination of apple cider vinegar and a touch of honey works perfectly in this PF Chang's Lettuce Wrap copycat recipe.
How Many Calories Do PF Chang's Lettuce Wraps Have?
Now, let's talk about everyone's favorite topic when it comes to food, calories! We all want to know how many calories are in the delicious dishes we enjoy. So, how many calories do PF Chang's Lettuce Wraps have?
According to their website, each serving has 330 calories, 19 grams of protein and 29 net carbs. Contrast that with this delicious easy keto recipe that has 364 calories, a whopping 55 grams of protein and just nine net carbs! If you're wondering how that can be, just ditch the sugary sauces and the protein allows this to be a full-on meal rather than just an appetizer.
Keto PF Changs Lettuce Wraps Recipe
To make this recipe for PF Chang's Lettuce Wraps super keto-friendly, we're leaving out the gluten-containing sauces and subbing in apple cider vinegar with just a touch of honey. You could also use coconut aminos if you have them on hand.
Cashews or macadamia nuts make a great substitution for the water chestnuts or leave them out for an even lower-calorie dish. Finally, if you'd like some extra crunch without the nuts, add in a quarter cup of celery while cooking the onion and garlic.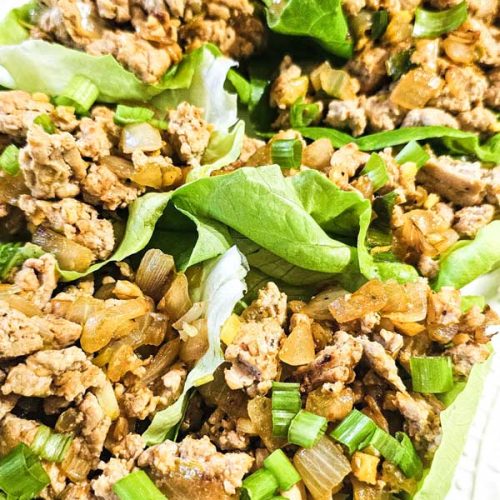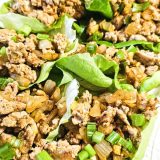 Print
Keto PF Changs Lettuce Wraps
Ingredients
1

tablespoon

olive oil,

or coconut

1

medium

yellow onion

,

diced

3

cloves

garlic

,

finely minced

¼

cup

chopped celery

,

optional

1

pound

ground turkey

,

or ground chicken

½

cup

chopped green onions

,

plus 4 tablespooons green tops

1

tablespoon

fresh ginger

,

minced

1

tablespoon

apple cider vinegar

1

teaspoon

sriracha

½

teaspoon

honey

,

optional

½

teaspoon

salt

½

teaspoon

freshly ground black pepper

Boston lettuce leaves

,

or iceburg

4

tablespoons

chopped cashews

,

optional, or macadamia nuts
Instructions
In a large skillet, over medium heat, pour in the oil.

Sautee the onion, garlic and celery if using, until the onion is translucent, about 3 minutes.

Add in the turkey and cook until browned.

Add in the chopped green onion, (reserve the green tops) ginger and apple cider vinegar. Stir to combine and cook for 3 minutes.

Add sriracha, honey, 2 tablespoons of the green ontion tops, salt and pepper and stir to comine. Adjust seasoning to taste.

Place turkey mixture into the lettuce cups and top with chopped cashews, if using and the remaining green onion tops.
Equipment
Nutrition
Serving:
1
people
Calories:
366
kcal
Carbohydrates:
9
g
Protein:
55
g
Fat:
12
g
Fiber:
2
g
Net Carbohydrates:
7
g
Did you make this recipe?
Be sure to tag @healnourishgrow on Instagram to be featured in our stories or our newsletter! We love it when you make our recipes and share with your friends.