September 5, 2023
Keto Hamburger Helper – Low Carb Recipe
Hamburger Helper, aka macaroni and cheese with ground beef, is such a classic comfort food. Of course, the pasta adds a ton of carbs so the traditional version of this dish really isn't an option on keto. However, if you incorporate a keto pasta you can still enjoy this dish and it's way better than the old Hamburger Helper from a box! If you're following the ketogenic diet or simply looking for a healthier, low-carb pasta option that doesn't skimp on flavor, this recipe is sure to become a new family favorite. Get ready to indulge in all the savory goodness without any of the guilt!
Why You'll Love Keto Hamburger Helper

1. Low-Carb Delight: One of the main reasons you'll love keto homemade hamburger helper is that it fits perfectly into your keto lifestyle. By swapping out traditional pasta with a low-carb alternative, you can enjoy a hearty and satisfying meal without derailing ketosis.

2. Quick and Easy: Another reason to love this recipe is its simplicity. With just a few basic ingredients, one pot and minimal prep time, you can have a delicious dinner on the table in no time. It's perfect for busy weeknights when you want something tasty without spending hours in the kitchen. Kids love it too so say goodbye to complicated recipes and hello to quick and easy keto goodness that's good for the whole family!
I used my favorite dutch oven in the color marigold from Caraway for this recipe. It's so great to have such a beautiful piece that can go right from oven or cooktop to table!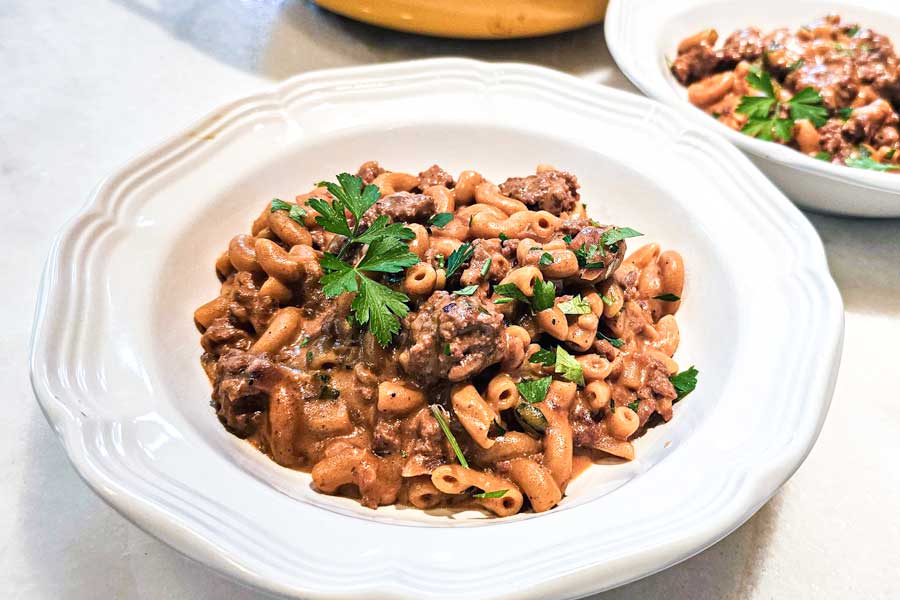 Disclaimer: Links may contain affiliate links, which means we may get paid a commission at no additional cost to you if you purchase through this page. Read our full disclosure here.
Keto Hamburger Helper Ingredients
When it comes to making a delicious and satisfying Keto Hamburger Helper, the key lies in using the right ingredients. Here's what you'll need.

Ground beef: Opt for lean ground beef if you'd like to keep this dish lower calorie and lower fat.
Perfect Keto Mac and Cheese: Replace traditional pasta with keto pasta to make this dish much healthier. There are many keto pastas on the market now but this is the one I prefer for this recipe. Get 20 percent off by using HNG20 at checkout. If you don't want to use an alternative noodle, riced cauliflower is another great option.
Onion and garlic: These aromatic ingredients add depth of flavor to your dish.
Beef Broth: Use this as the base for your sauce, adding richness and savory notes.
Greek Yogurt: Makes a creamy sauce without the carbs and adds extra protein.
Cheese: Top off your keto hamburger helper with even more shredded cheese, adding extra creaminess and flavor.

By choosing these simple yet flavorful ingredients, you can create a nutritious and tasty meal that fits perfectly into your keto lifestyle.
Variations

Get ready to add some variety to your keto hamburger helper recipe! There are so many ways to customize this dish and make it your own. Here are a couple of ideas to get you started.

First, let's talk about the protein. While ground beef is traditional, you can easily switch things up by using ground turkey or chicken instead. These leaner options still provide plenty of flavor and will keep your meal light and healthy.

Now let's move on to some veggies. While the classic recipe calls for onions, feel free to experiment with more vegetables based on your preferences or what you have on hand. Zucchini, bell peppers, mushrooms or even cauliflower can all be delicious additions that add extra nutrients and texture.

With just a few simple swaps, you can create endless variations of this tasty keto dish. Don't be afraid to get creative in the kitchen. there are no limits when it comes to making your perfect keto hamburger helper.
Keto Hamburger Helper Tips

1. Pile on the veggies. If you want to add even more variety to your keto hamburger helper, consider adding extra vegetables. Bell peppers, zucchini, or cauliflower rice are great options that will not only boost the flavor but also provide additional fiber and vitamins.

2. Experiment with spices. Don't be afraid to get creative. Play around with different herbs and spices to give your keto hamburger helper a unique twist.

3. Make it ahead of time. One of the best things about keto hamburger helper is that it's perfect for meal prepping. You can easily make a large batch and portion it out into individual servings for quick and convenient meals throughout the week. Simply reheat when ready to eat.

4. Customize toppings. While this recipe is delicious on its own, feel free to customize it with your favorite toppings before serving. Some popular options include (more) shredded cheese, sliced avocado, sour cream, chopped green onions, or even crushed pork rinds for added crunch.

5. Serve it creatively. Keto hamburger helper doesn't have to be limited to just one way of serving. Get creative by using lettuce wraps as taco shells or stuffing bell peppers with the mixture before baking them in the oven.

With these tips in mind, you're well-equipped to whip up a delicious and satisfying keto-friendly version of everyone's favorite comfort food, hamburger helper! So go ahead and enjoy all the flavors without any guilt while staying true to your low-carb lifestyle.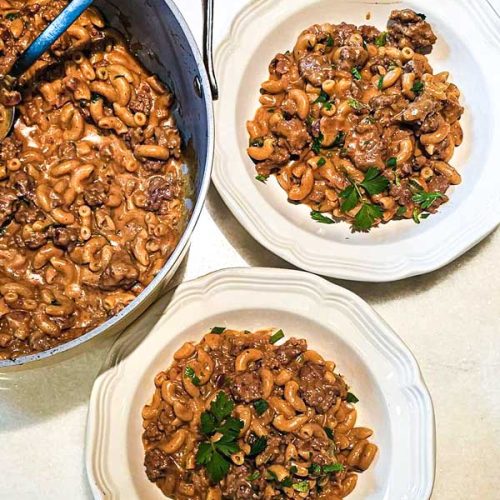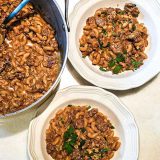 Print
Ingredients
2

tablespoons

extra-virgin olive oil

1

cup

chopped red onion

3

whole

garlic cloves

,

minced

1

pound

ground beef

½

teaspoon

salt

¼

teaspoon

black pepper

1

tablespoon

hot sauce

2

teaspoons

smoked paprika

4

cups

beef broth

2

packages

Perfect Keto Mac and Cheese,

HNG20 for 20% off

½

cup

plain nonfat Greek yogurt

½

cups

grated sharp cheddar cheese

¼

cup

chopped parsley
Instructions
Heat the olive oil in a Dutch oven or a large, deep 12-inch skillet over medium-low heat.

Add onion and garlic, lett cook until the onion turns soft, about 3 minutes.

Add the garlic and let cook just until fragrant, about 30 seconds.

Increase heat to medium-high and add the ground beef, breaking up into small pices.

When the meat has finished cooking, stir in the salt, pepper, hot sauce and paprika.

Add in two cups of the beef broth and bring to a boil.

Pour in 2 packages of keto macaroni, reserving the cheese packets.

Stir to combine and bring back to a boil and cook for 4 minutes.

Add in the remainder of the broth and cover, cooking for an additional 4 minutes. Continue to cook for a couple minutes more until the broth is reduced and the noodles are tender.

Just before removing from the heat, add the Greek yogurt, cheddar cheese and most of the parsley. Stir until the cheese is melted and the ingredients are well combined.

Sprinkle the remaining parsley on top just before serving for garnish. Top with extra cheese and greek yogurt, if desired.
Equipment
Nutrition
Serving:
1
person
Calories:
362
kcal
Carbohydrates:
19
g
Protein:
29
g
Fat:
23
g
Fiber:
13
g
Net Carbohydrates:
6
g
Did you make this recipe?
Be sure to tag @healnourishgrow on Instagram to be featured in our stories or our newsletter! We love it when you make our recipes and share with your friends.