November 18, 2022
How to Make Homemade Macaroni and Cheese
If you're wondering how make homemade macaroni and cheese, look no further! This delicious keto mac and cheese recipe gives you the option to use real macaroni as well. While the name keto cauliflower mac and cheese is somewhat of a misnomer, it's still absolutely delicious and a more healthy version than the original.
Eating real macaroni and cheese and staying in ketosis is difficult. Most pasta is very high carb and low carb varieties often don't taste very good. That's where cauliflower comes in as a tasty substitute for macaroni. Although it doesn't taste exactly the same, this keto cauliflower mac and cheese recipe definitely hits the mark on cheesy goodness! Or, if you don't mind the carbs, read on because you'll have the option to use real macaroni too.
How to Make Homemade Macaroni and Cheese Healthier
Mac and cheese is a classic comfort food. The original Kraft Mac and Cheese has 58 grams of carbs in a one cup serving. And it's not even that good! That's exactly why you should learn how to make homemade mac and cheese (or the more common web search for how make homemade mac and cheese.) Making homemade mac and cheese from scratch isn't that hard. Plus, it tastes so much better than what you get out of the box. Even better, this baked version adds more cheese to the top for extra cheesy mac and cheese.
Disclaimer: Links may contain affiliate links, which means we may get paid a commission at no additional cost to you if you purchase through this page. Read our full disclosure here.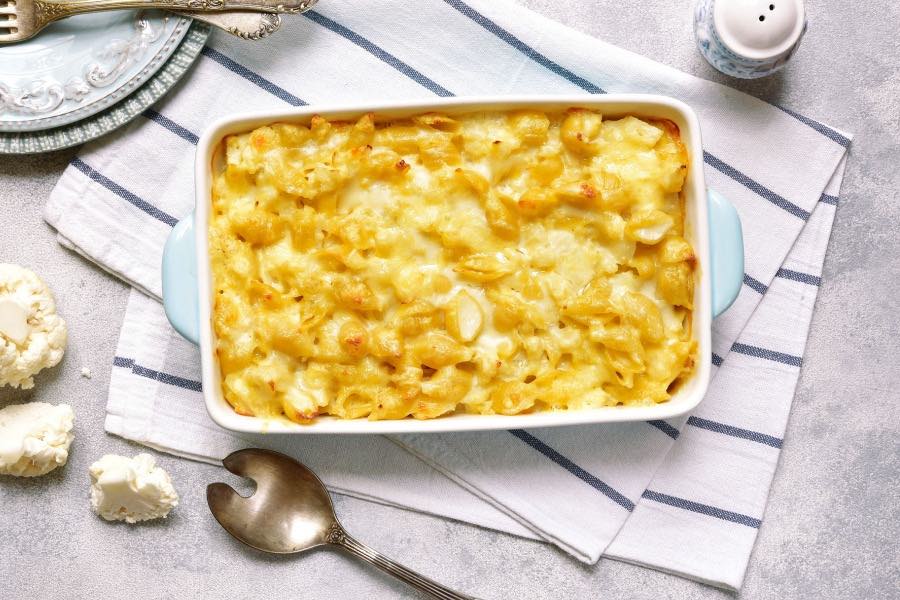 Keto Cauliflower Mac and Cheese
To make the keto cauliflower mac and cheese, everything is same as traditional homemade mac and cheese. The only difference is you're using cauliflower instead of macaroni…duh.
If you can find a keto or low carb pasta that does taste good too you, it's perfectly acceptable to use it in this recipe. I've tried several brands and I prefer sticking with cauliflower.
How to Make (How Make Homemade Macaroni and Cheese): Traditional Version
If you want to make the real macaroni and cheese version, you'll substitute eight ounces of macaroni for the cauliflower. Boil the macaroni for about seven minutes. It should still be fairly firm because it will finish cooking in the oven.
So that's really the only difference between the two! The macros below are for the healthier keto cauliflower mac and cheese variation. If you make this with real macaroni, the net carb count per serving goes from 3 grams to 23.
Looking for more great keto sides? Go check out our brussels sprouts, mashed cauliflower, deviled eggs, cornbread and more!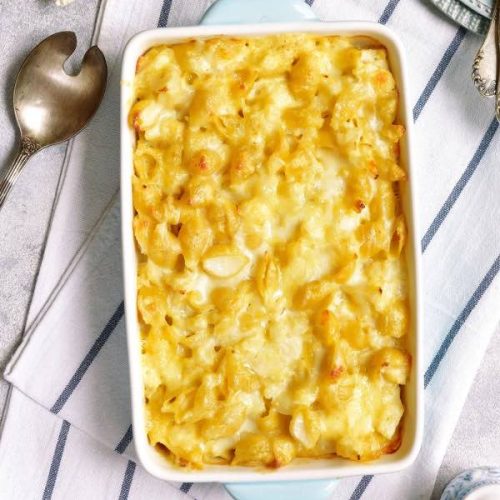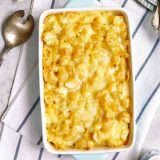 Print
Keto Cauliflower Mac and Cheese
Ingredients
2

teaspoons

salt,

divided

5

cups

cauliflower florets

,

about 1 large head

2

tablespoons

butter

1

cup

heavy cream

2

ounces

cream cheese

,

cut into small pieces

½

teaspoon

xanthan gum

1

clove

garlic

,

minced

2

cups

shredded cheddar

,

sharp, divided

¼

teaspoon

pepper

,

white preferred

1

teaspoon

smoked paprika
Instructions
In a large stockpot, bring 8 cups of water to a boil and dissolve 1 teaspoon of salt in the water.

Use 1 teaspoon of the butter to grease the baking pan.

Place the cauliflower in the boiling water for 6 minutes.

Drain well and place on paper towels to dry.

Pat any extra from the cauliflower, transfer to the baking dish and set aside.

Bring the cream to a simmer in a small saucepan.

Whisk in the cream cheese, garlic xanthan gum and the remaining butter until smooth. Keep whisking until thickened about 90 seconds.

Stir in 1 1/2 cups of the cheddar cheese, remaining salt, pepper garlic and smoked paprika.

Whisk just until the cheese melts, about 2 minutes.

Remove cheese mixture from the heat, pour over the cauliflower and stir to combine.

Top with the remaining 1/2 cup cheese and bake until browned, about 15 minutes.
Nutrition
Serving:
1
serving
Calories:
284
kcal
Carbohydrates:
5
g
Protein:
9
g
Fat:
26
g
Fiber:
2
g
Net Carbohydrates:
3
g
Did you make this recipe?
Be sure to tag @healnourishgrow on Instagram to be featured in our stories or our newsletter! We love it when you make our recipes and share with your friends.