July 7, 2022
Kalorik Air Fryer Review -Maxx 26 Quart Digital Air Fryer Oven Grill
Air fryers have become extremely popular in the keto community. They heat up quickly and are great for making food crispy without extra oil. I've had a few different models of air fryers over the years, but I've really been loving my Kalorik MAXX 26 qt air fryer. It's by far my favorite. The 26-quart model is large enough to make a whole chicken and has loads of great features. I wanted to write this Kalorik air fryer review so you have some extra practical information when deciding what air fryer you may want to purchase.
Kalorik has plenty of sales, so getting a great deal on their products is never a problem. Amazon always has some amazing sales on Kalorik!
In addition to several great air fryers and indoor grill options, they also have plenty of other kitchen appliances, tools and even recipes. You'll find my Sausage and Cheese Stuffed Mushrooms and my Salmon en Papillote recipes from the cookbook at their website.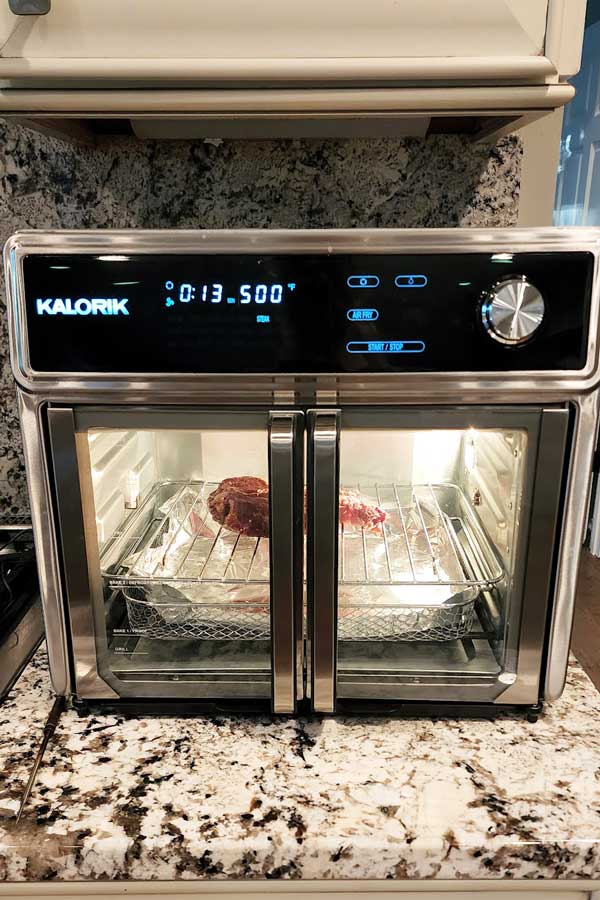 I enjoy their products so much that I partnered with them to give away one of these Kalorik air fryer grill units at KetoCon. I'm using this oven for my cooking demo where I'll be making a few recipes from my Grain Free Cookbook for Beginners. All of the recipes in the cookbook are also sugar-free and keto-friendly but you'll enjoy them no matter what kind of diet you choose.
Although this is not a sponsored post, Kalorik did generously send me the Kalorik MAXX air fryer grill 26 qt to try out ahead of my cooking demo.
Disclaimer: Links may contain affiliate links, which means we may get paid a commission at no additional cost to you if you purchase through this page. Read our full disclosure here.
Kalorik Air Fryer Review
So what makes this Kalorik MAXX 26 qt air fryer my favorite? Several things! The overall design and features it has in comparison to other air fryers I've owned is superior. I'll go into more detail below.
Kalorik Air Fryer Review: Look and Feel
The first thing I'd like to point out is that it has doors that open to the side rather than the door pulling down like a traditional oven. I find the oven door style tends to collect crumbs in the crack and can also be hot when taking food out of the air fryer. If you have that style you'll need to be careful taking food out of it so you don't get burnt. With the Kalorik air fryer grill you don't need to worry about either of these issues! The doors opening in the center allow for easy and safe access to the oven with no ability to collect crumbs.
I love the aesthetics of this unit as well. It fits in beautifully in a kitchen that already has stainless steel appliances. It's lightweight but still feels high-quality and sturdy. The height of the oven allows it to easily sit on the counter under your cabinets. Just be sure to pull it away from the wall a little before cooking. I've noticed with my other air fryers that cooking too close to the wall can allow the vent to transfer grease to the wall.
Always Clean Stainless Interior
My previous air fryer oven got filthy inside in pretty short order. With the heating elements exposed and the size, air fryer ovens can generally be difficult to clean. That is what is so attractive to me about the always-clean stainless-steel oven interior of the Kalorik air fryer. I haven't used it enough yet to see how easily it stays clean. However, I'll be sure to update this review with that information in the future.
Smokeless Sear™ Technology
Smokeless Sear™ technology is definitely one of the coolest features of the Kalorik air fryer. I haven't seen any other air fryer on the market that has this feature. The non-stick diamond grill grate paired with a 500°F oven temperature creates steakhouse results. Meat cooked on the grate gets great grill marks if you're into that. The activated charcoal filter absorbs smoke and odors to make indoor grilling a reality. Basically, you can sear meat that looks like it was cooked on an outdoor grill without the smoke and mess. No more standing out in the rain or snow to get perfectly seared steaks.
Air Fryer Rotisserie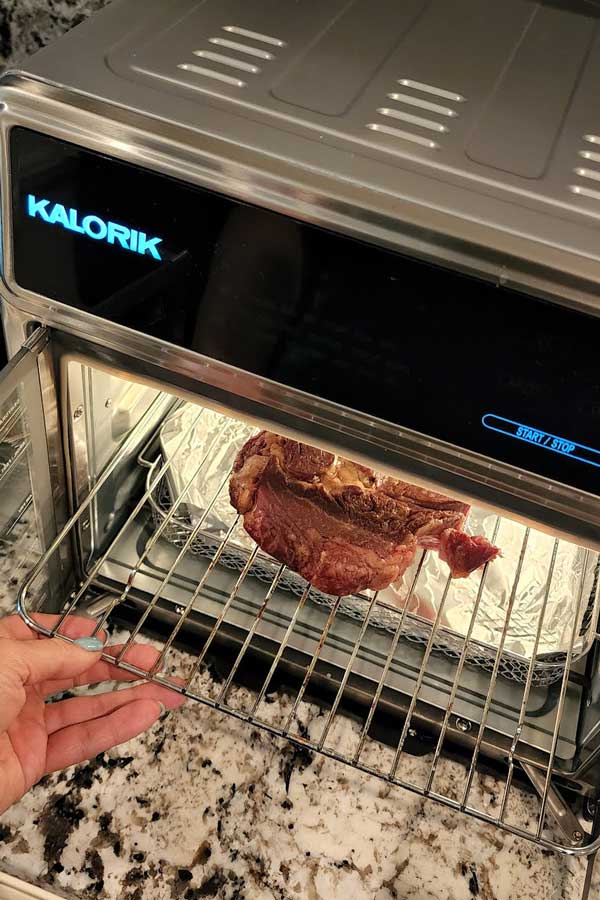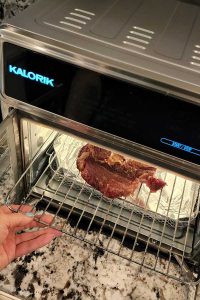 Some other air fryers have a rotisserie feature as well. Whichever air fryer you choose, I definitely recommend you look for one with the ability to cook rotisserie style. Chicken made this way turns out exceptionally tender and juicy, plus it just looks cool. It will be your new favorite way to cook chicken! You may also want to brine your chicken for extra juiciness. The method and ingredients are the same whether you're brining a turkey for Thanksgiving or a simple weeknight rotisserie chicken.
Best 26 Qt Air Fryer
If you're looking for the best 26 qt air fryer, this is definitely one of them. It has a very roomy interior and the way the doors open make it much more accessible than other oven air fryers I've owned in the past.
Multiple Cooking Features
Kalorik air fryers have multiple ways to cook food outside of just air frying. You can also use the maxx 26 quart air fryer oven grill to bake, toast, roast, braise, sear, rotisserie, dehydrate, broil and grill. The Kalorik MAXX 26 qt features turbo MAXX® technology to create a supercharged hot airflow. This allows food to cook 74 percent faster which is another great feature of the Kalorik air fryer. Everyone is so busy so if your oven can save you time, you'll love it that much more.
The unit is digitally controlled by a knob and touchscreen with 22 cooking presets. I don't use the presets much, but they can definitely be handy for newer cooks.
Kalorik Air Fryer Review: Cooking
No complaints here. Everything I've cooked in the Kalorik air fryer so far has been cooked quickly and evenly. The last time I cooked a steak I didn't even bother with the diamond grill grate to see how the meat turned out without it. As you know, I'm a huge fan of the reverse sear method and you could use the air fryer to accomplish that as well.
Someday, I'll have a whole article on reverse sear to reference, but in the meantime, you just put your steak fresh or frozen in the oven or air fryer at 225 degrees. When you're within 15 degrees of your target temperature you take it out and sear it until you're within five degrees of your target temperature. You could use the air fryer for the first part and still sear your steak on an outdoor grill. Or cook the steak completely in the Kalorik using the diamond grate and the grill function to sear your steak.