November 5, 2021
Cilantro Lime Sea Asparagus Chicken Soup – Keto Low Carb Recipe
I recently became aware of Foraged and Found, what a cool concept! They hand forage the superfood sea asparagus from Alaskan beaches and make it into a lemony pesto. You may be wondering what sea asparagus tastes like, I was too! Honestly, I couldn't tell much difference between sea asparagus pesto and traditional pesto. The herbs and flavors make it a perfect choice for this keto chicken soup!
This keto chicken soup recipe is an entry for a contest they're having. You can find them at foragednfound.com, on Instagram and Facebook.
What is Sea Asparagus Anyway?
Sea asparagus is a succulent plant that looks like thin green stalks. Maybe something like green beans but thinner, hence the nickname sea asparagus. Other common names include glasswort, pickleweed, picklegrass, and marsh samphire. The official name is Salicornia. In its raw form, it has a nice crunch and briny taste, due to its proximity to saltwater.
It grows along the shores of salt lakes, coastal salt marshes, on beaches and along mangroves.
This superfood is great paired with seafood but in its pesto form will hold up to stronger flavors as well. It would be great on a steak as well, much like chimichurri sauce. It can be eaten raw or cooked which would also make it great in salads.
The Foraged and Found brand is easily found on Amazon. It's delicious so I definitely recommend you check it out but if you have a different brand of pesto on hand or would like to make your own, you can easily substitute it in this keto chicken soup recipe.
Disclaimer: Links may contain affiliate links, which means we may get paid a commission at no additional cost to you if you purchase through this page. Read our full disclosure here.
Keto Chicken Soup
Chicken soup is such a great fall and winter meal. You can easily increase this recipe and freeze some so you always have it on hand, especially if you feel a little sniffle coming on! Although it doesn't have rice or noodles since those aren't very keto-friendly, you could easily add those in if you like. The addition of sea asparagus pesto gives this version of keto chicken soup lots of extra flavor and a good amount of calcium and iron.
The brightness of the lemony pesto goes perfectly with cilantro. Cilantro and lime is a classic combination and one that always tastes great to me. I'd love to hear about it if you try this recipe! Please let me know in the comments below. Even if you're not eating keto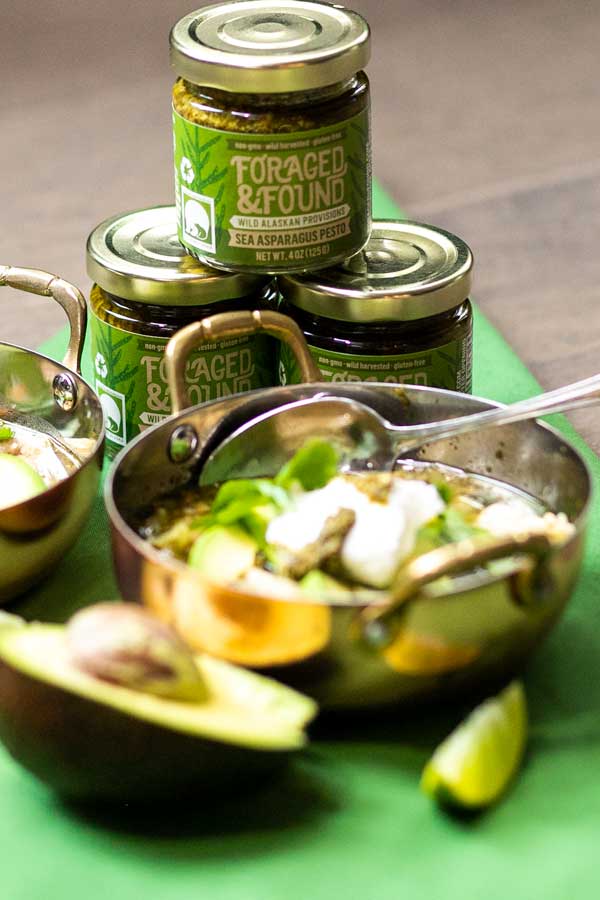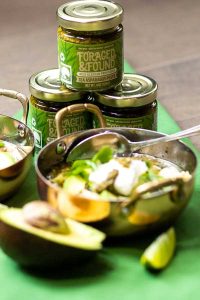 or low carb, this chicken soup is definitely worth a try!
Keto Chicken Soup Toppings
Garnish and toppings are always optional, but I absolutely loved this soup with the addition of avocado and Greek yogurt. I often use Greek yogurt in place of sour cream. It has more protein and tastes virtually the same.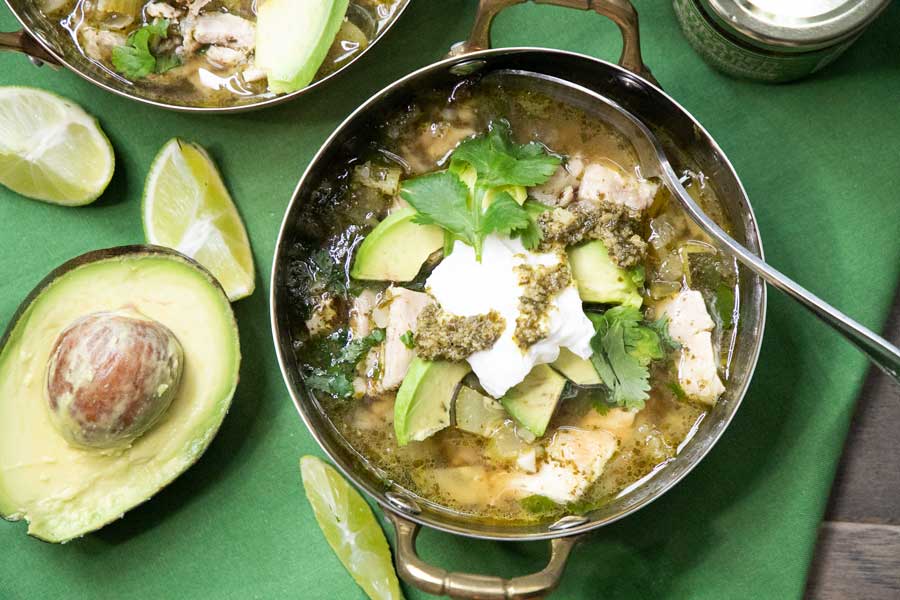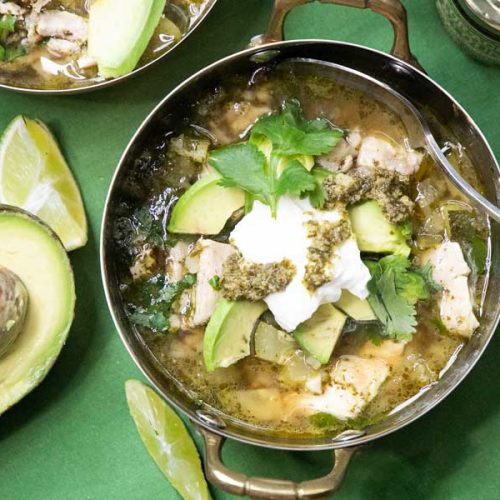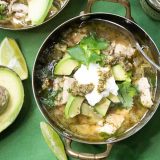 Print
Cilantro Lime Sea Asparagus Chicken Soup - Keto Low Carb Recipe
Chicken soup is such a great fall and winter meal. You can easily increase this recipe and freeze some so you always have it on hand, especially if you feel a little sniffle coming on!
Ingredients
1

tablespoon

tallow,

or other healthy oil

½

cup

onion

,

chopped

3

cloves

garlic

,

minced

1

pounds

chicken thighs

¾

cup

celery

1

cup

zucchini

,

cubed

32

ounces

chicken broth

4

ounces

pesto

,

Foraged and Found Sea Asparagus

1

cup

cauliflower

1

tablespoon

lime juice

4

tablespoons

cilantro
Garnish (optional)
4

tablespoons

greek yogurt

2

tablespoons

pesto

1

medium

avocado
Instructions
Heat tallow in a stockpot over medium heat.

Add onion and garlic, cook for about 3 minutes or until translucent.

Move onion and garlic aside and place chicken so it contacts the bottom of the pot.

Once slightlly browned, about 3-4 minutes, flip the chicken and cook another 3 mintues.

Add the zucchini and celery and stir to combine, cook about 3 minutes.

Pour in the broth and pesto, stir to combine.

Bring to a slight boil then reduce heat to simmer.

Add cauliflower and cook about 20 minutes.

Add lime juice and most of the cilantro and stir to combine, cook 2 more minutes.

Serve in a bowl and top with remaining cilantro.

Add 1 tablespoon of greek yogurt, avocado slices and a teaspoon of pesto as garnish, if desired.
Notes
Each serving is approximately six net carbs not including garnish.
Nutrition
Calories:
329
kcal
Carbohydrates:
8
g
Protein:
21
g
Fat:
24
g
Fiber:
2
g
Did you make this recipe?
Be sure to tag @healnourishgrow on Instagram to be featured in our stories or our newsletter! We love it when you make our recipes and share with your friends.