January 18, 2019
Spinach Walnut Pesto and Sun-Dried Tomato Cheese Torta – Keto Low Carb Recipe
National Cheese Lover's Day is January 20th. What better way to celebrate than with this delicious Spinach Walnut Pesto and Sun-Dried Tomato Cheese Torta? It's keto friendly of course and packs not only delicious flavor but plenty of fat and antioxidants.
Inspiration for the Keto Spinach Walnut Pesto and Sun-Dried Tomato Cheese Torta
This recipe for Keto Pesto and Sun-Dried Tomato Cheese Torta was inspired by a local wine and cheese shop. They have a delightful little case of different cheeses you can pick up along with your wine for the evening. Included in that spread was an interesting looking layered cheese torte begging to be tried. While it looked amazing, the flavor was quite bland and disappointing. And after making this version of walnut pesto and sun-dried tomato tort, I think I know why!
While amazingly flavorful and delicious, this keto cheese torte is certainly not inexpensive. By the time you buy 18 ounces of good quality cheese (I used organic), sun-dried tomatoes, walnuts, basil and spinach, you're easily in for over $20 on this keto appetizer. Which is why any cheese torte made for mass consumption is probably not as flavorful…cheap ingredients are likely to be used.
However, this tasty layered cheese dish is well worth the cost, especially for a special occasion or party. Not to mention the fact that it keeps giving back all week as an amazing filling for omelets or topping for steak or chicken. If you spread out the cost over the number of servings it really isn't that bad at all for something that tastes this good!
Torte or Torta or Layered Cheese Pie/Dip/Thingamajig
Naming this dish was interesting. A cheese torte or torta can be found in several different recipes of this type. But wondering what the actual definition or torte or torta is led to a little more investigation. A traditional torte is defined as a layered sweet cake, coming from the Italian word torta. In Italy though, a torta can be sweet or savory.
According to Wikipedia
Traditional Italian torta usually includes ricotta cheese, parmesan, parsley, and onion. There are also variations that contain meat and some that are completely vegetarian. These vegetarian torte sometimes contain artichokes and spices for flavor."1
Since torte seems to be more closely associated with sweet, this dish is deemed cheese torta.
Disclaimer: Links below may contain affiliate links, which means we may get paid a commission at no additional cost to you when you purchase through our links. Read our full disclosure here.
Special Equipment and Considerations for Cheese Torta
One thing that is practically required for this recipe is a springform pan. However, most traditional cake ones will be a little too large. I love the little six-inch one I have which I also use to make keto cheesecake (look for that recipe soon!) Not only is it the perfect size for this cheese torta, it prevents you from making huge keto desserts. While it can be useful to make larger batches of keto desserts and freeze some, sometimes it's good to just make a smaller batch to prevent you from going overboard on the keto treats!
If you don't have a springform, you may also be able to get away with lining an appropriately sized dish with parchment paper to make removal of the torta easier. I haven't tried this so please don't blame me if it doesn't work as well.
Something I did not do here is let each cheese layer cool/solidify between adding layers. If you're a perfectionist or just want this to look extra amazing, put the torta in the freezer or refrigerator after each cheese layer until it's solid. Personally, I don't mind the torta being a little messy for the ease of doing it all at once. That's the way I did the one for these photos. As you can see, the layers are still visible, but not as sharp as the might be if you let the cheese harden between layers.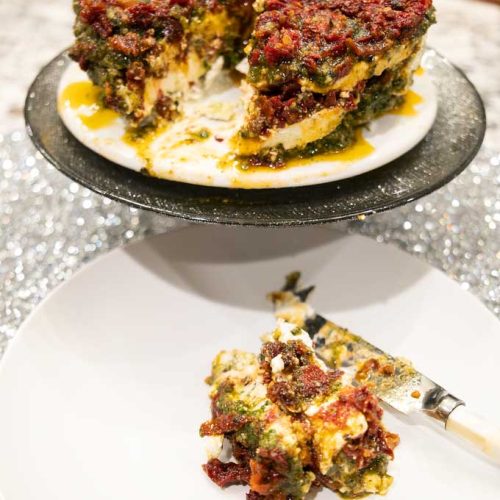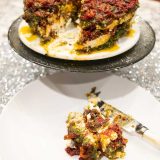 Print
Spinach Walnut Pesto and Sun-Dried Tomato Cheese Torta - Keto Low Carb Recipe
This layered cheese torta is great for special occasions or the holidays! Full of flavorful and keto friendly ingredients, it's sure to be a crowd pleaser.
Ingredients
Spinach Walnut Pesto
Fillings
10

ounces

goat cheese

,

softened, herbed, split in 5 ounce portions

8

ounces

mascarpone cheese

,

softened

8 ½

ounces

sun dried tomatoes

,

jar, in olive oil
Instructions
Remove goat cheese from the refrigerator and allow to soften at room temperature for an hour. Mascarpone can soften at room temperature for 30 minutes.

Lightly oil a springform pan.

Spread half (5 ounces) of the goat cheese on the bottom of the springform.

If desired, place the springform in the freezer or refrigerator in between cheese layers to allow to harden and make spreading the next layer easier.

Add a third of the pesto on top of the goat cheese.

Add half of the mascarpone cheese layer.

Add half of the sun-dried tomatoes

Add the rest of the mascarpone cheese.

Add the second third of the pesto.

Add the rest of the goat cheese (5 ounces).

Add the final third of the pesto.

Add the last half of the sundried tomatoes.

Chill until ready to be served. This can be made a day or two in advance but should be allowed to sit at room temperature for at least 30 minutes prior to serving for the best flavor.
Nutrition
Calories:
193
kcal
Carbohydrates:
2
g
Protein:
4
g
Fat:
17
g
Fiber:
1
g
Did you make this recipe?
Be sure to tag @healnourishgrow on Instagram to be featured in our stories or our newsletter! We love it when you make our recipes and share with your friends.