July 24, 2023
Nira Review for Hooded Eyes with Video

Searching for the fountain of youth? This could be your device! In this Nira review, I'm diving into the world of anti-aging skincare. Some incredible results have been achieved with the FDA-cleared Nira anti-aging skincare laser. As of this writing, I've used the Nira daily for 30 days and have already started to see some results. According to their website, you get clinical grade results in 90 days, guaranteed.
Nira Review: What is It?
NIRA precision is the first and only painless at-home laser that is FDA-Cleared. The device is clinically proven to reduce fine lines and wrinkles. The precision tip is small enough precision to target hard-to-treat areas in just two minutes a day. The device improves wrinkles by stimulating collagen production.
You might consider this device a natural alternative to Botox and fillers. It's non-invasive and has no downtime. Since it only takes a couple of minutes each day, it's been very easy to fit into my skincare routine.
Disclaimer: Links may contain affiliate links, which means we may get paid a commission at no additional cost to you if you purchase through this page. Read our full disclosure here.
Recently, they came out with the pro version of the Nira laser. The pro treats a larger area so you can more easily treat the full face. Nira pro has the same technology as the original Nira precision, meaning it's the world's largest and fastest, painless at-home laser treatment. The pro makes it feasible to treat your whole face and can also be used on the chest, neck and backs of the hands to increase collagen production.
How Do You Use Nira Device?
Using the Nira is very easy. You start with clean skin, then gently move the laser over the targeted area. Follow with a hyaluronic acid serum after treatment. For best results, consistency is key. Use daily for 90 days for optimal results, then you can switch to a couple of time per week to maintain.
The Nira skincare laser works by using advanced technology to gently heating the skin's surface to stimulate collagen production without causing any pain or irritation.
Nira Discount Code
I was so impressed with the Nira technology, I also went ahead and got a code to share with you. If you'd like to try the Nira with a discount, you can get 10 percent off of anything on their site with my link and the code HEALNOURISHGROW at checkout.
Nira Review: Does it Work?
What we all really want to know is does this work. The Nira website has a fair amount of before and after case studies. Between the photos on their site and the numerous reviews on YouTube, that was enough to convince me to try it.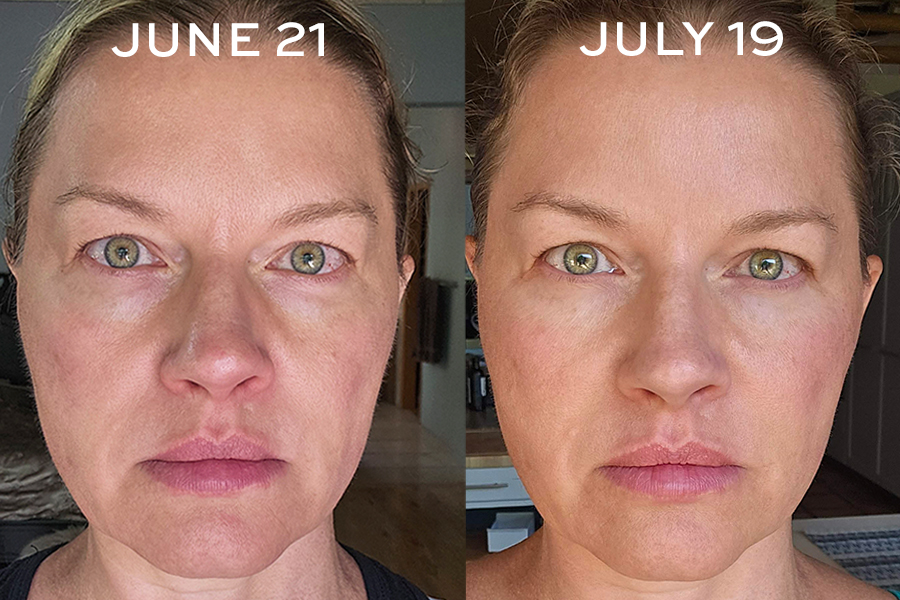 Non-fractional laser technology can tighten skin, even skin tone, lift hooded eyes, brighten dark spots, and improve acne scarring.
My initial impression straight out of the box was that the device is well-designed. It fits easily in my hand and is lightweight. The Nira precision laser has five levels to choose from and they recommend starting with the one where you can feel warmth without pain.
After using it for 30 days for this Nira review, I'm starting to see some improvement in my hooded lids. It's subtle at this point, but the improvement is there. I also think the hyperpigmentation spots I've been treating on my face have gotten a little lighter. It's hard to tell since I have daily sun exposure. Although I always wear sunblock on my face, it's hard to counteract sun damage even being diligent with sunblock.
Other real users have seen results with the Nira. Most report success with reducing wrinkles and improving skin texture.
Nira Laser Before and After
I'll continue to update this page as I continue using the Nira. I'm excited to see my results in another 30 days and after the full 90 days of treatment. Below you can see my 30 day Nira laser before and after photos.