June 24, 2022
Zucchini Lasagna – Keto Low Carb Recipe
If you've come here looking for keto lasagna, a recipe for vegetarian lasagna or vegan lasagna, you've come to the right place for all of them! This keto lasagna recipe hits all the marks. It's low carb, vegetarian and can be made vegan as well. Of course, if you're focused on optimal protein, and you absolutely SHOULD BE, you can also easily add meat to this delicious keto lasagna recipe.
Let's break it down. As written, this recipe is for keto vegetarian lasagna, easy to make and has plenty of modification options. You know that I'm firmly in the meat camp for a number of reasons, (despite a seven year stint as vegetarian) but I feel it's important for certain cookbooks to offer modifications to suit various diets and health concerns.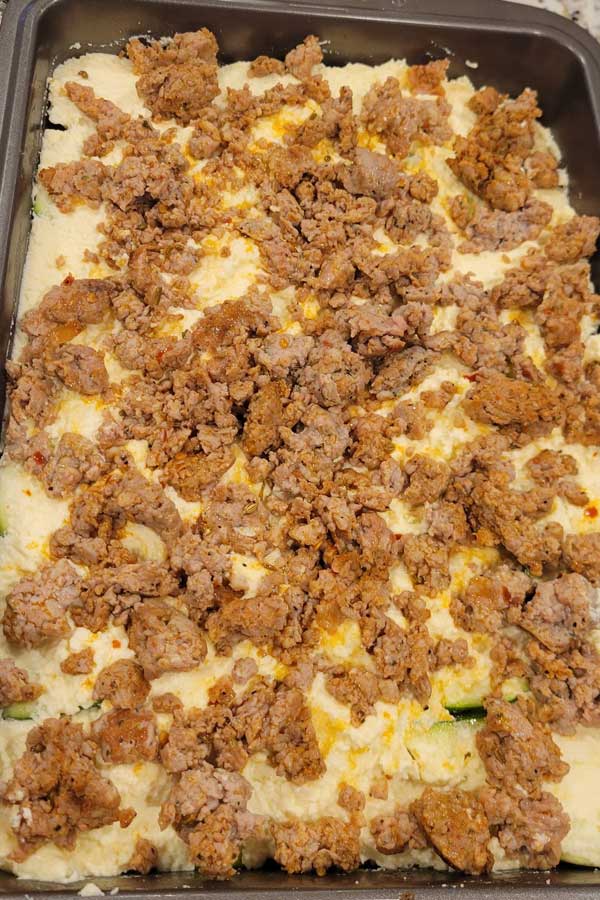 There are two options if you'd like to add meat to this keto lasagna. I like to use a combination of hot and sweet italian sausage in this dish, a pound to a pound and a half is perfect. Just layer it in right over the cheese layer. Alternatively, you can use sliced turkey as "noodles" in place of the zucchini, or just layer it on over the zucchini.
Disclaimer: Links may contain affiliate links, which means we may get paid a commission at no additional cost to you if you purchase through this page. Read our full disclosure here.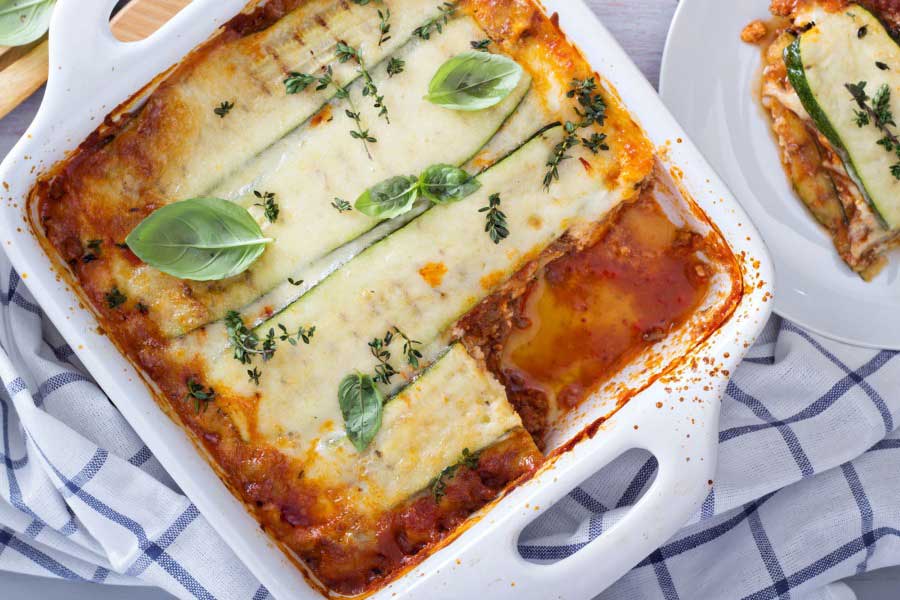 Recipe Vegetarian Lasagna, Easy!
The main culprit of carbs in lasagna, is of course, pasta. Fortunately, there are many easy and keto-friendly substitutes for noodles. I prefer to simply use low carb vegetables as a substitute, but there are plenty of low carb pasta options available.
To make easy keto lasagna you'll need to do two things. First, eliminate the meat. You know I'm not a fan of that! However, if you're cooking for friends or family that are vegetarian, this is a great recipe to have on hand. To make this recipe for vegetarian lasagna, no substitutions are required. It is already written as a vegetarian recipe.
Keto Lasagna Recipe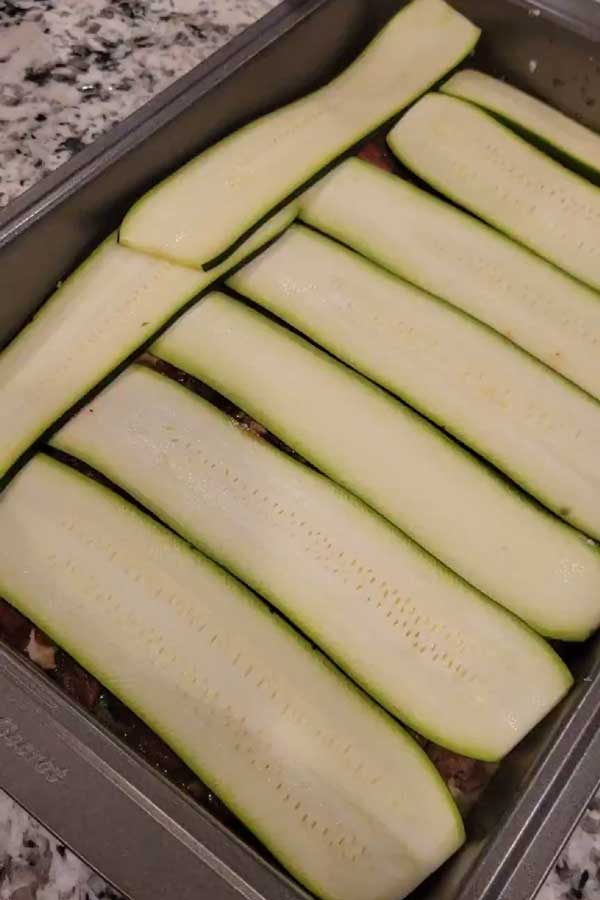 A recipe for vegan lasagna is a little harder to come by. Not only do you need to eliminate the meat for vegan lasagna, you also need to eliminate dairy and eggs! So what's left then? Many vegans like to use a nut cheese as a sub for dairy cheese. I used to have a ton of these recipes when I was vegetarian myself, but they've been long since abandoned. This is recipe is a great start for zucchini lasagna vegan style! Once you add cheese alternatives, it may or may not fit the bill for keto lasagna, depending on what you choose.
You'll need some replacement items to make this a recipe for vegan lasagna. After looking at several options, this cashew based vegan ricotta is the best option for this recipe. Or, if you have a Whole Foods nearby, Kite Hill offers an almond based version. Vegan mozzarella is even more common and can be found in most large grocery stores. Just Egg is a vegan egg substitute or you can find a recipe for a flax egg. Really with the consistency of a nut based ricotta, you can skip the egg substitute all together.
While I'm not a fan of these processed substitutes for the real thing, sometimes going vegan or vegetarian is a good step in the direction of a healthier, whole foods diet.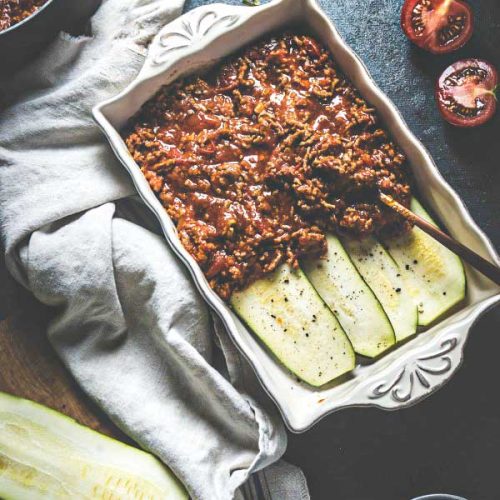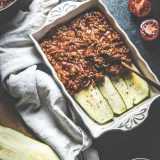 Print
You don't have to eliminate lasagna from your keto or grain-free diet. Try it with zucchini instead of wheat noodles! Just make sure to salt your zucchini while you get everything else ready so that it's not watery. The salt draws out the water and can be blotted with a paper towel before cooking.
Ingredients
4

large

zucchini

2

tablespoons

extra-virgin olive oil,

plus more for the baking dish

3

cloves

garlic

,

minced

1

medium

white onion

,

chopped

28

ounces

diced tomatoes, canned

,

do not drain

4

tablespoons

chopped fresh parsley

,

divided

4

tablespoons

chopped fresh basil

,

divided

2

tablespoons

Italian seasoning

,

divided 1/2 teaspoon freshly ground black

pepper

15

ounces

part-skim ricotta cheese

1

cup

Parmesan cheese

,

shredded

2

large

eggs

3

cups

part-skim mozzarella cheese

,

shredded
Instructions
Slice the zucchini lengthwise (see Tip) into slabs as thin as possible, about 1/8 inch thick, and sprinkle lightly but evenly with salt. Lay the zucchini on paper towels and let sit for 15 minutes to draw out excess moisture while you pre- heat the oven and prepare the other layers.

Preheat the oven to 350°F. Grease a 9-by-13-inch baking dish with olive oil.

In a large Dutch oven or soup pot, heat 2 tablespoons of olive oil over medium heat. Add the garlic and onion and cook for about 3 minutes, or until the onions are translucent. Add the tomatoes with their juices, 2 tablespoons of parsley, 2 tablespoons of basil, 1 tablespoon of Italian seasoning,1/2 teaspoon of salt, and the pepper and stir to combine. Heat for 2 minutes to meld the flavors.

In a medium bowl, combine the ricotta, Parmesan, remaining 1 tablespoon of Italian seasoning, and the eggs and stir to combine.

Spread 1/3 of the tomato mixture evenly into the prepared baking dish. Place zucchini slices over the sauce to create a "noodle" layer. Spoon half of the ricotta cheese mixture on top of the zucchini and spread evenly. Sprinkle with 1 cup of mozzarella. Add the remaining tomato mixture and top with the final 1 cup of mozzarella cheese.

Bake for 24 minutes, or until the zucchini is fork tender and the cheese is melted. Place under the broiler for 30 seconds to brown the cheese, if desired. Watch closely to prevent burning.

Serve garnished with the remaining parsley and basil.
Equipment
Notes
Tip: To slice the zucchini into long slabs (to resemble lasagna noodles) ideally use a mandoline or use the special attachment that comes with some spiralizers. Otherwise, cut with a very sharp knife.
Nutrition
Calories:
333
kcal
Carbohydrates:
16
g
Protein:
25
g
Fat:
20
g
Fiber:
3
g
Did you make this recipe?
Be sure to tag @healnourishgrow on Instagram to be featured in our stories or our newsletter! We love it when you make our recipes and share with your friends.