November 6, 2022
Keto French Onion Soup
Keto French onion soup is one of my favorite winter standbys. The only thing that has changed over the years is whether or not I used bread in this recipe. As I've said many times before, it seems that carbs from whole food sources mostly don't affect ketosis for me. As long as it's not something super starchy like potatoes, I don't have to worry about it much. Your mileage may vary. I'll give you some options to make this keto French onion soup recipe even lower carb.
The key ingredient here of course is onions. Onions can have a fair amount of carbs, varying by variety. Another important ingredient that can affect the carb count is wine. If you've been around here before, you'll already know my favorite choice is Dry Farm Wines. It's tested to be under one gram of sugar in the whole bottle. I usually cook my French onion soup for hours and add up to a whole bottle of wine, a little at a time. For the sake of keeping this keto French onion soup accessible, I don't ask you to cook it that long or add that much wine. If you have the time though I highly recommend doing it. It gives the keto French onion soup a much deeper flavor.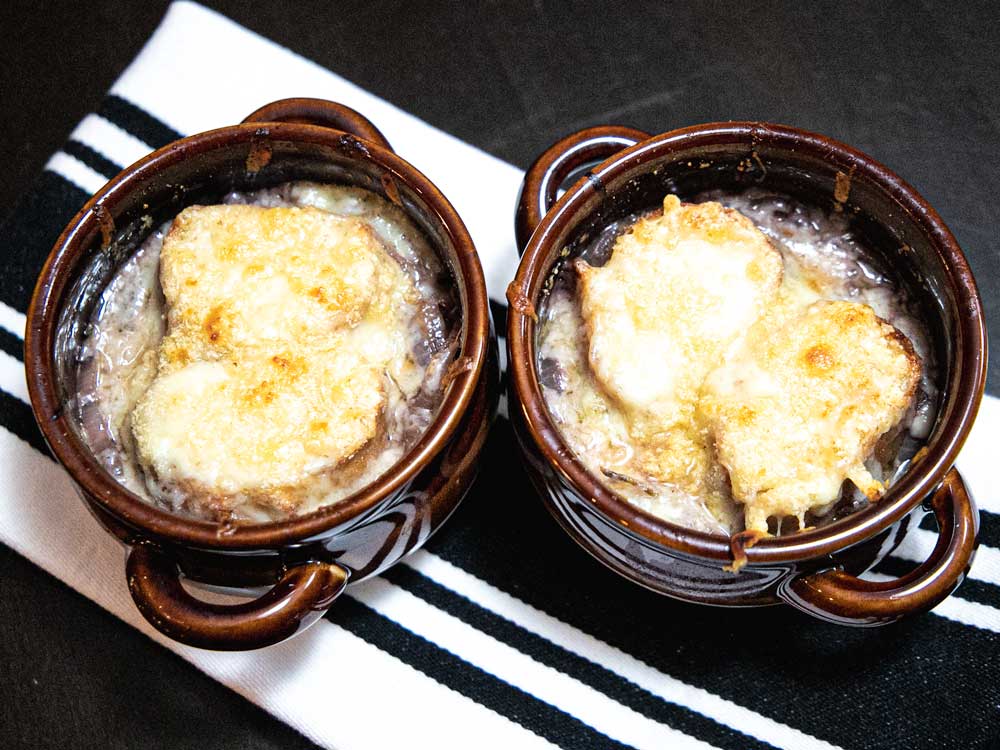 Here I've used some keto bread to make this version more like the original. Typically though, I'll just have it without any bread. Use cheese slices to go over the edges of the bowl. If you're not sensitive to wheat and bread doesn't make you have serious cravings, you can also get away with a nice piece of real French baguette in this dish for about 10 carbs, depending on how you slice it.
faq
Which Onions Have the Lowest Carbs?
If you're wondering if you can have onions on keto the answer is yes. However, onions have a lot of natural sugar so you may want to pick the one that has the least.
Yellow onions have some of the least carbs with seven grams per cup of chopped onions. However, red onions have a similar carb count and contain cancer fighting anthocyanin. White onions have the most carbs coming it at around 18 per cup of chopped.
Is French Onion Soup Keto?
Ketosis is a metabolic state, not a food. However, you can generally eat French onion soup and stay in ketosis if you avoid the bread that it's typically served with.
Is French Onion Soup Without Bread Keto Friendly?
The short answer is yes. However, if you're extra sensitive to carbs you may need to be careful with the quantify since onions have a fair amount of natural sugar. Some varieties have more than others so it's also useful to as what type of onions are used in a particular French onion soup.
How do I Reduce Carbs in this Recipe Even More?
If you want to make this recipe with even less carbs, cut the amount of onions in half. Also make sure to use the most dry wine possible, like Dry Farm Wines.
Disclaimer: Links may contain affiliate links, which means we may get paid a commission at no additional cost to you if you purchase through this page. Read our full disclosure here.
Recipe for French Onion Soup Without Wine
While this recipe for keto French onion soup does contain wine, it's easily modified, However, keep in mind that all the alcohol burns off during cooking leaving on the flavor. If this is still a concern though, simply leave it out and replace with an equivalent amount of broth.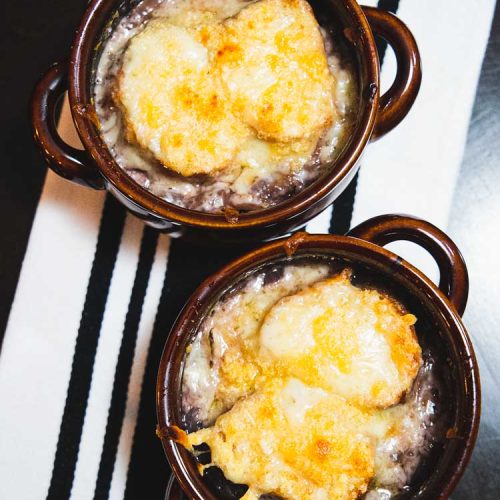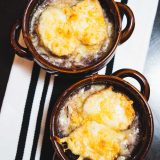 Print
Ingredients
2

tablespoons

extra virgin olive oil

2

cloves

garlic

,

minced

2

pounds

yellow onions

,

halved and thinly sliced

4

tablespoons

butter

4

cups

beef stock

½

cup

cooking sherry

,

optional

2

bay leaves

1

tablespoon

fresh thyme leaves

,

a few sprigs of fresh thyme, OR 1/2 teaspoon dried thyme

2

teaspoon

salt,

adjust to taste

½

teaspoon

freshly ground black pepper

2

cups

dry red wine,

French preferred, up to the whole bottle

8

slices

keto bread

,

optional, baguette preferred

1 ½

cups

grated Gruyere cheese

⅓

cup

Parmesan cheese
Instructions
Pour olive oil in a large stock pot over medium heat.

Put the garlic in the olive oil and cook for a minute.

Place the butter in stock pot.

Add the onions and stir to coat with the butter and oil.

Cook the onions until they reduce and start to carmelize, about 15 minutes. If you have time, cook the onions long enough to really start to caramelize and get golden brown. This varies with the size of your pot and heat.

Pour in the beef broth, sherry, bay leaves, thyme, salt, pepper and 1/2 cup of red wine. Stir to combine.

Reduce heat to simmer and add more red wine every 10 minutes until it's gone.

Continue to cook until broth and wine reduce and flavors are concentrated, about an hour total but if you have time to cook it longer up to 3 hours at further reduced heat is great to allow the flavors to concentrate even more. If you are doing the long cook, feel free to use the whole bottle of wine, I certainly have!

Preheat the oven to 350 degrees once soup is close to finished.

Remove pan from the heat and add divide the soup evenly in soup crocks.

Place bread on top of the soup, if using.

Top each bowl evenly with Gruyere then parmesan. If you're not using bread, it may be easier to top with slices of cheese that cover the top of the soup bowl instead.

Place bowls on a baking sheet and put in the oven for about 10 minutes or until cheese is golden brown.

Remove the bowls from the oven and allow to cool slightly before serving,
Equipment
Notes
All of the carbs in this recipe come from the onions and wine. To ensure the lowest carb count, use a zero sugar, keto-friendly wine like Dry Farm Wines. You can also use less onions to reduce the carb count.
Nutrition
Serving:
8
servings
Calories:
325
kcal
Carbohydrates:
12
g
Protein:
13
g
Fat:
18
g
Fiber:
2
g
Net Carbohydrates:
9
g
Did you make this recipe?
Be sure to tag @healnourishgrow on Instagram to be featured in our stories or our newsletter! We love it when you make our recipes and share with your friends.