May 26, 2022
Keto Chicken Parm – Low Carb Recipe
First of all, I'd like to apologize for my keto chicken parm aka keto chicken parmesan photos. Does anyone actually use the full name "chicken parmesan" anymore? I've been making this dish for probably five years, but I've never taken the time to properly photograph it. However, I had a loyal reader reach out and ask me if I had this so I decided to get it up immediately and take some really good photos next time I make it, which in all likelihood will be very soon. This dish is every bit as good as the real thing, so you'll be glad I fought my perfectionist tendencies to get this yummy keto chicken parm recipe up sooner.
Is Chicken Parm Keto and How Many Carbs Are in Chicken Parm?
There are two things you need to change to make a keto chicken parm. First, the breading. Traditional chicken parmesan uses bread crumbs for the crust, which as you know, is not keto friendly. Second is the use of pasta. Most restaurants serve chicken parm with pasta but it's not totally necessary. If you'd still like to have something like pasta with this dish, feel free to use your favorite low carb noodles. Personally I love the flavor of this dish with zucchini noodles. I'm also a big fan of the Natural Heaven hearts of palm "pasta." While I have yet to find a pasta substitute that tastes exactly like the real thing, some of them are pretty decent once you put some delicious sauce on them.
Is Marinara Sauce Keto?
Not counting the pasta, a traditional chicken parm can have anywhere between 25 to 50 carbs, depending on the size and breading. Some restaurants may be willing to leave the breading off for you if you ask. Sauce can also vary quite a bit. Most chefs will add sugar to their marinara to cut the acidity. If you're really trying to stay low carb while dining out, it's worth asking about how they make their marinara sauce.
Disclaimer: Links may contain affiliate links, which means we may get paid a commission at no additional cost to you if you purchase through this page. Read our full disclosure here.
Sauce for Keto Chicken Parm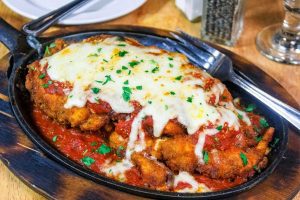 My marinara recipe is another thing that I've been making for years but have yet to post it. It's written in my notebook and already photographed, I just need to take the time to get it up here! Posting recipes and all that goes along with it take a lot more time than you might imagine. In the meantime, the only sauce from a jar that I'll use is Rao's Arrabbiata. It's obviously not homemade, but very keto friendly and absolutely delicious with this keto chicken parm. I you have your own favorite marinara sauce you can of course use that instead.
How to Make Keto Chicken Parmesan
It's really not that difficult, but the most challenging part of this keto chicken parm recipe is the breading. You'll just need to be patient to get a good crust on the chicken before pan frying in a small amount of oil to get the crust nice and crisp before finishing it off in the oven. The parmesan cheese for this dish is included in the breading, but you can also add cheese to the top. I like to use provolone, but you could also use mozzarella or more parmesan cheese instead.
I hope you enjoy this delicious recipe! Be sure to sign up for the newsletter so you'll be the first to know when my famous marinara recipe goes live.
Chicken Parm Wine Pairing
It's a pretty consistent rule in our house that you can't have red sauce without some delicious wine to go with it!Red wine is the obvious answer for this dish. Barbera, Moltocino, Primitivo, Chianti Classico, Nebbiolo and Pinot Noir would all be excellent choices. You may already know that zero sugar wine from Dry Farm Wines is always my choice and you can get an extra bottle for a penny with my link.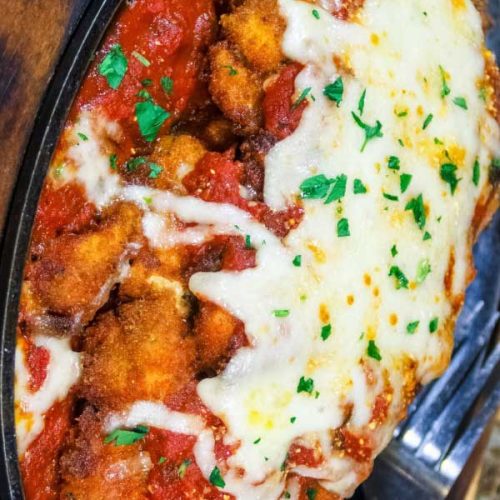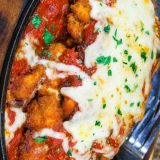 Print
Chicken Parmesan - Keto Low Carb Recipe
Ingredients
1

large

egg

,

beaten

2

teaspoons

salt

2

teaspoons

pepper

1

cup

parmesan cheese

,

grated fine

1

cup

pork rind crumbs

,

about 2 ounces crushed (be sure to look for a clean brand such as EPIC, cooked in lard and no funky extra ingredients)

1 ½

pounds

chicken breasts

,

split or butterflied if large

1

tablespoon

tallow

1

cups

marinara,

keto friendly, such as Raos (recipe soon!)

4

slices

provolone

,

optional

2

tablespoons

chopped parsley

,

optional, for garnish
Instructions
Preheat oven to 375 degrees.

Beat egg, 1 teaspoon salt and 1 teaspoon pepper in a shallow bowl large enough to hold a chicken breast.

In a deeper bowl, mix parmesan, pork rinds, 1 teaspoon salt and 1 teaspoon pepper.

Pour cheese mixture onto a dinner plate.

In a large oven-safe skillet, heat tallow over medium heat until liquid.

Dip each chicken breast into the egg mixture to completely cover, shaking off excess.

Dip each egg-coated chicken breast into the cheese mixture until completely covered, pressing extra cheese mixture into the breast.

Transfer the chicken breasts into the hot skillet.

Cook for about 3 minutes on each side or until the cheese is golden brown.

Place skillet in the oven or transfer the chicken to a baking dish.

Cook chicken to an internal temperature of 160 degrees. Depending on the thickness of your chicken breasts, about 20-30 minutes.

Spoon the marinara evenly over each chicken breast.

If using provolone, top each chicken breast with a piece of cheese and return to the oven for about 5 minutes until melted. If you'd like the cheese browned, place under the broiler for about 30 seconds.

Garnish with chopped parsley if desired.
Nutrition
Calories:
463
kcal
Carbohydrates:
4
g
Protein:
57
g
Fat:
23
g
Fiber:
1
g
Did you make this recipe?
Be sure to tag @healnourishgrow on Instagram to be featured in our stories or our newsletter! We love it when you make our recipes and share with your friends.