August 1, 2018
Five Essential Tips For Upcycling Thrift Store Clothing
Why Thrift Stores?
Is there any better feeling than getting a great deal, especially on a fantastic piece of clothing? The next best feeling is knowing you are making a positive impact on the community and earth by upcycling clothing.
My relationship with thrift and second-hand stores is an interesting one. My love for thrifting comes with the endless possibilities these stores offer. They provide a place of abundance that needs no sweatshops or additional chemicals in the air, water and earth to create their products.
There is so much beauty to find in the thrift store. It's a place of pure possibility where once ambitious exercisers with never used running attire, want to be fashionistas and those cleaning out the attic take their excess attire to find a new life.
That's why I thrift. How I began was nothing like my current feeling toward the thrift store, it is a part of my life that has grown and changed with me. A thrift store is a place that adds life to mine through the beauty of limitless possibilities; it is truly my happy place.
I began upcycling in high school when I would fix up my own clothes. I began predominantly sewing by hand, and eventually stole my mother's sewing machine. Sorry mom!
Later, in college, I would modify some thrift store finds. However, it wasn't until I was out of college and working that I began to truly enjoy the thrill of thrifting and upcycling clothing.
Upcycling Clothing Tip One: Get Familiar With Your Local Thrift Shops
So often people say the thrift store is overwhelming and too much to look through. I go to the few stores I've identified as the best ones pretty often, so I have gotten good at knowing where everything in each store.
I have become better and better over the years with knowing my way around, kind of like getting to know a grocery store. It's also easier to spot new arrivals when you visit often.
Pro Tip: Get to know the staff and find out when they tend to stock new items and when they have sales. Yes thrift stores have sales! If you let them know the types of things you're looking for and get friendly with them, they may even set things aside for you.
Upcycling Clothing Tip Two: Feel It
I literally run my hands through the racks to get a sense of the materials, the quickest way to find a quality piece is to feel it. You'll also start to get a sense of how easy a piece may be to alter as you get familiar with working with different types of fabrics.
Upcycling Clothing Tip Three: Know Before You Go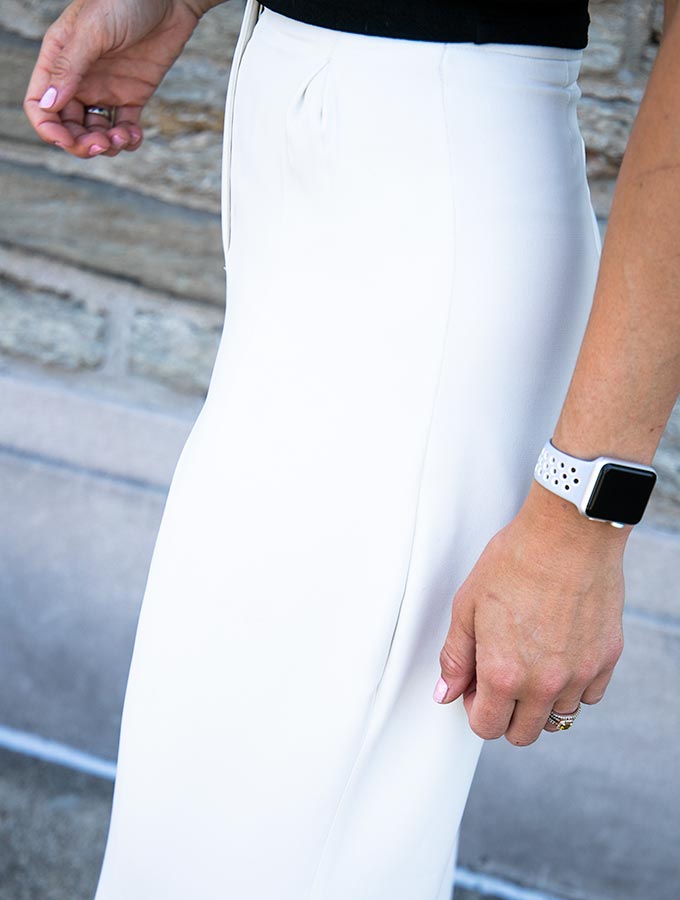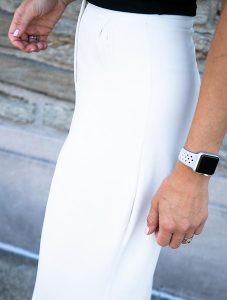 I typically come to the store with a look or piece of clothing in mind. For example, I knew I wanted wide leg pants for the upcycle shown in the picture. This also helps with the feeling of overwhelm that some people feel when they first begin thrifting.
Pro Tip: Even though you may want to stay relatively focused to avoid overwhelm, be on the lookout for additional great finds that can support your hobby. The machine I use is a Janome New Home, also found it at a thrift store.

Upcycling Clothing Tip Four: Size is (Somewhat) Irrelevant
It is amazing how just a few inches on the side seams or hem can change the fit/look of a piece of clothing. I am typically buying six to seven six to seven sizes larger than my actual size and taking in at the seams in to to get the length I need since I am 5'11".
Then it's a matter of taking in the side seams to get the right overall fit. Generally, having a little more fabric to work with makes this process easier. I also enjoy the fun of having extra fabric room to work with on the larger sizes in case I make a mistake.
If you'd like to experiment with upcycling clothing, your own closet is a great place to start! Everyone has an ugly item with a hole, fits poorly, too long, etc.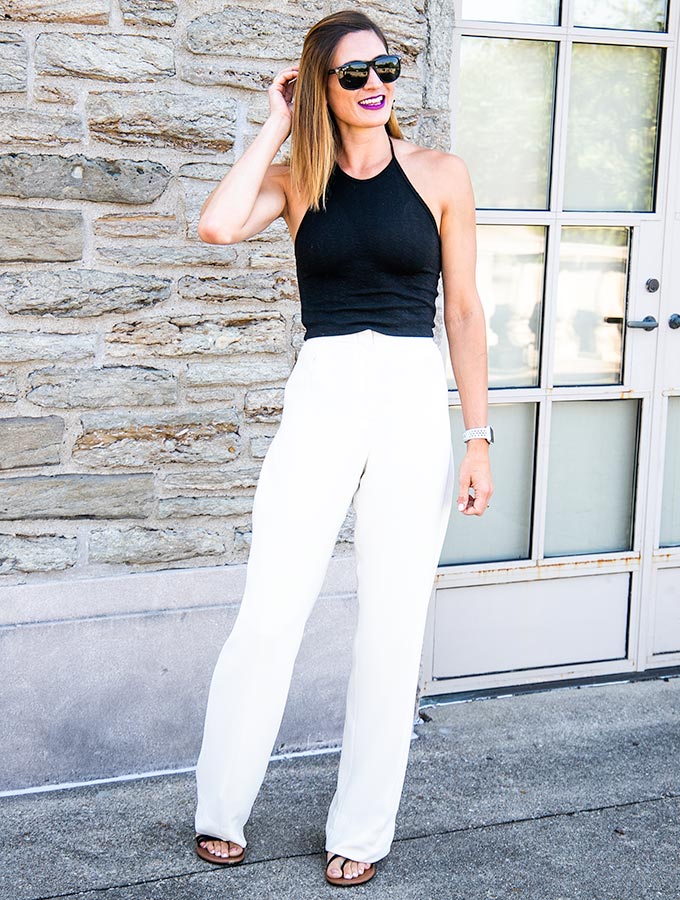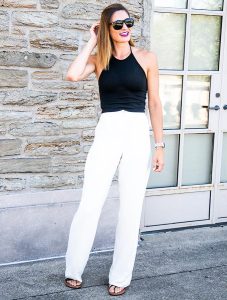 Use the tips listed here and play around first. Then get more serious about what you'd like to add to your wardrobe and get out shopping.
How to Modify Your Upcycled Clothes
There are certain modifications that I struggled with, such as the crotch of pants, armpits and sleeves. However, after trying a few times these more challenging modifications became easier.
I always try items on and play around with the fit simply using my hands to grab excess fabric first; seeing where things can be adjusted or modified and, or generally how the material can be manipulated. Once I have an idea about what I want the end result to look like, the actual process of modifying the clothes is pretty simple.
I am by no means an expert seamstress! I find existing clothes where I like the fit and use them as a guide. It is helpful to find similar fabrics to the piece you are modifying. I always use pins and tailor's chalk to outline the modifications once I've decided on the final look.
Whether using a machine or sewing by hand, it is important to play around with stitches before you begin. Try this first on an extra piece of fabric in a similar material or on excess fabric from the project. This way once you begin the alterations, you already know what stitch you're using and if you're using a machine, that the tension you've selected works on the fabric.
The outfit shown in the photos is completely from the thrift store. The top is a Target Xhilaration purchased for $3.49 at the Oakley Goodwill. I found the pants at St.Vincent de Paul in Mt. Washington, they were on sale for $1.49, New York & Company size 10 tall. I took in about an inch and a half on each side. I also let out the bottom hem for extra length. Outfit total: $4.98!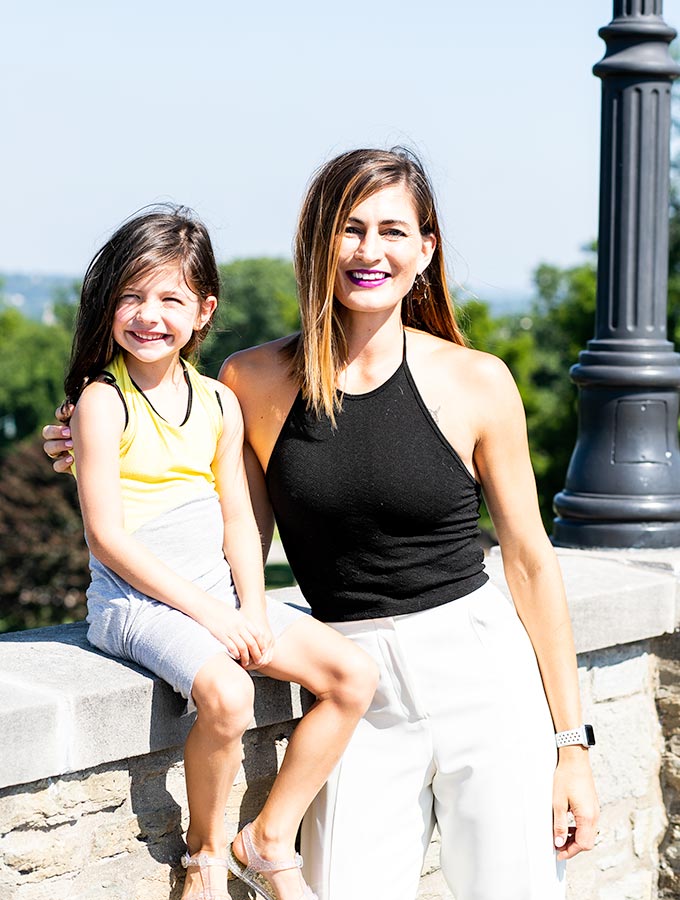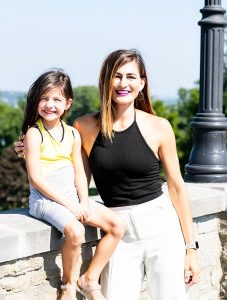 My daughter's dress in the last photo is an upcycle as well that was made from one of my old maxi dresses. I used a well-fitting similar dress she had as a pattern and simply sewed the sides.
Final Thoughts on Upcycling Clothing
I have had plenty of terrible upcycles! But you shouldn't let that stop you, especially when you can experiment on really inexpensive pieces. Have an open mind about how you can modify things.
In a world of fast fashion and outfits you can "only wear once," there is nothing more beautiful than an upcycled outfit!