July 28, 2022
Best Crab Cake Recipe, Grain Free and No Filler – Keto Low Carb
if A keto crab cake is not always that easy to find. Even the best crab cake recipe will have some kind of filler, but not this one! This delicious crab cake recipe with old bay just uses egg to hold the crab cake together. The bread filler found in most recipes and in restaurants is completely unnecessary. The taste of this keto crab cake is unparalleled because it's just delicious, sweet tasting, carb free crab, some seasonings and eggs holding it together.
The Best Crab Cake Recipe
So what's the best keto crab cake recipe? First you'll need the freshest crab you can find. When I was growing up as a little girl in Louisiana and Texas, we would go to the gulf coast beaches like South Padre Island on the weekend. With a family of six, it was important to find fun, free activities and the beach fits that bill perfectly. We would head out in our VW popup camper with some things in the cooler (likely ham sandwiches) and my parents would set crab lines. No fancy cages for us in the south! They literally set up some poles with string in between in the shallow water and baited it with chicken. I had to look up the term bu apparently this is called fishing for crab with hand lines.
Fresh Crab
If you live near the coast and this is an option then why not? But not that we're inland and landlocked in Ohio, I mostly rely on Whole Foods for my fresh crab meat. It's the one place that has it consistently and where I know it's very fresh. If you happen to like imitation crab or like the flavor out of a can, that should work as well. I prefer lump crab for these but if you like picked or shredded crab, that actually works a little better since it holds together easier.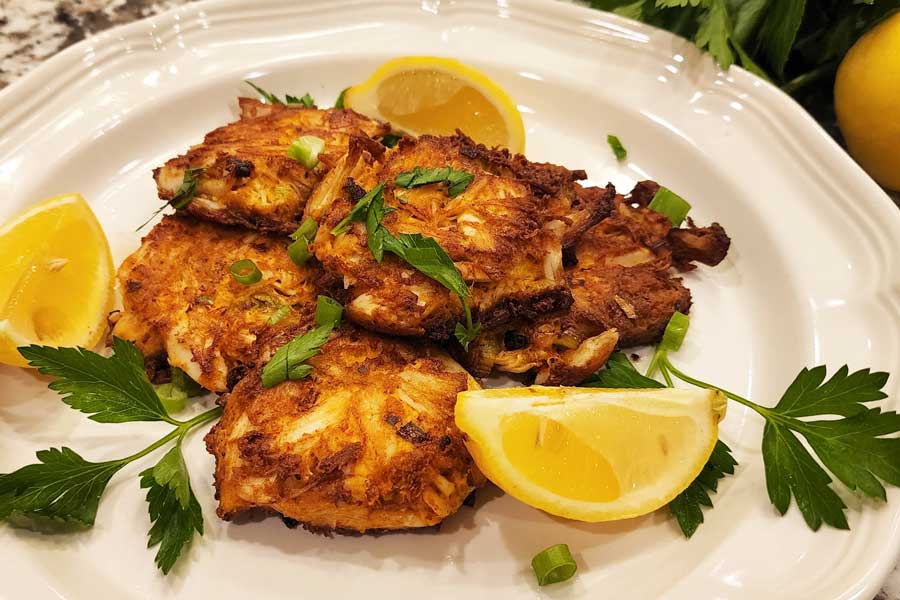 Crab Cake Recipe With No Filler and Crab Cake Recipe With Old Bay
The crucial part of this keto crab cake recipe with no filler is just that…NO FILLER! That's what makes this recipe virtually carb free and keto friendly. Crab cakes in any form are delicious, but if you're trying to keep it low carb, you'll want to avoid the typical bread filler. The other thing I consider essential t the best crab cake recipe is Old Bay seasoning. It's a staple in the south! According to Box Hill Crabcakes, "Old Bay, a blend of 18 spices, was invented by German refugee Gustav Brunn who came to Maryland in 1939. The spice was named after a ship line of the Chesapeake Bay and quickly grew to be very popular later during the later 20th century. McCormick & Company bought the spice in 1990 and distributed it across the state." Since my heritage is German, I particularly appreciate this.
Disclaimer: Links may contain affiliate links, which means we may get paid a commission at no additional cost to you if you purchase through this page. Read our full disclosure here.
What is the Best Seasoning for Crab Cakes?
However, even more common in Louisiana is Zatarain's seasoning. According to Wikipedia, "The company was started in New Orleans in 1886 and moved to the suburb of Gretna when the family sold the company, in 1963. It was founded as a grocery by Emile A. Zatarain Sr., in 1886. He created a formulation for root beer that became popular regionally after its introduction at 2:30 p.m. on May 7, 1889, at the Louisiana (Purchase) Exposition under the brand Papoose Root Beer, for which he took out a trademark. He started a new business, Papoose Pure Food Products, built a factory, and began to market it in 1889."
Based on this, did Gustav create a variation? Or are they completely different? I grew up on Zatarain's in Louisiana but to me, they taste very similar. But, if you're a Maryland crab cake afficianatio, Old Bay seasoning is traditional and the way to go. If you want to make the best crab cake recipe, you'll need to choose between these two seasoning blends.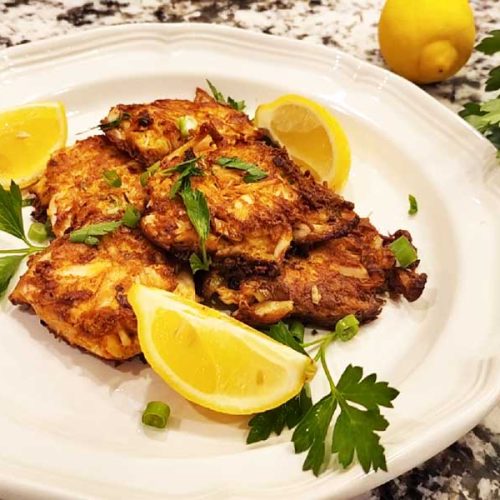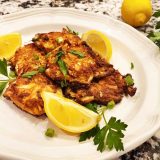 Print
Keto Crab Cakes, Grain Free and No Filler
This delicious recipe gives you all the wonderful sweetness of crab without unnecessary fillers.
Ingredients
¼

cup

coconut oil,

or enough to have 1/8 to 1/4" covering bottom of skillet

`1

tablespoon

chopped dill pickle

¼

cup

chopped green onion

,

whites only

1

teaspoon

old bay seasoning

½

teaspoon

celery salt

½

teaspoon

paprika

2

teaspoon

lemon zest

1

large

egg

8

ounces

crab

,

lump preferred
Garnish (optional)
lemon wedges

1

tablespoons

chopped parsley

1

teaspoon

green onion tops
Instructions
In a large skillet over low heat, melt your coconut oil so that you have a depth of 1/8 to 1/4" for pan frying.

In a medium bowl, combine all ingredients except for the parsley and green onion.

Each crab cake is approximately 1/4 cup, pour into your hand to shape and compress tightly.

Increase heat to medium or medium high so that the oil is hot and ready to cook.

Gently place each crab cake in the hot oil.

Cook for about 2 minutes or until you can see the edge starting to turn golden brown. Flip each crab cake and cook until they're evenly golden brown.

Serve with lemon wedges if desired and garnish with parsley and green onion tops. Squeeze lemon over the crab cakes just prior to eating.
Equipment
Notes
Restaurants typically use fillers in crab cakes to save money, but they're just not needed and add carbs.
Nutrition
Serving:
1
cake
Calories:
85
kcal
Carbohydrates:
1
g
Protein:
4
g
Fat:
15
g
Fiber:
0.5
g
Did you make this recipe?
Be sure to tag @healnourishgrow on Instagram to be featured in our stories or our newsletter! We love it when you make our recipes and share with your friends.