April 15, 2023
Backpack Packing List
When you're taking a trip that involves frequent changes between planes, trains, automobiles and ferries, it's extremely useful if you can pack in just a backpack. And when I say backpack, I don't mean a giant backpack across Europe backpack. I'm talking about just a normal carryon size backpack that you can take with you in a plane cabin. Having traveled to Europe many times now in just a backpack, I decided to finally create a backpack packing list and give you some of my best tips for packing light.
Moving locations frequently and often traveling cobblestone streets becomes much easier when you only have to deal with a backpack rather than large, wheeled luggage. Someday we'll go somewhere to actually stay put more than a few days where it's easy to use a standard suitcase. Until that time, knowing how to pack in just a backpack is extremely useful.
A good backpack packing list keeps things minimal. After all, you're going to be carrying this around on your back, possibly for hours at a time depending on your travel style. My best light packing tips include using packing cubes, rolling your clothes, picking lightweight fabrics when possible and utilizing travel-sized containers.
Disclaimer: Links may contain affiliate links, which means we may get paid a commission at no additional cost to you if you purchase through this page. Read our full disclosure here.
Making Travel Easier
Don't forget this other travel essential…being able to hang out in an airport lounge makes layovers a lot more enjoyable, especially when you have a heavy backpack to lug around. While light packing tips will make your backpack lighter than it may have been, you'll still have a lot of stuff to carry around. Taking a nice leisurely rest in the lounge and maybe even a shower, can make all the difference in making your travel more enjoyable.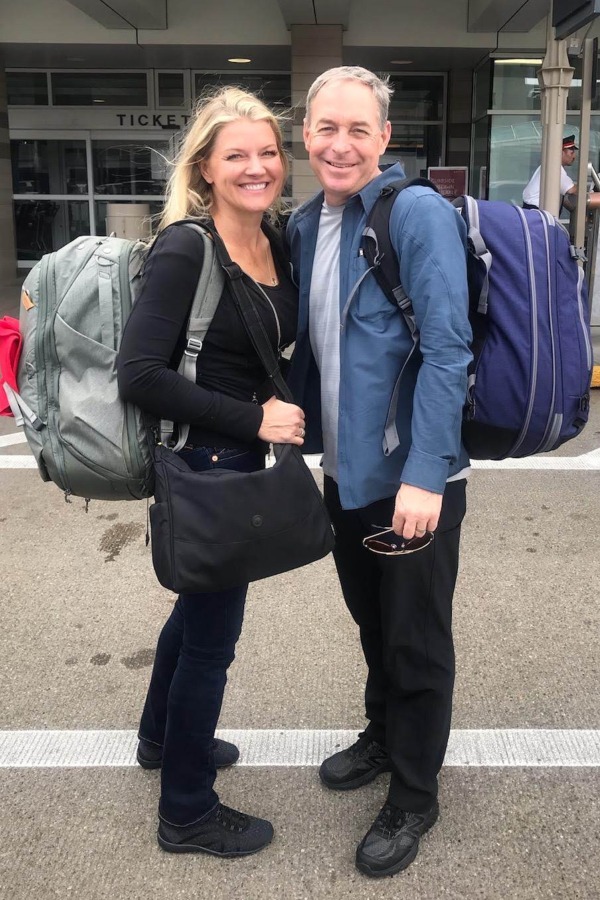 I have the Delta Skymiles card that gives me access to the Delta and Centurian lounges. You can also the Priority pass to get into various lounges as an extra perk with a Chase travel card.
Using these links will get you 50,000 bonus miles, enough to book your next backpack-only adventure. Be sure to comment below whether you used this backpack packing list for your award trip!
Traveling with Appliances and Electronics
Make sure any appliances and electronics you bring on a trip are dual voltage. Otherwise, you'll need a converter. This use to be more of an issue, but most modern appliances are dual voltage or range from 110-240v for worldwide voltages. It's always good to check so you don't fry your electronics.
The simple difference between an adapter and a converter is voltage. An adapter will ensure your plug fits into the various outlets around the world while a converter's job is to change the voltage found in the outlet to fit your device.
Packing List Greece
The trip I finally decided to write this, we're off to Greece for our five-year wedding anniversary. We went to Greece on our honeymoon and it was the only time either of us had ever been there. We absolutely loved it and couldn't wait to get back.
For a packing list for Greece, you really don't need anything significantly different. About the only thing you might leave out from this list depending on where you're going is the swimwear and sunblock.
Other than that, a packing list Greece style is just about the same as any other destination.
FAQ
Can Backpack Be Personal Item?
If you're wondering if a backpack can be a personal item while flying, the answer is that it varies by airline. Always check with the carrier you're using for your flight for restrictions on personal item size as well as carry-on size.
In general, low-cost airlines are the most strict with sizing. I've traveled with my Peak Design backpack everywhere as a carry-on personal item and never had an issue until flying with Frontier. Their personal item size is currently 14x18x8. While my backpack should have worked for this, they're very strict and if your pack is fat and won't fit in the size-wise box, you'll pay at least $99 at the gate. Ask me how I know this! 🙄
I immediately got on Amazon after that experience and got an inexpensive carry-on that is Frontier approved.
Favorite Travel Items
All of the travel items linked here have been tested personally by me over the last 30 years that I've been fortunate enough to travel for both work and fun. This particular list really covers spring/fall in the Mediterranean very well. April to May and September to October are amazing times to visit Europe. I've only gone to Europe once in the summer and it was far busier and more expensive than any other time.
Obviously, the climate you're traveling to makes a lot of difference. You may need to adjust this based on the weather in your destination.
Is there anything not on this list that you consider essential? Let me know in the comments below! This is not a theoretical list, this is actually exactly what I fit into my 45L Peak Design backpack for our April 2023 trip to Greece.
Backpack Packing List: Clothing
Wear heavier items on the plane: dressy black jeans, white short sleeve top, lightweight athletic jacket, heavier jacket, nude bra and undies
Backpack Packing List: Toiletries
I switched over to all clean, toxin-free, beauty products quite a while back. While they don't always have the variety of travel sizes drug store brands have, you can easily put them into the bottles I have linked in the space savers section below.
Light Packing Tips: Chargers
Light Packing Tips: Miscellaneous Accessories
Backpack Packing List: Space Savers